LEDs Magazine November/December 2012 issue
The November/December 2012 issue of LEDs Magazine is now available.
Dec 6th, 2012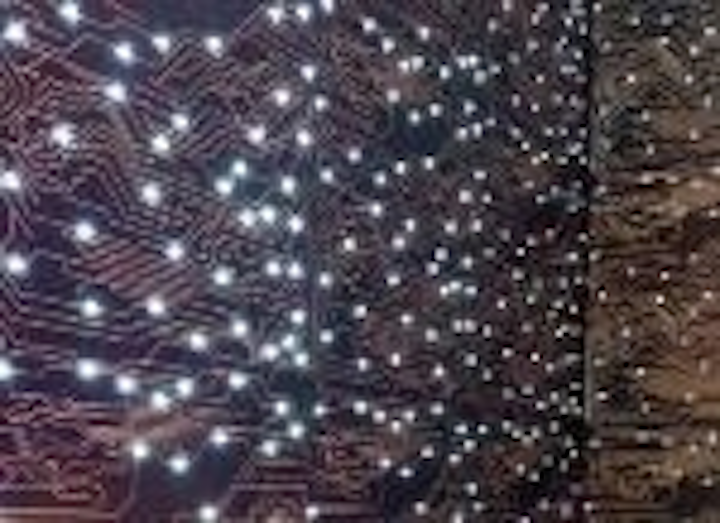 +++ Cover +++
A networked control system and 1600 BaroLED fixtures from Schréder highlight the renowned architecture of the Grand Place in Brussels, Belgium while also delivering the savings in energy and maintenance costs desired by the city (see page 9).

+++ Features +++
CONFERENCE PREVIEW
SIL 2013 will celebrate 50 years of LEDs and chronicle SSL proliferation
The 14th annual Strategies in Light conference will be held February 12-14, 2013 in Santa Clara, CA and Ella Shum writes that the 50th year of LED technology will be a prime theme although the future development of SSL will pervade most presentations.
CONFERENCE REPORT Strategies in Light Europe focuses on growth opportunities in the changing LED lighting market
Although the lighting market in Europe has been challenging of late, the industry continues with its headlong transformation towards greater adoption of LEDs, creating new business models and opportunities along the way, Tim Whitaker reports.
OUTDOORLighting controls dominated discussion at Street and Area Lighting Conference
The outdoor lighting industry is moving closer to the realization that adaptive controls are necessary for maximum energy savings and can provide even greater benefits – messages that Maury Wright reports were prominent at the Street and Area Lighting Conference.

LIGHTING
LED market spurs transformation in Europe's professional lighting industry
As the European market continues to adopt and embrace LED-based lighting systems, further changes will be required of both traditional lighting-industry players and LED component suppliers, as Annetta Kelso explains.
MANUFACTURING
China will develop a global leader in the LED manufacturing space
Despite what some judge as a failing effort for China in the LED manufacturing segment thus far, Ella Shum of Strategies Unlimited believes that China will deliver a top-ten player.
MATERIALS Improved-clarity polycarbonate resins perform in LED lighting applications
Polycarbonate resins offer an alternative to glass and polymethyl methacrylate for LED lighting fixtures, complementing the life span, efficacy and durability of LEDs themselves, writes Bala Ambravan.
DRIVERS Examine all options for driving LED-based retrofit tubes
Most of the LED retrofit tubes on the market integrate a driver within the tube form factor, but James Chorlton explains that an external driver offers significant benefits.
DESIGN FORUM Accurately model LED sources for optimal SSL product designs
Mark Nicholson of Radiant Zemax describes how creating a virtual prototype with accurate LED source models is a vital step in delivering SSL products that meet design goals.



+++ Columns/departments +++
COMMENTARY
SSL 2012: The year in review
NEWS + VIEWS
Schréder RGB LED floodlights highlight Grand Place architecture
Sharp debuts tunable COB array
Philips HUE lamp offers tunable color
FUNDING+PROGRAMS
DOE Gateway report indicates LED post-top lighting performed efficiently in New York's Central Park
Zhaga publishes specification for LED spotlight modules
Chinese LED maker plans major investment in Taiwanese chip company
DOE awards SBIR grants to Applied Nanotech and Universal Display for SSL research
Taiwan government plans LED lamp subsidy