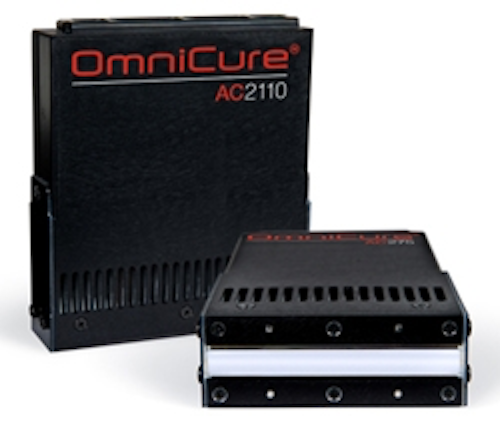 WALTHAM, Mass. – Excelitas Technologies Corp., a global technology leader focused on delivering innovative, customized photonic solutions, has announced the launch of its new OmniCure® AC2 Series UV LED Curing Systems. This compact addition to the AC Series of UV LED Curing solutions supplies outstanding irradiance from an LED system small enough to be included in applications where space constraints restrict access to the substrate and quality cannot be compromised. This small form factor, air-cooled product provides excellent curing uniformity and allows for the adjoining of multiple systems to address any length application or working distance. These systems are ideal for applications such as pinning, edge bonding, cable assembly and other small component assembly.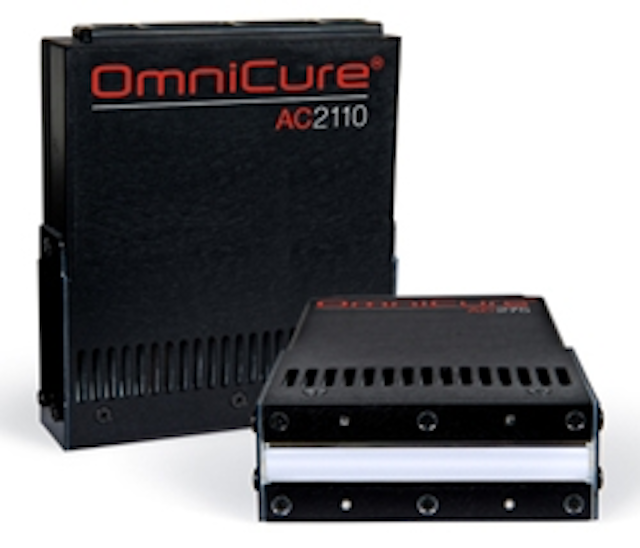 Excelitas Technologies unveils OmniCure AC2 Series UV-LED curing systems

"This newest addition to the OmniCure® AC Series represents our commitment to innovation and the delivery of UV curing solutions that provide high performance with ease of use," said Oliver Scheuss, vice president of Solid State Lighting and UV/Microscopy at Excelitas Technologies. "The OmniCure AC2 Series achieves just that by providing a small form factor option while retaining excellent output performance and flexibility for a wide range of applications in the curing of inks, adhesives, and coatings," added Scheuss.

The OmniCure AC275 and OmniCure AC2110 are high-end, compact UV LED systems for customers who are either looking to increase throughput by automating their manufacturing process, or switching to UV LEDs for their particular applications. Available in 75mm and 110mm lengths, the AC2 Series features custom optics that reduce the output angle of light while providing higher irradiance and greater flexibility at various working distances, making the AC2 Series a superior choice versus competitive options. Also, the air-cooled product design allows for seamless integration into new or existing production lines, increasing throughput with minimal process interruption and ultimately decreasing costs.

About OmniCure
OmniCure, an innovative light curing solution, provides leading manufacturers worldwide with the most advanced, simple-to-use and reliable UV curing technology. Leveraging over 30 years of industry expertise, OmniCure delivers faster and more consistent process curing results, ensuring customers benefit from the highest quality, production, and efficiency. The OmniCure product family includes both lamp and UV LED solutions to best meet the challenging demands of spot, small and wide area curing applications. For more information about OmniCure, visit www.excelitas.com/OmniCure.

About Excelitas Technologies
Excelitas Technologies Corp. is a global technology leader focused on delivering innovative, high-performance, market-driven photonic solutions to meet the lighting, detection and other technology needs of global customers. From biomedical technology to research laboratory, safety and security, consumer, semiconductor, industrial, energy and environment, as well as defense and aerospace applications, Excelitas Technologies is committed to enabling our customers' success in their end-markets. Excelitas Technologies has approximately 5,500 employees in North America, Europe and Asia, serving customers across the world. Connect with Excelitas on Facebook, LinkedIn and Twitter.
Contact:

Excelitas Technologies Corp. (North America)
+1-847-537-4277
E-mail:

Web site:

Locate more medical & industrial lighting vendors in the LEDs Magazine Suppliers Directory

Submit new products, case studies/projects, and other press releases at http://www.ledsmagazine.com/content/leds/en/addcontent.html and http://www.ledsmagazine.com/content/leds/en/iif/add.html.
More from Excelitas Technologies:
Excelitas Technologies launches X-Cite 110LED white-light LED source for life science research
Excelitas Technologies unveils new UV-LED curing systems for commercial, industrial, and medical applications