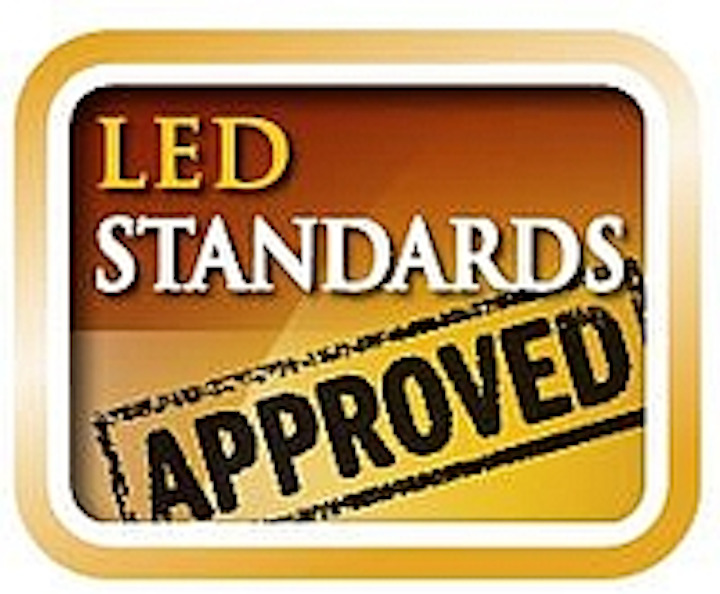 LEDs continue to make functional and styling impact in automotive lighting, and JIANZHONG JIAO details the steps being taken by standards organizations to ensure safety, reliability, and end-customer satisfaction.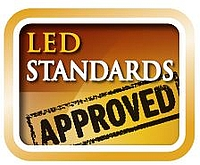 Work continues on three LED lighting standardsThe use of LEDs for automotive lighting exterior applications was introduced in the early 1990s. In the last two decades, major efforts in technology development for automotive lighting have been centered on adopting LEDs and laser diodes (LD), and on increasing the benefits of using these light sources. The SAE International Lighting Standard Committee is a standardization body which has been actively developing the standards that reflect industry best practices. Recently, SAE published the standard J3069 for adaptive drive beam (ADB) headlamps, where LED and LD sources are used and the beam is dynamically controlled.
Interested in articles & announcements on SSL standards?
Indeed, ADB implies active control of headlamp beam patterns, whereby portions of a beam can be dimmed or removed based on inputs from the vehicle and/or its surroundings. Such headlamps came to the fore in 2013 when Audi announced the Matrix LED headlamps on European versions of the A8 sedan. ADB technology has been slowed in North America by the lack of standards and the requirement for low- and high-beam lights. The SAE standard, however, paves the way forward for broader ADB usage.
Driver and passenger benefits
The current ADB functions are achieved with electronics that control the operations of LEDs or LDs. ADB is also coupled with advances in technologies used for lane departure warning, automatic high beam activation, and other functions, i.e., the identification and location of other road users at night and actively limiting potential glare for those road users. This technology can provide a nighttime forward illumination beam with benefits similar to a high beam for a driver, without the associated glare typical of a high beam experienced by other motorists, because portions of the beam are adapted, such that what would be high beam glare is perceived as low beam output.
As alluded to above, ADB has the potential to greatly enhance a driver's ability to see at night while protecting other vehicle road users from glare. It is also expected that the ADB system will reduce any glare-producing light to the opposing and preceding vehicles based on the location of the headlamps and taillamps, which also provides benefit to any passengers in the vehicle.
The SAE Recommended Practice
SAE J3069 is an SAE Recommended Practice, which provides test procedures, performance requirements, and design guidelines for ADB systems. The requirements of J3069 intend to restrict the ADB pattern to values of glare perceived by opposing and preceding vehicles to similar glare values from the low beam mounted on the same vehicle. Since glare levels from low beams have been defined by SAE J1383 and federal regulation FMVSS108, the goal of SAE J3069 is not to exceed these values with an ADB equipped vehicle - thus helping the industry to quickly adopt the technology.
Different from other automotive lighting standards, in which the lighting product's performance characteristics are tested and verified in the laboratory environment, SAE J3069 allows for testing lighting functions based on their performance on the road, i.e., a track test. The track test is conducted using a stationary fixture, representing the preceding or opposing vehicle and the ADB test vehicle driving against this fixture. This test setup was considered worst case since some on-vehicle camera systems utilize an opposing or preceding vehicle's movement within a scene to identify them as vehicles instead of other road objects like reflectors on the side of the road. Having the fixture remain stationary also reduces test variability.
Test setup
Per SAE J3069, the light toward the opposing and preceding vehicle driver is measured using lux meters positioned at the point of the driver's eye for an opposing vehicle, and at the rearview and sideview mirror points for a preceding vehicle. The test fixture containing these meters includes representations of headlights or taillights indicative of a small motorcycle. For the opposing vehicle test fixture, low-beam headlamps only are incorporated as worst case. For the preceding vehicle fixture, taillamps (rear position lamps) only are incorporated as worst case.
The experts in the committee understood the importance for an ADB system to react in an appropriate timeframe when confronted with the sudden appearance of an opposing or preceding vehicle due to cresting a hill, a vehicle entering a roadway, etc. For this condition, the test track procedures require the preceding or opposing test fixture lamps to be energized during the test drive. Because ADB systems may not react instantaneously when confronted by the sudden appearance of a vehicle, the opposing or preceding driver may experience high-beam glare levels for a short period of time. The allowed reaction time is defined in SAE J3069 based on published literature.
LED longevity and reliability
The standards development also included consideration of LED life. LED lumen maintenance is a key characteristic in the general illumination application due the extensive lifetime expectations for LED lamps and luminaires. For automotive exterior lighting applications, the lamp lifetime is based on the vehicle life and the lamp usage during the life of a vehicle.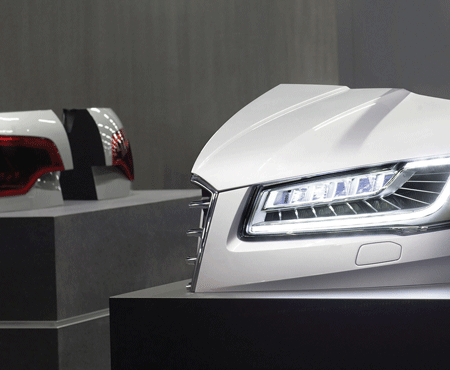 An example of dynamically controlled headlamps addressed in the standard SAE J3069 can be found in the Audi Matrix technology, which adapts the beam pattern in response to nearby vehicles.
Source: Audi.
In 2008 the University of Michigan Transportation Research Institute (UMTRI) published several research reports that provide the industry with a clearer picture for lamp usage on a passenger vehicle for the average vehicle lifetime. Based on the US passenger vehicle fleet, the longest-usage lamp, other than the daytime running light (DRL), is the taillamp. The usage of the taillamp in the life of a vehicle, as an average, is less than 2000 hours. Headlamp life is much shorter. The DRL lifetime is about three times that of the taillamp life. This information has been used as the basis for the LED lumen maintenance or lifetime requirement for passenger vehicle exterior lighting applications.
Compared to the lumen maintenance, the reliability or robustness of LED products is much more important in automotive lighting applications. In 2012, SAE published the LED testing standard SAE J2938. The document incorporates the recommendations of IES LM-80-08, with emphasis on the higher junction or case temperature test rather than the test duration. Recently, SAE made revisions to SAE J2938; it has passed the committee ballot and is to be published.
Photometric and electrical tests
The new SAE J2938 includes several LED tests. First is the electrical and photometric test for LED packages, arrays, and modules. The test methods and procedures are referred to IES LM-85-14, and/or CIE 127 2007. In terms of the measurements of the LED characteristics, such as luminous flux, there should not be any difference relative to the application in which LEDs are used, whether they are for automotive lighting or for general illumination. For lumen maintenance testing, the electrical requirements in DC operation and test conditions are updated based on the new version of ANSI/IES LM-80-15. The case temperature requirement remains unchanged. The new SAE J2938 makes recommendations for the LED requirements and refers to the published IEC standards: IEC 62707 Part 1 for LED white color binning requirements and IEC 60810 for the qualification tests if applicable.
In recent years, in addition to using LEDs to achieve required functions for automotive exterior lighting, such as headlamps, DRLs, brake lights, etc., some vehicle manufacturers have been installing exterior LED lighting devices intended only to be decorative in nature on their vehicles. Recent examples include white elements on the front of vehicles with intensity levels greater than parking lamps but lower than DRL. These lamps have sometimes been referred to as "signature lamps" or "accent lamps."
Lighting style
The subject of "vehicle signature/accent lighting" was brought up for discussion for the SAE Lighting Standard Committee, and discussed as to whether or not the committee should make recommended practices for these types of products. The committee proposed to include tests for these products that are typically associated with legally required exterior lighting devices - e.g., moisture, dust, corrosion, etc. - because vehicle manufacturers would still want to ensure signature/accent lamps have been tested in an appropriate manner to avoid failures of these types of lamps when installed on vehicles.
The experts in the committee also asked questions such as: Is it necessary to distinguish between signature lamps for daytime use and accent lamps for nighttime use? Should signature lamps turn off when front-position lamps are turned on? How do we best account for the possibility of illuminated vehicle badges? Is it necessary to limit the color to white or yellow?
It was the consensus of the committee that it is not necessary to distinguish between signature lamps for daytime use and accent lamps for nighttime use; hence, different maximum luminous intensity levels could be provided to account for daytime use (higher intensity) or nighttime use (lower intensity). There is also consensus that the different daytime and nighttime intensity levels of front-decorative lamps could be set in relation to activation of the vehicle's front-position lamps or headlamps, but it is not necessary to limit the quantity of front decorative lamps. Instead, consideration needs to be taken so that all front-decorative lamps measured together shall not exceed the photometric maximum requirements.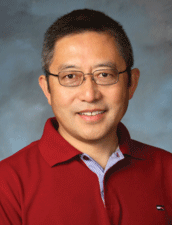 With this consensus, SAE is developing a new document J3098 as the SAE Recommended Practice that applies to front-signature lamps installed on the front exterior of motor vehicles, intended only to be decorative in nature and also intended not to impair the effectiveness of any required lighting device. This recommended practice establishes uniformity in guidelines for the performance, installation, activation, and switching of front signature lamps. Similar to all other SAE "J" documents, this new document provides the recommended tests used for all signal lamps, and requirements that include photometry. This is a step to assist the implementations of LEDs for non-functional lighting, yet to ensure end users will benefit from product consistency and reliability.
---
DR. JIANZHONG JIAO, an internationally recognized lighting expert, is an independent consultant for LEDs and lighting technologies. He has been actively involved in LED and LED lighting standard development activities, technical conferences, and industry consortia. Currently he serves on the IESNA Testing Procedures, Roadway Lighting, Computer, and Light Source Committees. He is also vice chair of the ANSI SSL Light Source Working Groups, and at present works with many other technical organizations, groups, and symposia, in addition to being a member of the Technical Panel of Strategies in Light. He can be reached at j_jiao@hotmail.com.