PerkinElmer adds products to ACULED family
Two new multichip LED packages from PerkinElmer offer higher lumen output and the flexibility to create a custom configuration.
May 2nd, 2007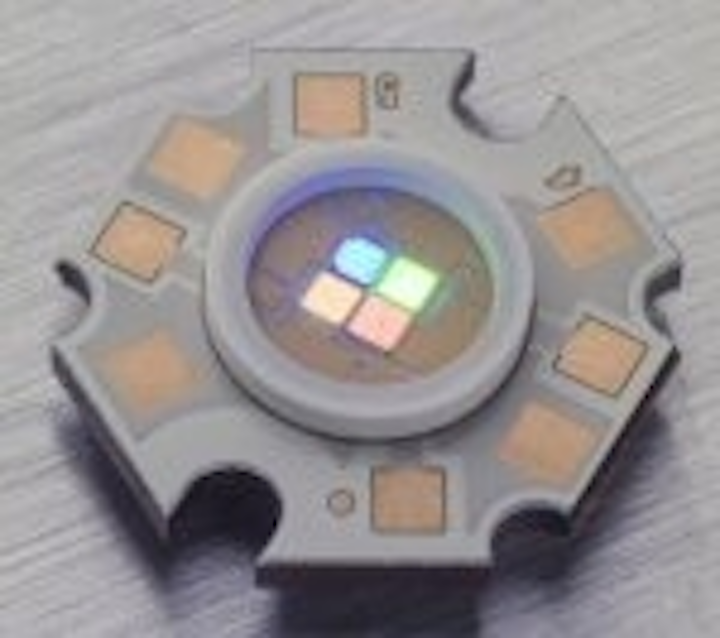 PerkinElmer Optoelectronics has unveiled two new versions of its ACULED multichip power LED package. The products will debut at Lightfair International 2007 on May 8-10 in New York City.
The new ACULED VHL (Very High Lumen) is offered in standard monochromatic versions (UV, blue, green, yellow, red, IR) as well in an RGBY (yellow) version. The luminous flux is up to 325 lumens.
The thermal resistance of the ACULED VHL package can be as low as 4.5 K/W, depending on the chip configuration. In addition, each chip features a separate anode and cathode, enabling the chips to be driven individually, thus increasing flexibility around electrical layout.
"Customers have been responding very favorably to PerkinElmer's ACULED RGB product and we are delighted now to be expanding our ACULED offerings," said Michael Kramer, PE's Managing Director of LED Solutions.
"In addition to our new standard offerings in the VHL line, our new ACULED DYO (Design Your Own) gives customers the capability to design their own LED solution based on the next-generation ACULED platform," continued Kramer. "We believe that the new DYO is the most flexible multi-chip LED available on the market today and affords multiple design options for our customers' limitless ideas."
The ACULED DYO gives customers the total flexibility to design their own four-chip LED configuration to suit their specific lighting application needs. With the DYO, the menu of options that customers can select from includes visible and non-visible LED chips, sensors, and ESD protection chips.
There are a large number of applications for the ACULED product family, including general illumination, specialty lighting, architectural lighting, automotive lighting, entertainment and mood lighting, display lighting, and medical lighting.