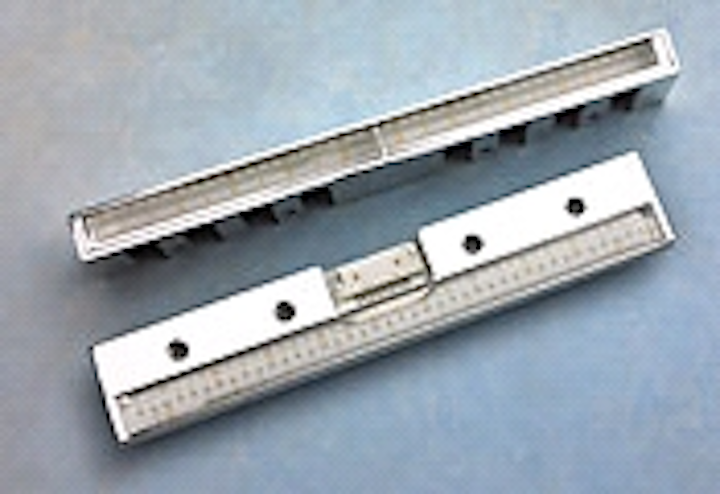 Avago Technologies has introduced a pair of high-performance, 24-watt red, green and blue (RGB) LED modules for a wide range of decorative, architectural and specialty lighting applications.
The company says the 100-mm-long modules are the first in the industry to provide up to 480 lumens of light output, and target customers who want an easy-to-use lighting solution that has the ability to display a variety of colors.
The ADJD-MJ50 (emitting light from the top) and ADJD-MJ60 (emitting light from the side) LED modules can be stacked vertically or horizontally to produce any required light distribution for lighting applications such as cove lighting, wall-washing, down lighting and exterior facade lighting.
The products are rated for up to 480 lumens of continuous light output when all of the red, blue and green emitters are driven with their rated current at 100-percent duty cycle (approximately 310 lumens when adjusted for white output with 9000 K color temperature).
The built-in heat sink provides a thermal resistance between the LED junctions and the case bottom of only 2 &176;C/W, and together with the mechanical mounting features this enables efficient heat transfer from the LEDs to the lighting fixture. The LEDs can be operated at high drive currents up to 750 mA total while minimizing junction temperatures.
The LED chips are silicone-encapsulated for extra long life, and the chips are mounted in a reflector cavity providing a smooth elliptical radiation pattern. The combination of optimized optical design with closely-spaced emitters maximizes light extraction for highest efficiency and pre-mixes the light from the red, green and blue chips to produce uniform color throughout the radiation pattern. This feature eliminates the need for the designer to provide additional light mixing optics.
The RGB LED modules are also designed for use with Avago's patented color management solution, allowing the end user to set and maintain a consistent color point throughout the life of the lighting device.
Avago is promoting its new products as a ready-to-use integrated solid-state light source. The LEDs are enclosed in a compact, easy-to-mount metal case designed to easily interface with a heat sink and equipped with an integrated power connector. This greatly simplifies the manufacture of lighting fixtures, and help to reduce production time and cost by eliminating the need for a second level assembly process and investment in expensive assembly equipment.
US pricing for the modules is $50.00 each at low quantities.
Reader Information:
Avago Technologies
Literature Service
Phone: +49 (0) 64 41 / 92 46 0
Fax: +49 (0) 64 41 / 92 46 46
E-Mail: info@promotionteam.de