Lumileds releases Luxeon K2 high-power LEDs
Lumileds says that its die and packaging advancements deliver a new class of high-power LEDs.
Jan 31st, 2006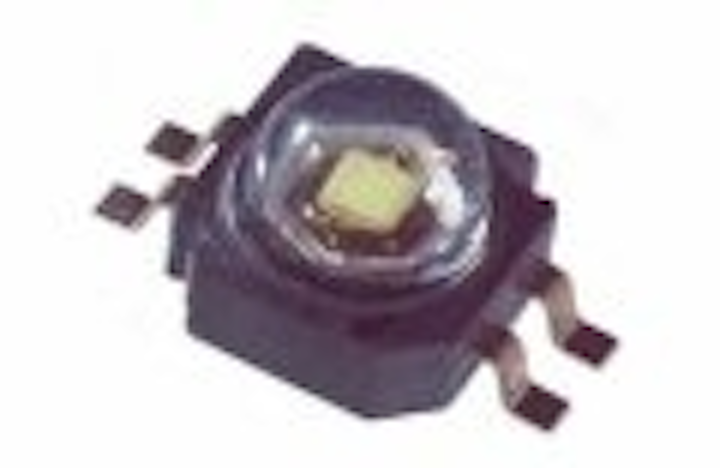 After a long wait, Lumileds Lighting has released its Luxeon® K2 LEDs, a redesigned, surface-mountable version of the high-power Luxeon package which produces up to 140 lm in white when driven at 1500 mA.
Lumileds says that its K2 emitters, first previewed almost one year ago in February 2005, enable the development of solid-state lighting applications with more useable light, reduced thermal management engineering, lower cost, and simpler manufacturing.
The devices offer a light output of 140 lumens in white at a color temperature of 6500K, with a current of 1500 mA and a forward voltage of 3.85 V. Dissipating 5.8 W, this equates to an efficacy of 24 lm/W. At 700 mA, the white K2 delivers up to 100 lm, equivalent to around 40 lm/W.
As well as a very high maximum allowable drive current of 1500 mA, the K2 has a low thermal resistance of 9°C/W.
The devices can also operate at the industry's highest maximum junction temperature of 185°C, although the figure is 150°C for white, according to the datasheet. Typical competing devices quote 125°C as a maximum value.
This allows engineers to deliver more light with existing thermal designs by driving LEDs at higher currents.
In theory, this feature also makes it possible to reduce or even eliminate heat sink requirements, thereby lowering the cost of system thermal design; and to build applications for use in environments with severe heat conditions.
The devices have high moisture tolerance with a JEDEC Level 2a rating, allowing for four weeks of unsealed factory floor life prior to preconditioning. Other competing products are rated at JEDEC Level 4 at best, leaving only a 72-hour production window after removal from their sealed production packaging.
Other advantages include simpler manufacturing than the predecessor Luxeon package through the use of surface mount technology, lead-free package and assembly capabilities. Also, new alignment features and datum reference points are used to facilitate precision assembly for automotive applications and other products where tight positioning tolerance is critical.
"Luxeon K2 shatters every performance record in the power LED industry by a wide margin, and that has far-reaching implications for luminaire manufacturers and other lighting solution providers," said David Eastley, Lumileds product manager for the Luxeon K2 line.
"With Luxeon K2 we start a new chapter for solid-state lighting by simultaneously increasing the brightness threshold and simplifying the engineering required to use high-power LEDs."
"We have completed our own analysis to determine which high-power LEDs are appropriate for our luminaires, and Luxeon K2 has a clear edge in both performance and engineering," said Yvan Peard, CEO of Aytron. "These new LEDs delivered 30% more light than products in the 3-watt range and exceeded our expectations on every level."