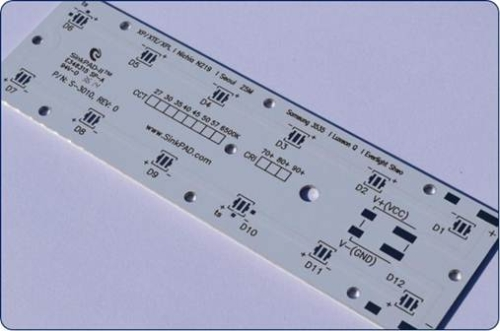 The linear boards that can be used in area lighting outdoors or linear lighting indoors offer a series connection for 12 LEDs with thermal management integrated into the product.
SinkPAD has announced a series of linear-form-factor PCBs (printed circuit boards) that host 12 LEDs and that are based on the company's unique PCB technology that conducts heat away from the LEDs, thereby ensuring robust solid-state lighting (SSL) product designs. The company is best known for its Star PCBs that host a small number of LEDs, but the new Linear PCB family announced at The LED Show will enable the company to serve applications such as ceiling troffers or outdoor area lighting.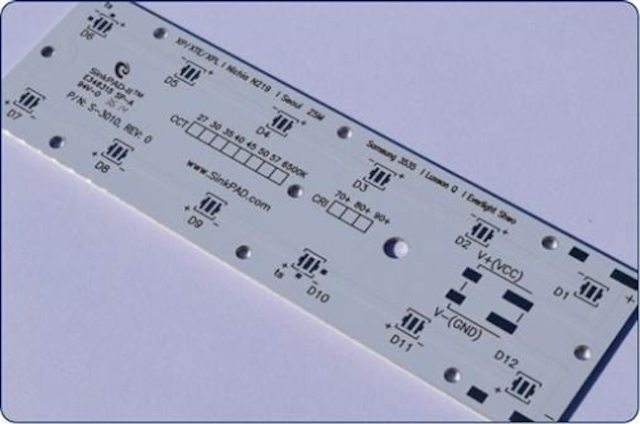 SinkPAD announces thermally-enhanced linear PCBs at The LED Show
SinkPAD's thermal technology works by locating a thermal pad directly under each LED that connects directly to the metal core of the PCB, whereas more typical metal-core PCBs have a dielectric layer between the LED and the core. We covered the approach in an article on the various thermal-management technologies that are available for SSL development. The company said the LEDs run as much as 20°C cooler installed on its products relative to standard metal-core PCBs.
The new Linear PCB line is available for a variety of LEDs from leading manufacturers. Four primary versions support:
Cree XP/XPL/XTE, Nichia N219, Seoul Z5M, Philips Lumileds Luxeon Q, Samsung 3535
Cree XML/XML2
Osram Oslon SSL/Square
Lumileds Luxeon M
The new boards measure 1.712×5.71×0.062 in. The 12 LEDs are wired in series. Thermal conductivity is 220W/mK. Developers can choose to solder connections directly to the PCBs or use broadly available connectors.
To speed product development, the Linear PCBs are also compatible with the Strada family of optics from LEDiL. Those optics are available for a variety of different LEDs and can deliver the beam patterns defined for use in roadway- and area-lighting applications by the Illuminating Engineering Society (IES) and European standard bodies. For example, we covered the announcement of a Strada optic for Osram Oslon Square LEDs.