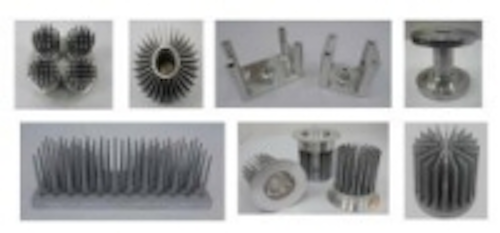 Heat and light are often synonymous. While the need for high-powered LED lighting gains traction, one of the key challenges faced by lighting manufacturers today is thermal management.
A thermally-stressed LED light quickly loses efficiency and has diminished lumens-per-watt output, affecting its brightness. If LED thermal management is unable to meet the temperature specifications of the LED, a breakdown, or other undesirable effects – such as internal solder-joint detachment, damage to die-bond epoxy or lens yellowing – may occur.
For this reason, many LED applications require high-performance heat sinks capable of removing heat from the LEDs. Aluminum heat sinks manufactured by a liquid-forging process offer a number of heat-transfer advantages in comparison to products manufactured by competing techniques.
Why Liquid Forging?
Liquid Forging is an innovative metal-forming process, developed by the Singapore Institute of Manufacturing Technology (SIMTech), which allows complex geometries with pore-free parts to be produced with minimal material wastes. This process harnesses wrought aluminum alloy to create a liquid melt, which can be easily fashioned into a comprehensive range of products that allows for flexibility in design.
Some advantages of liquid-forged heat sinks relative to other conventional processes include:
Improved thermal performance
Liquid-forged heat sinks offer improved thermal performance i a variety of ways:
Aluminum-wrought alloys conduct heat faster than cast alloys used in die casting. Also by incorporating a copper base, the heat sink achieves 4 times better thermal conductivity.
Intricate fins and pins deliver a higher aspect ratio, increasing the surface area for ambient heat transfer. With no centre core, heat removal by convection is also improved compared to heat sinks made by conventional processes.
Porous-free microstructure eliminates air pockets for rapid, continuous heat transfer through the heat sink to the surroundings.
Anodized heat sinks can further improve thermal performance by an additional 10-15%.
More information on this process can be obtained by
downloading the Liquid Forging whitepaper
.