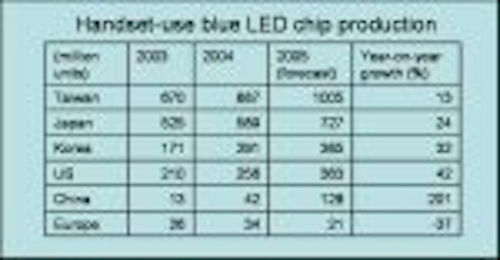 One of the highlights of LED Lighting Taiwan 2005, part of the Opto Taiwan event organized by PIDA, was record-breaking LED light source.
The first-ever LED Lighting Taiwan event, organized by Taiwan's Photonics Industry & Technology Development Association (PIDA), is taking place in Taipei from June 8 to 11.
Part of the Photonics Festival which also includes Opto Taiwan, the LEDs event has attracted about 60 exhibitors, ranging from domestic LED manufacturers (e.g. Lite-On, Everlight, Epistar, Forepi) to lighting fixture companies (e.g. China Electric Manufacturing, Neo-Neon, Primo Lite). Overseas participants include Nichia, Stanley, Lumileds, Cotco and Supertex.
Zhong Nan Yuan, a lighting designer and IALD member, was asked to design "LED Avenue", which combines LEDs with advanced technologies such as solar energy, biomedical technology and displays, and allows visitors to experience the application of LEDs in illumination and art.
Two LED-related products featured among the 10 winners of the Outstanding Photonic Products awards; a GaN ultra-violet index sensor from South Epitaxy Corp. and a high-power ultra-violet LED from Epistar.
Handset-use blue LED chip production
PIDA has produced numbers for the global production of blue LED chips for use in handsets (mainly backlights for LCD screens and keypads).
The figures estimate that Taiwan will have a 38% share of the total market of 2.63 billion units in 2005. China will show the most rapid growth, producing 3 times as many LED chips in 2005 as in the previous year.
300-lumen LED light source
One of the outstanding products unveiled at LED Lighting Taiwan was the E4400 NeoBulb Light Engine from NeoPac Lighting, which has an output of 300 lumens.
The E4400 has a proprietary package that features high-efficiency thermal management to remove heat from the LED chips (see our feature article NeoBulb takes heat out of high-power LEDs). The E4400 can be integrated into the B4400 lamp to provide a complete plug-and-play system.