Toshiba, Harvatek unveil high-luminosity white LEDs
Two more companies join the growing list of suppliers of watt-level white LEDs
Mar 29th, 2005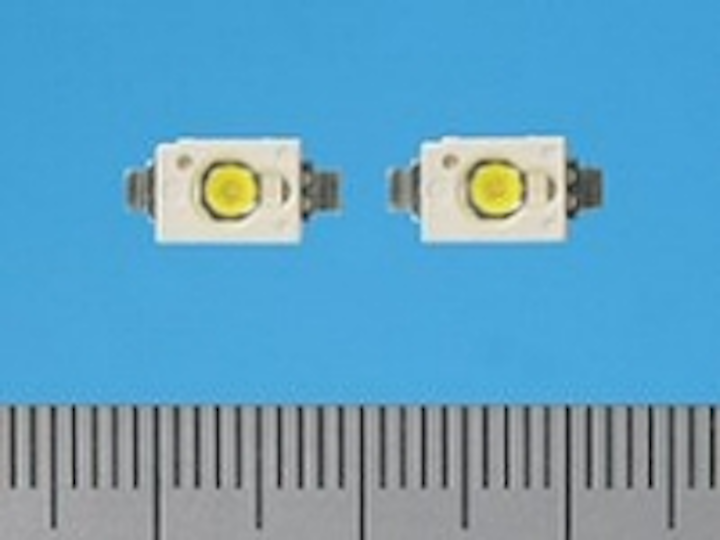 Two more LED manufacturers, the Japanese optoelectronics giant Toshiba Corporation and Harvatek, a Taiwanese company which is one of the world's largest manufacturers of surface mount devices, have joined the increasing group of companies offering watt-level white LEDs.
The new devices, offering 30-100 lumens, will compete with existing products such as Lumileds' Luxeon, Nichia's Jupiter, Osram's Golden Dragon, Cree's XLamp, Cotco's Dorado as well as offerings from Toyoda Gosei and Rohm.
Toshiba claims that its new range of white LEDs have the industry's highest level of luminosity and can be used in general lighting, ornamental lighting and LCD backlighting. The company says that it will ship samples of the new white LED from July, with mass-production commencing in October at an initial volume of 1 million units per month.
Taiwanese manufacturer Harvatek has announced the availability of white LEDs that deliver 30 lm at 350 mA, 60 lumens at 700 mA, and 100 lumens at 1.05 A (see Harvatek announces ultra-bright white LEDs). Harvatek has licensed its white LED technology from Osram Opto Semiconductors (see Osram grants LED patent license to Harvatek).
Toshiba's white LED, TL10W02-D, has a luminosity of 60 lumens at approximately 2 watts (500 mA). This high-level performance was achieved by improved mounting technology for the LED chip and use of a low thermal resistance package with improved heat release characteristics.
Toshiba has also enhanced the optical efficiency of its package by optimizing the design of the reflector. The company also says that excellent heat removal characteristics allow the device to sustain high luminous linearity, even with a current as high as 700 mA maximum.
Alongside the TL10W02-D Toshiba also announced the 30-lumen TL10W01-D, which will start sample shipments in June and go into mass-production in July, at a volume of 1 million units a month.
Both new LEDs come in a compact package measuring 10.5 (D) x 5.0 (W) x 2.1 (H) mm, with lead-free reflow soldering. The chromaticity coordinates of both devices are Cx: 0.33, Cy: 0.32.
Samples of Toshiba's TL10W02-D and TL10W01-D white LEDs are priced at 700 yen ($6.50) and 500 yen, respectively.
Toshiba says that it has taken the lead in promoting white LEDs by developing and commercializing LED diodes combining high luminosity with high luminous efficiency and that are suitable for use as general lighting sources.