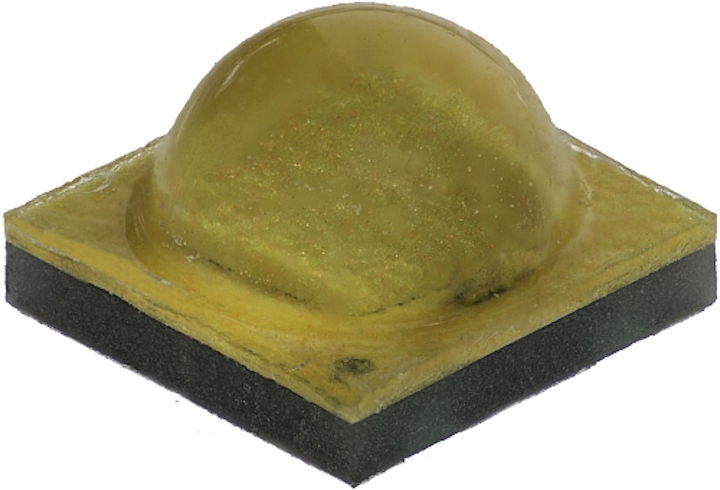 A news S-Series addition to the Cree XP-G3 LED portfolio better suits harsh outdoor environments and repeated switching cycles associated with the IoT, while LG Innotek has launched a violet LED targeting visible-light continuous disinfection.
Cree has announced the XLamp XP-G3 S Line LEDs that are intended for usage in more harsh environments and operating conditions. Indeed, Cree said the components would be well suited to Internet of Things (IoT) applications that might see LED-based lighting switched on and off on a recurring basis driven by occupancy-sensor controls. LG Innotek, meanwhile, has become the latest of a rapidly-growing list of LED and solid-state lighting (SSL) manufacturers targeting continuous disinfection applications using LED lighting indoors.
Expanding XP-G3 offering
The XLamp XP-G portfolio is perhaps Cree's broadest packaged LED offering, with the original component announced back in 2009 at an efficacy of 111 lm/W. The XP-G package features a popular 3.45×3.45-mm footprint and a discrete single-emitter light source. Cree has regularly used numbering schemes in identifying follow-on products in a family with the XP-G2 being a prime example when it came to market in 2012 with efficacy in the 151–165-lm/W range. The XP-G3 packaged LED emerged in 2016 with efficacy surpassing 200 lm/W.
With the XP-G3 S Line, Cree is departing from the normal scheme of product branding with what has been essentially a number representing generations of the product line. Perhaps the reason is the three-pronged set of advantages touted for the new products. Cree said the LEDs are more robust in terms of reliability after exposure to sulfur — something that's common in outdoor SSL products like street lights that can be especially problematic in coastal areas.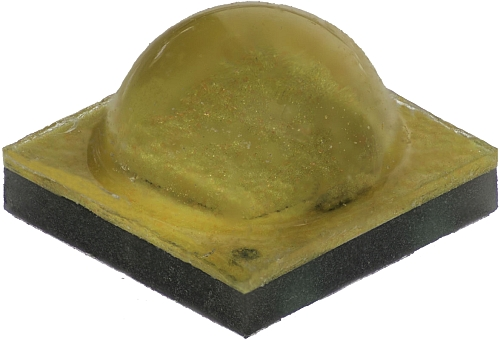 Packaged LED news: Cree toughens XP-G3, LG Innotek targets continuous disinfection with violet LED
Cree's latest packaged LED offering is robustly designed for networked outdoor lighting in IoT applications.
Cree further says the S Line does offer slight improvements in output and efficacy relative to the prior XP-G3 LEDs. And the third area of improvement is tied to smart lighting installations with programmable and autonomous controls.
Neither Cree, nor competitors, regularly publish specifications defining how many on/off cycles that a component can tolerate. Immunity to such cycles has been a common claim of LED manufacturers since the early days of SSL technology when manufacturers stressed the reliability advantage of SSL. Cree, however, says IoT connected lights could be subject to 10× more power cycles relative to standard lights. And the company said the S Line components will withstand more than double the cycles of any competing lighting-class LED.
Meanwhile, announcing the S Line as a follow-on product again affords Cree the ability to reduce the LM-80 testing time in half to 3000 hours after which SSL products using the S Line LEDs can meet Energy Star or DesignLights Consortium (DLC) requirements. That fact simplifies the upgrade process of SSL manufacturers. "Our customers want LED solutions that are highly efficient, cost effective, and reliable enough to last in the harsh outdoor environments of Brazil," said Mario Sergio Martins, co-owner, Genesis Devices & Equipment (GDE). "With the new XP-G3 S Line LEDs, Cree is delivering a solution that is quickly and easily implemented to improve the performance and reliability for all my products, whether they include IoT controls now or will be retrofitted later in the field."
Continuous disinfection
Moving to a vastly different application, the universe of LEDs capable of continuous disinfection has expanded tremendously this year, as we noted in a report from LightFair International. The participants have been primarily lighting manufacturers with the packaged LED suppliers enabling the developments lurking in the background. But we did report that Vital Vio had won what apparently was an LED-centric patent related to the application.
We believe that LG Innotek is the first packaged LED manufacturer to overtly target the visible-light disinfection sector with a product in its standard catalog. The company said it would market the LEDs globally to lighting manufacturers. The company has not announced detailed specifications beyond the 405-nm center wavelength.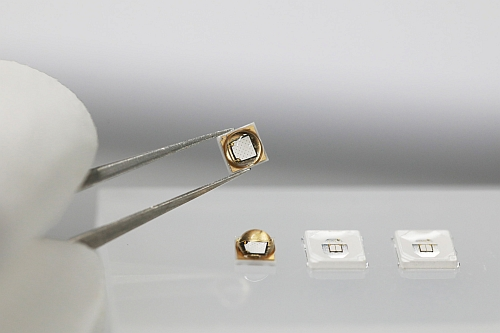 A new violet packaged LED from LG Innotek provides visible-light disinfection.
It will be interesting to witness the impact of LG Innotek on the intellectual property (IP) landscape. Vital Vio and the University of Strathclyde in Glasgow, Scotland both own patents in visible-light disinfection. And both have licensed their IP to SSL manufacturers. We have long expected, and still expect some IP skirmishes to emerge.
LG Innotek did describe the process through which its packaged LEDs destroy pathogens. The company said compounds called porphyrin inside of bacteria cells react to the light frequency and destroys cells. The company said the phenomena occurs with spectrum mimicking certain wavelengths in sunlight.
"Visible disinfection lighting is an innovative solution that will brighten up our living space and at the same time sterilize it safely and conveniently," said Song June-O, vice president of the LED Business Unit at LG Innotek. "It will be able to improve the quality of many people's lives."