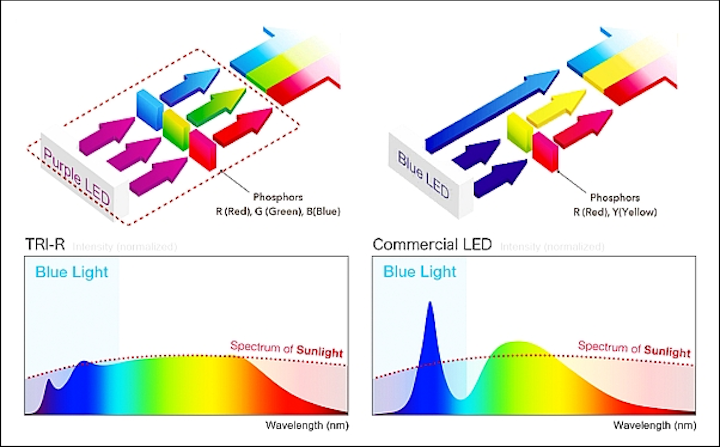 The SunLike packaged LEDs due this summer approximate the spectral power distribution of the Sun and will target applications such as retail where quality of light is a requirement.
South Korea-based Seoul Semiconductor and Japan-based Toshiba Materials held a press conference in Frankfurt, Germany announcing a new packaged LED technology call SunLike due from Seoul this summer that is based in part on a Toshiba phosphor technology called TRI-R. The LEDs are promised to deliver a uniform and broad spectral power distribution (SPD) that is more like sunlight than are typical phosphor-converted white LEDs. The LEDs will utilize a purple emitter and a red, green, and blue (RGB) phosphor mix to render colors accurately and to eliminate the blue energy peak associated with LEDs based on blue pumps.
Interested in articles & announcements on packaged LED technology?
Katsuhiro Shinosawa, director and chief marketing executive of Toshiba Materials, said LEDs based on the TRI-R phosphor will achieve scores near 100 on both the Rf (fidelity) and Rg (gamut) metrics that are defined in the Illuminating Engineering Society (IES) TM-30 standard. The IES released that standard in 2015 as a replacement for CRI, although TM-30 has still not been globally adopted. The nearby image depicts SPDs of a conventional LED (right) and a TRI-R-based LED (left).
As mentioned earlier, the touted benefits of the SunLike LEDs include both the elimination of the blue peak and the excellent color rendering. The blue peak of LEDs is still seen as a potential health hazard. Moreover, the blue energy is not efficiently used by the human visual system.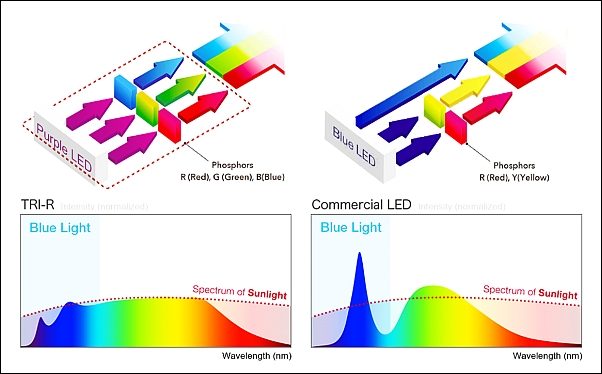 Seoul Semiconductor and Toshiba Materials introduce broad-spectrum packaged LED technology
Seoul Semiconductor and Toshiba Materials announced a new packaged LED technology that is said to deliver a spectral power distribution more akin to sunlight than that of traditional phosphor-converted white LEDs.
The SunLike announcement is somewhat similar to a blue-free packaged LED coming from Soraa that was hinted at in a recent contributed article published in our June issue. That Soraa technology is actually void of energy in the blue region. Soraa uses a violet emitter that has drawn comments from a few of our readers questioning whether a violet peak so near the ultraviolet (UV) spectrum might be a health concern, although Soraa has sold LEDs based on a violet emitter for years.
A revolution is happening in horticulture. It's a seismic shift that will change fundamentally how we grow plants — and it's all down to lighting. The next Horticulture Lighting Conference will take place in Denver, CO on Tuesday, October 17, 2017. To find out more information and to register to attend please click here.
During the question and answer session at the Frankfurt press conference, the Seoul and Toshiba executives were asked about competing LEDs and while Soraa was not named specifically, the answers seemed to be directed at Soraa's product. The competing packaged LED was said to have a purple peak and not a uniform SPD as will SunLike. TRI-R was further said to be such an efficient phosphor that it eliminates a purple peak.
Turning to applications for the SunLike LEDs, Andreas Weisl, managing director and vice president of sales Europe for Seoul Semiconductor Europe, said the initial targets are residential, healthcare, architectural , hospitality and retail. Weisl said, "This is where quality of light matters." And the broad uniform spectrum will deliver on that quality requirement.
Weisl also addressed the potential market opportunity. He said the Seoul target for SunLike represents $4 billion of the total global market for lighting. He also said Seoul believes it can address 3% of this market segment during 2017.
Weisl said SunLike will also address niche applications that have been reluctant to adopt LED sources. One example is horticulture, where LEDs are performing well in lighting some crops but lack the broad spectrum and yellow-green punch of HID sources. Current thinking indicates that crops with a biomass goal need the yellow and green spectrum in addition to red and blue. We have covered some of that ground in a number of horticultural lighting articles and it will be a theme at our October Horticultural Lighting Conference.
There was also an undercurrent of the potential for the SunLike technology to be used in human-centric lighting that ran throughout the press conference. Already the elimination of the blue peak may make the technology healthier for humans. But the technology could be adapted in tunable-lighting applications as well.
Seoul said some of the global leaders in the lighting industry are already evaluating SunLike LEDs and Seoul promised broad availability of samples this summer. Initially, Seoul will offer SunLike technology in COB (chip on board) LEDs. Weisl said COB LEDs are established in products such as directional lighting for retail applications, and therefore the SunLike COBs can transition into that space quickly. Later, the company will bring the technology to mid-power packages including high-voltage LEDs based on Seoul's MJT (multi-junction technology) that connects emitters in series during the back end of the LED manufacturing process.
Seoul did not reveal any details of LED performance beyond the TM-30 metrics mentioned previously. The company did say efficacy might trail its top-performing LEDs by 10%. But high-CRI LEDs in general typically exhibit a similar efficacy penalty.
*Updated Jan. 8, 2018 10:05am for corrected figure.