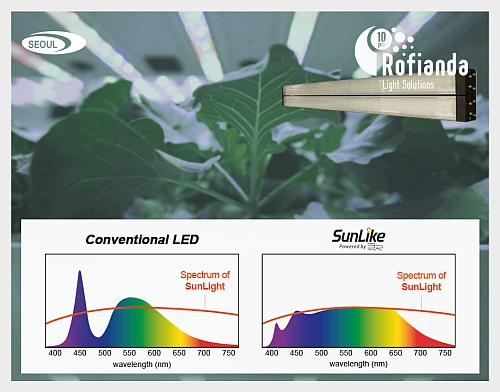 Rofianda in the Netherlands is integrating Seoul Semiconductor SunLike LEDs in new horticultural lighting fixtures, and Illumitex claims a new SSL product replaces HPS luminaires on a one-for-one basis in growing operations.
Seoul Semiconductor has announced that Rofianda B.V., located in the Netherlands, has adopted the SunLike Series of LEDs for use in its latest horticultural lighting products. With spectral power distribution (SPD) mimicking the sun, Seoul says the SunLike LEDs enable solid-state lighting designs that can boost yield in horticultural applications. Meanwhile, Austin, TX-based LED grow light supplier Illumitex has announced the HarvestEdge Extra Output (XO) horticultural solid-state lighting (SSL) fixture, which it says will enable growers to increase energy efficiency, yield, and plant quality.
SunLike SPD
The Seoul SunLike LED technology was announced back in mid-2017, and as mentioned previously was touted to have a uniform SPD across the human visual range. The company has said the technology provided quality light for humans, had specific applicability to human-centric lighting or lighting for health and wellbeing, and could serve the needs of plants. Seoul offers both monochromatic LEDs for horticulture that center on well-known absorption peaks in the red and blue for chlorophyll, and the broad-spectrum SunLike series that further delivers energy in the yellow and green regions that are increasingly seen as important. Watch for our feature article that will be out in just a few days on the 2018 Horticultural Lighting Conference and will deliver new details on plants' lighting needs.
Apparently, Rofianda is using the SunLike LED series to achieve a broad SPD in its new luminaires. The announcement states that the products deliver uniform energy from 380–740 nm. Note that span is beyond the human range, touching both the ultraviolet (UV) and near-infrared (IR) regions. The aforementioned article that's due out soon covers the needs of plants in those regions.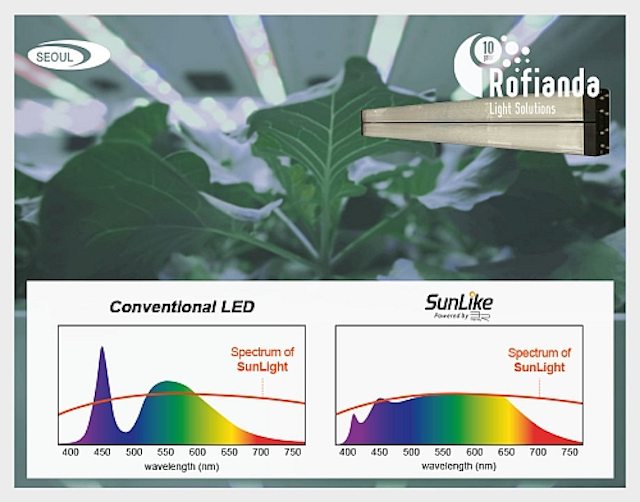 Horticultural lighting news: Seoul supplies SunLike LEDs to Rofianda, Illumitex boosts horticultural LED luminaire output
Seoul Semiconductor has supplied its SunLike Series of packaged LEDs for horticultural lighting product development at Rofiando in the Netherlands. (Photo credit: Seoul Semiconductor.)
"We are proud to launch the innovative horticulture LED lighting in cooperation with Seoul Semiconductor," said Ronald Gronsveld, director of Rofianda. "Its SunLike Series natural spectrum LEDs are the first and only true sunlight LEDs that enable growers to ensure better yields and a consistently high quality of crops. We believe that market demand for horticultural LED lighting with SunLike LEDs will expand."
The SunLike series, and many other Seoul products will be on display Feb. 27–Mar. 1 at Strategies in Light 2019. The event will take place in Las Vegas, NV at the Mandalay Bay Convention Center.
Illumitex XO
Moving to Illumitex, the company has made the statement that the new HarvestEdge XO fixtures enable one-for-one replacement of high-pressure sodium (HPS) lamps. While there is no question that LED-based lighting is displacing HPS in many applications, SSL technology can't presently deliver the same amount of spectral energy, and specifically photosynthetic photon flux (PPF), as HPS lamps. See one of our feature articles for more info on horticultural metrics such as PPF. Indeed, HPS remains the choice of growers for cultivars such as cannabis, especially for the flowering stage when intensity is paramount.
It's tough to judge the Illumitex claims for the moment because the company has not released full specifications for the XO product. But it does apparently have a linear form factor. And that would imply that it would not support the same type of greenhouse or indoor-farm footprint as HPS fixtures. Then again, we have previously written that growers need to adapt to leverage the true capabilities of SSL, as in a case history where a grower adapted vertical-farm techniques to cannabis.
Illumitex said the new products slash energy usage by 36%, making them ideal for cannabis and other biomass-centric cultivars. "This new product advancement clearly demonstrates two critical aspects behind the Illumitex mission and vision," said John Spencer, executive vice president and COO at Illumitex. "The first is to consistently test and push the boundaries of horticulture science to continue to produce measurable and sustainable benefits for growers; and secondly, to show how a constant commitment to excellence will further these benefits for both growers and the industry overall."
Our Strategies Unlimited market research business unit has extensively evaluated the potential for LEDs in horticultural applications. The potential is significant in traditional greenhouses, vertical farms, and cannabis. But research director Philip Smallwood is especially bullish on the burgeoning legal cannabis market. He has predicted that LEDs would surpass HPS lighting in cannabis applications sometime this year. The Strategies Unlimited team is readying its latest report on the horticultural market.
The aforementioned Strategies in Light event will also feature some valuable horticultural presentations. A morning session on Friday of the conference week will focus on horticultural lighting.