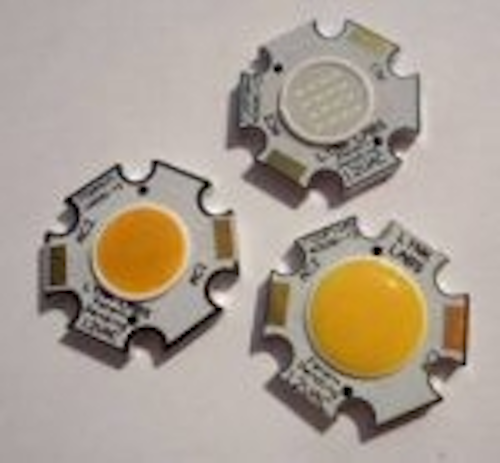 Lynk Labs Inc., a leading developer of AC-driven LEDs for general lighting, demonstrated a broad line-up of AC-LED components with various power and voltage options at the recent Strategies in Light 2012 conference.
The company's Tesla AC-LED packages included products designed to operate from low-voltage (12-48 Vac) direct AC and others operating from high-voltage (50-240 Vac) rectified AC. The packages are available in in various power, CCT and lumen levels.
"AC-LED technology is now penetrating the LED industry as a key enabling technology for LEDs in general lighting," said Charles "Chick" Huber, VP of business development at Lynk Labs.
"More OEMs are designing Lynk Labs' AC-LED components into their general-lighting products and realizing the benefits the technology provides, from design simplicity and reliability to infrastructure compatibility," added Huber.
AC LEDs deliver simple, rapid and reliable design solutions for general lighting. With driver costs, compatibility issues and failures becoming a bigger issue in end-use LED systems, Lynk Labs believes that AC LEDs may be a key future solution for broad market adoption of LEDs in general lighting.
At SIL 2012, Lynk Labs introduced a family of new Tesla AC-LED packages and BriteDriver power supply/drive solutions. It also introduced a new 12V AC-LED single chip "Lamp-On-ChipTM" technology.
"The new 12V AC-LED single chip is part of Lynk Labs' core patented AC-LED technology integrated onto a single low-voltage chip through a joint development between Lynk Labs and Epistar Corp," said Mike Miskin, Lynk Labs' president & CEO.
"This chip has been designed and optimized to be the equivalent of a 5-7W incandescent 12Vac lamp on a single chip. In the next few years, Lynk and Epistar will be delivering the most advanced and enabling AC-LED-based technologies the market has to offer for general lighting. We've pioneered the AC-LED industry and have more products, IP and know-how – from chip level to luminaire – than anyone in the industry," added Miskin.