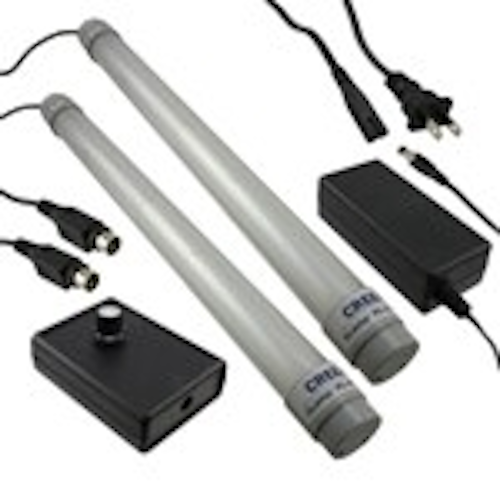 Electronics distributor Digi-Key is selling a T8 retrofit-tube demonstration kit that's based on Cree's 0.5W ML-E LEDs. The product is meant to allow product developers an easy way to evaluate the performance of the ML-E LEDs in the challenging fluorescent-replacement-tube application.
Digi-Key's design services partner Marktech Optoelectronics developed the tubes supplied in the kit. The kit includes tubes of different lengths and with different types of diffusers. The designs use different LED spacing inside each tube so that product designers can observe the impact on light distribution.
The Digi-Key part number is SSLDEMO-LMP-T1-ND. The kit costs $75 and includes drivers as well as the tubes. One of the drivers includes dimming capabilities so product designers can also evaluate the impact of lower drive currents on the light level produced.
LED retrofit tubes
The LED retrofit tube remains a hot area of interest because of the sheer number of potential sockets for such a product around the globe. The US Department of Energy (DOE) has reported poor results testing LED-based tubes in a number of its Gateway and Caliper trials. Strategies Unlimited has also projected slow uptake of the technology due to poor performance. But we've reported some positive results of late including an installation in the Hodad's San Diego, California restaurant.
The ML-E LEDs have been available for a couple of years and were developed specifically for mid-power-LED application that require even light distribution – such as linear lighting. Subsequently, Cree has expanded its mid-power offering including the ML-B family and more recently the ML-C and new versions of the ML-E.