At LuxLive, Plessey demonstrated its silicon-based packaged LED technology in SSL product developments, while in Korea Samsung added low-end COB LEDs for indoor-lighting product developments.
Samsung has introduced 6W and 8W chip-on-board (COB) packaged LEDs that specifically target indoor solid-state lighting (SSL) products, filling out its COB portfolio at the low end of the power range. Plessey, meanwhile, made additional announcements at LuxLive including a first luminaire based on its silicon-based LEDs from Zeta and packaging technology that can serve other lighting applications.
LC006B and LC008B LEDs
The new Samsung LEDs fit in below the 13W to 40W packaged LEDs in the company's LC product portfolio. Most recently, the company had announced efficacy improvements to 143 lm/W in greater than 10W family members. The new lower-power devices perform similarly with the 6W model yielding 140 lm/W and the 8W model yielding 142 lm/W — both characterized at a 5000K CCT.

Packaged LEDs: Samsung debuts low-power COB LEDs, Plessey announces solid-state lighting partners
Samsung clearly sees the additional products as a means to broaden the applications it can serve with COB packaged LED products. "We remain dedicated to increasing our breadth of market solutions, to further grow our LED lighting component business," said Bangwon Oh, senior vice president of the strategic marketing team for the LED business at Samsung Electronics. "With the introduction of our new under-10W COB packages, we are signaling our intent to aggressively target the indoor LED lighting market."
Samsung will supply the LEDs over the range of 2700K to 5000K CCTs with a minimum CRI of 80. Moreover, SSL product developers can buy the LEDs within a 3-step MacAdam ellipse bin for color uniformity. The LEDs have a relatively small 8-mm light-emitting surface (LES) that can be key to tight beam patterns and high center beam candle power (CBCP). The company did not specify any typical CBCP performance for prototypical directional lamps or luminaires.
Plessey builds ecosystem, ups performance
Plessey, meanwhile, used the LuxLive stage to announce its first partners from the SSL space developing products based on the Plessey Magic (Manufactured on GaN-on-Si I/C) portfolio. All of the proponents of gallium-nitride-on-silicon (GaN-on-Si) LED technology have struggled to deliver components with efficacy competitive with legacy packaged LEDs built on sapphire or silicon-carbide substrates, but clearly the company believes that it has arrived at the point where Si-based LEDs can compete in the market.
At LuxLive, Zeta Specialist Lighting demonstrated its ZD LED Bulkhead fixture — a low-profile flush-mount luminaire designed for ceiling or wall mounting — based on a Plessey LED. The companies said that the product is the result of a three-year collaboration.
"We are very excited about this partnership which will result in the availability of more advanced, UK-manufactured LED technology becoming available," said Phil Shadbolt, managing director of Zeta. "As the lead partner in the project, we have invested heavily in plant and machinery, test equipment and staff, and the imminent launch of the Zeta ZD LED Bulkhead with Plessey's GaN-on-Si MaGIC LEDs… Working in partnership, it is our aim to incorporate Plessey die into as many Zeta products as possible in the future."
The companies did not release details on the performance of the new product. Moreover, the companies have not released specific information regarding when the product will be commercially available. Still, it is noteworthy that Zeta is the first company to publicly announce plans to use the Plessey LEDs.
LEDs and enabling technology
Plessey also demonstrated its recently announced large-area LED packaged using thermal technology from Litecool. The company had just released the 20-mm2 LED as a technology demonstrator for the Magic platform. The LED can deliver 5W of radiometric power.
The Litecool technology allows the LED to be mounted directly onto a heat spreader without anything interfering with heat transfer away from the LED junction. The 10W MicroSpot package has thermal resistance of 0.7°C/W.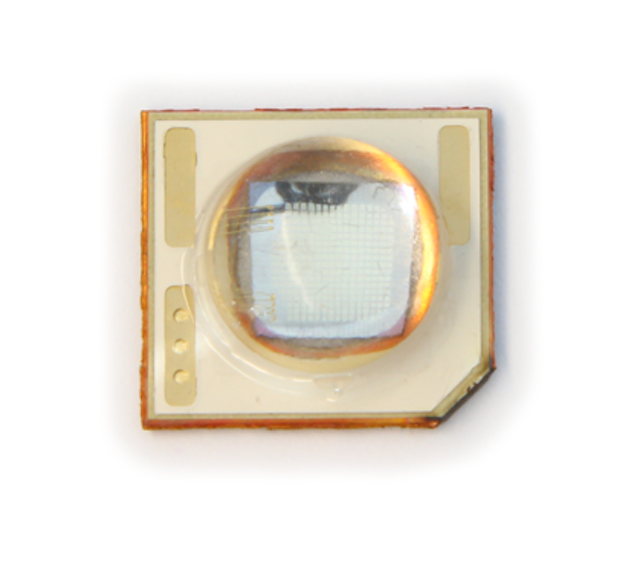 "We have used our latest generation of technology to ensure ground-breaking thermal resistance for this unique package," said James Reeves, CEO at Litecool. "This powerful single source emitter works exceptionally well with secondary optics and with our technology keeping it cool. I can see this being a hit in the spotlight market where high lumen density is essential." Again, however, the demonstration of the source comes with no promise of commercial availability.
While the described demonstrations are based on larger LEDs, Plessey also announced new products in the mid-power range that can deliver 120 lm/W in efficacy — coming nearer to the performance of legacy packaged LEDs. The company will ship samples of the LED in a 5630 package immediately. While the performance is improving and possibly suitable for some applications, Plessey pointed out that it has doubled flux output in the past six months and that it would match the performance of legacy LEDs in another six months.