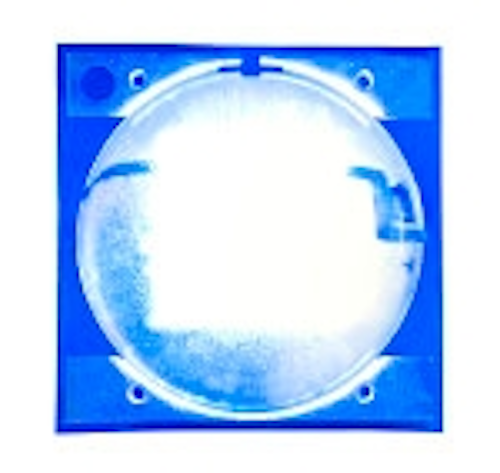 Cree announced the new XLamp XT-E Royal Blue LED that delivers 525 mW of radiant flux, and targets remote-phosphor solid-state-lighting (SSL) applications. The company will match that LED with a remote-phosphor patent licensing program that will allow lamp and luminaire designers to accelerate the SSL design cycle.
Cree says that the new LED offers "category-leading brightness" along with 2.5-nm bins that it asserts are the industry's tightest. Mike Watson, Cree senior director of marketing, LED components, said, "The new Cree XLamp XT-E Royal Blue LED outperforms the competition in both elements enabling our customers to design high-performance and low-cost systems."
The LED is based on Cree's Direct Attach packaging technology that relies on bond pads on the bottom side of the emitter and what the company calls a "eutectic die-attach process" that eliminates bond wires and uses a chemical compound for the bond. That design yields the 525 mW of flux at 350-mA drive current and 85° C operating temperature.
Remote-phosphor technology
Remote-phosphor SSL designs typically utilize a blue emitter -- generally considered to be the color that delivers maximum efficacy. The phosphor that generates the white light is coated on a secondary optic or diffuser. Proponents believe such designs deliver better efficacy than do phosphor-converted LEDs. Phosphor-specialist Intematix, for one example, maintains that its remote-phosphor technology can deliver a 30% efficiency advantage.
There are certainly notable examples of remote-phosphor products that achieve superior efficacy. For example, the Philips lamp that was announced as the US Department of Energy (DOE) L Prize winner last week uses a remote phosphor.
Patent licensing
Cree hopes to help design teams working on remote-phosphor lamps and systems via the patent licensing program. Cree says that a license will allow access to patents that are fundamental to the combination of a blue emitter and a phosphor-coated optical element.
Early this year, Cree announced what is essentially a reference design of a 60W-equivalent LED-based lamp that uses remote-phosphor technology and that according to Cree would meet Energy Star requirements. At the time of that announcement, Cree said that the design relied on patented remote-phosphor technology. It's not clear if that same technology is included in the new licensing program.
Other royal-blue LEDs
Cree is not the first company to announce a royal-blue LED targeted at remote-phosphor lamps and luminaires. Philips made a similar announcement back in May of a royal-blue LED in the Luxeon ES family of components.
Coincidentally, or not, both the Cree and Philips announcements were lacking a measurement of light output in the more traditional units of lumens (lm). Cree chose to specify its product in the wattage unit that defines the radiometric power or radiant flux of the output.
Originally Philips simply provided a specification of wall plug efficiency for its LED. Subsequently the company has published a data sheet with a rating of 500 mW at 350 mA.