Lynk Labs works with strategic packaging partners for AC-LEDs
At Strategies in Light 2011, Lynk Labs unveiled a broad family of new AC-LED packages, developed in cooperation with different manufacturers, namely Citizen, Epistar, Everlight and Unity Opto.
Mar 2nd, 2011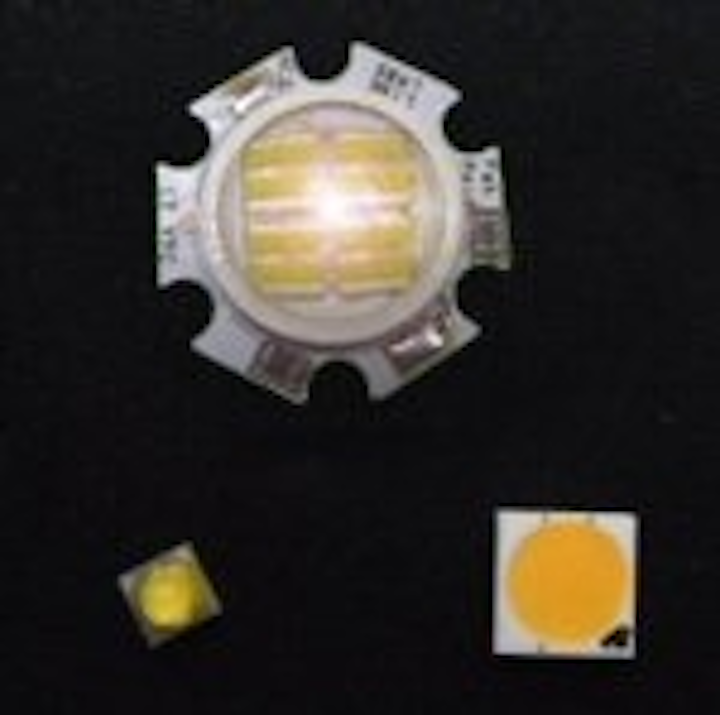 Lynk Labs Inc., the Elgin, IL-based developer of AC-LED technology and products, has expanded its product line and added to its list of strategic packaging partners. These companies are manufacturing low-voltage AC and high-voltage (HV) LED packages using Lynk's patented AC-LED technology. Lynk recently announced its entry into the
component sales side of the LED market
.
As a result of three separate cooperative efforts – with Citizen Electronics, Unity Opto and Everlight Corporation – Lynk Labs introduced 9 new AC-LED and HV-LED packages last week at Strategies in Light in Santa Clara, CA. Lynk says that all the packages fall within the company's continuously growing IP portfolio in the AC-LED and HV-LED space.
Citizen Electronics, the Japan-based LED packager which was one of Lynk's earliest strategic packaging partners, will now be adding more AC-LED packaging capabilities for Lynk's Tesla AC-LED product line in both 12Vac and HV-LED. Demonstrations at SIL included a 12V, 12W package and a 100V HV-LED package made for Lynk by Citizen.
Taiwan-based Unity Opto is now also a packager for Lynk Labs. Lynk introduced 2 new AC-LED packages as a result of this new relationship, including a newly patented Multi-Voltage 12/24Vac package designed to operate on either 12 or 24V AC voltages.
Lynk is also cooperating, and has developed 4 new packages, with Taiwan-based Everlight Corporation over the past several months. "One product is a 7W Star for MR16 lamps that will fully dim and eliminates ALL of the drive electronics that have been required by DC LED MR16 solutions," said Bob Kottritsch, Vice President of Lynk Labs. "There is also a 2W package that will do the same for MR11 lamps."
Lynk also demonstrated a patent-pending Multi-Voltage design packaged by Everlight for HV-LED that will operate on 100Vac or 200Vac for MR16 GU10 base and other applications.
Also at Strategies in Light, Lynk demonstrated a new 0.5W package comprising a 12Vac, 0.5W single-chip developed by Epistar Corporation and Lynk. These two companies entered into an investment and licensing agreement at the end of 2009.
"Although the lm/W efficiency of an AC-LED is not equal to DC LEDs today, the system efficiency can be quite close and even better sometimes.," said Kottritsch. "Additionally, these AC-LED packages demonstrate many other advantages in operation and reliability by reducing or eliminating the interface electronics needed to get LEDs to work in the general lighting AC-voltage domain."
Mike Miskin, Lynk Labs' CEO, said "Our relationships with these leading LED packagers not only demonstrates that our AC-LED technology is growing in demand globally but also ensures that we will have the resources to support the market demand as our Tesla AC-LED packages are made available as discrete components and continue to penetrate more general lighting applications."
Lynk Labs claims to have the largest and most diversified AC-LED and HV-LED LED package product portfolio in the industry. The AC-LED market has been built and driven by Lynk Labs and Seoul Semi for several years now, the HV-LED market is new with many players interested in joining.
"Lynk Labs, our strategic investor Epistar Corp. and Seoul Semi have built core IP in this space that dates back several years," said Kottritsch. "Now that AC-LEDs are established and HV-LED LEDs are entering the market, we plan to grow our patented technology and product offering through our strategic partnerships with key packagers in the AC-LED space."