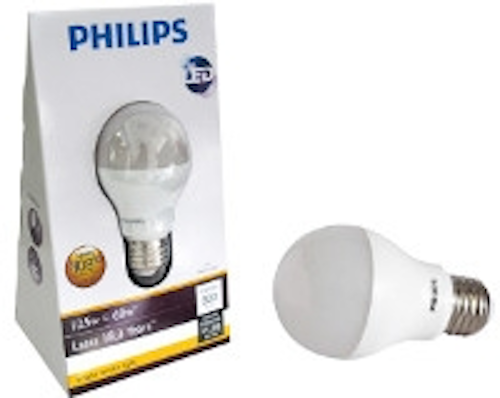 As 2013 winds to a close, we at LEDs Magazine have again reviewed our website reader traffic statistics to determine what in the area of LED components and solid-state lighting (SSL) you found most interesting over the course of the year. Here we present the top 20 stories based on your page views both to articles that were posted directly as news items on the website and feature articles that appeared in issues of our magazine and that were subsequently posted in HTML format. The LED retrofit lamp category, and most specifically A-lamps, topped our popularity list for the third consecutive year. Packaged LEDs stories were second-most prevalent with a real mixture of deep technical stories on color science, driver design, and LED manufacturing filling out the rankings.
This past year could prove to be the most significant year for retrofit lamps with LED-based products now available to replace most all legacy lamps. Moreover, mainstream 60W-equivalent lamps are headed well under $10. Cree and Philips kicked off that battle early in the year, and both companies have products that are well under $10 with utility rebates. Walmart was first to break the $10 retail list price level with a house-branded product. The battle continues even as we get late into December with Philips launching yet another new lamp with a novel design, an announcement that came far too late in the year to crack our traffic top 20.
Year 2014 will likely see the focus turn from price to color quality, and higher CRI in particular. The US Department of Energy noted in a Caliper report on A-lamps that only four of the 60W-equivalent products listed in the Lighting Facts program had CRI over 90. And that is the level of quality that consumers have come to expect based on their experience with incandescent lamps.
Speaking of color quality, we had a landmark series on color science that concluded in February 2013. If you need to know more about CRI, how the human visual system perceives color, and how to apply the knowledge of color science in products, review those articles. We also had an excellent article on how to mix colors for applications such as LED-based signage.
The LED component space, meanwhile, continued to show signs of diversity in design throughout 2013. We probably ran more news stories on packaged LEDs than on any topic over the course of the year. But the stories focused on mainstream high-power LEDs failed to score in the top 20. Instead, it was newer technologies such as chip-on-board (COB) LEDs from Sharp and Cree, and LED emitters sold in bare die form from Philips Lumileds that hit our rankings. Mid-power LEDs also hit the rankings as Samsung and others pushed efficacy near the levels achieved in high-power LEDs.
Peruse the rankings and see how your thoughts on the significance of LED industry topics align with those of your peers And prepare for 2014 and what should be another roller-coaster year in terms of technology development and business. You may want to review the prior years' rankings in the related story links at the right as well.
Top 20 LEDs Magazine stories of 2013:
1. Cree 60W LED replacement bulb review and tear down
A tear down of the recently announced sub-$15 60W equivalent LED lamp from Cree reveals design choices that deliver very good performance.
2. Cree and Philips take divergent approaches to sub-$15 LED lamps
Cree Lighting and Philips Lighting both announced 60W-equivalent LED lamps at less than $15, but the companies took decidedly different design approaches to the SSL retrofits.
3. Packaged LED market resumes moderate growth while the SSL market will enjoy 12% CAGR through 2017 (MAGAZINE)
General lighting applications are now the largest market, measured by revenue, for packaged LEDs, reports Maury Wright from the Strategies in Light conference, and the SSL market has grown to $11.8 billion for lamps and luminaires.
4. What's inside the 3M/Walmart 60W LED replacement bulb?
Margery Conner takes a look inside the 3M LED replacement lamp, and finds out the idea behind the lamp's design.
5. Understand RGB LED mixing ratios to realize optimal color in signs and displays (MAGAZINE)
Lee Boon Hooi explains that color ratios held over from the CRT world won't deliver optimal color with RGB LEDs, but simple calculations can determine a proper mix.
6. What's inside the Walmart 60W-replacement LED bulb?
Margery Conner takes a look inside Walmart's dimmable, sub-$10 replacement lamp.
7. Varying approaches to LED retrofit lamps show no limit (MAGAZINE)
After the incandescent lamp changed little in more than a hundred years, emerging SSL lamps show remarkably diverse approaches in attempts to replace the incumbent, reports Maury Wright.
8. Proper driver design optimizes LED lighting (MAGAZINE)
Since LEDs don't inherently flicker, careful approaches to the driver electronics enable SSL products that can dim smoothly and eliminate visible flicker, writes Robbie Paul.
9. Understand color science to maximize success with LEDs – part 4 (MAGAZINE)
Color rendering, or how color appears when illuminated by a light source, is crucial in the performance of SSL systems, explains George Kelly, and in the fourth part of our series on color science we will cover how LED and SSL architecture impacts lit objects.
10. Philips Lumileds announces bare LED die and new multi-emitter components at SIL
Philips Lumileds has reentered the market for blue LED die at SIL and also announced an expansion of the Luxeon S family of multi-emitter packaged LEDs at the Strategies in Light conference.
11. Manufacturing LEDs on large diameter substrates: What's the holdup? (MAGAZINE)
12. Samsung hits 160-lm/W efficacy in new mid-power LEDs
13. LED lighting suffers bad press in Van Gogh paint-degradation study
14. Sharp announces 100W COB LED delivering 14,000 lm
15. Samsung touts ZigBee-based smart lighting at LFI, launches new packaged LEDs and modules
16. Myth busting as it relates to LED tubes (MAGAZINE)
17. Cree announces brighter and bigger COB LED arrays
18. Cree, Lumileds, and Nichia spar on LED future at The LED Show
19. Executives chart future of LEDs and lighting at Lightfair (MAGAZINE)
20. Lighting industry progresses on DC-power grids that pair well with LEDs (MAGAZINE)