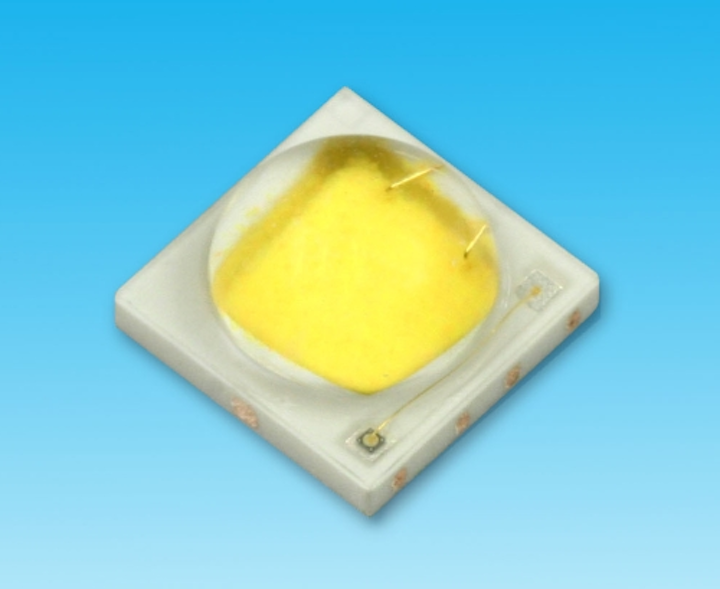 The TL1L4 LED family will deliver as much as 160 lm at 1W in a 3.5×3.5 package, enabling usage in a broad array of SSL applications.
Toshiba has announced the next-generation LEDs in its gallium-nitride-on-silicon (GaN-on-Si) packaged LED portfolio with a 1W product at 5000K CCT delivering 160 lm. The company said the new performance level will enable usage of the GaN-on-Si LEDs in applications such as retrofit lamps, downlights, street lights, and floodlights.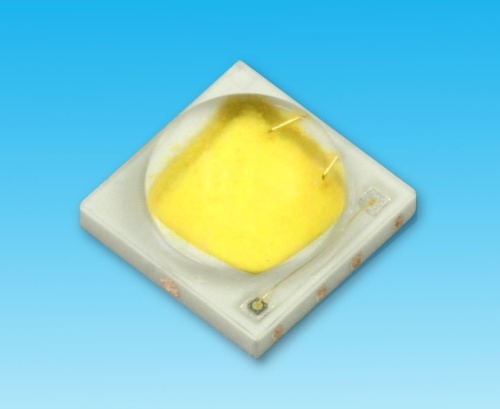 Toshiba ramps performance in new GaN-on-Si packaged LEDs
Toshiba is among a handful of companies pursuing GaN LED manufacturing on silicon wafers as opposed to the more typical sapphire or silicon-carbide wafers. The allure is a very low-cost supply of wafers due to the usage of those substrates in the mainstream semiconductor industry. Moreover, a move to 8-in. silicon wafers would allow manufactures to use depreciated IC fabrication facilities (fabs) for the back-end of the packaged LED manufacturing process. Combined, those concepts would enable a sharp price reduction in LED components.
While the performance of GaN-on-Si device has trailed other GaN LEDs considerably, Toshiba is clearly making steady progress. Toshiba announced its first high-power packaged LEDs in the TL1F1 family at the end of 2012 at a performance level of 112 lm. Ten months later the company achieved 135 lm. Toshiba said the TL1L4 LEDs deliver a 60% performance jump from its most recent TL1L3 packaged LEDs.
The new LEDs still trail the performance of the best high-power LEDs on the market. Others have delivered greater than 200 lm/W in cool-white components. But the new Toshiba packaged LEDs deliver sufficient performance so that a much lower selling price could win the company business in some of the target applications.
Moreover, the 160-lm level is at 350 mA of drive current. Toshiba said that the new LEDs can be driven comfortably at 1A or even as high as 1.5A as long as the junction temperature is maintained at less than 150°C. The performance specifications place the new LEDs clearly above the capabilities of mid-power packaged LEDs based on any manufacturing architecture, but the silicon substrate could enable mid-power-like pricing.
Toshiba will offer nine CCTs ranging from 2700K to 6500K. The 160-lm spec is at a CRI of 70 and ambient temperature of 25°C. The company will bin the devices for optical and electrical characteristics at a hot 85°C.