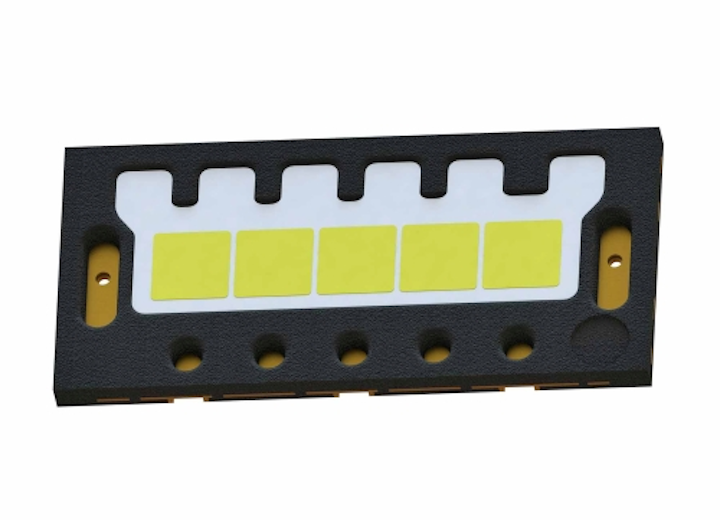 Packaged LED can implement low- and high-beam headlights with 2000-lm output and each of five emitters can be driven individually for adaptive headlamp designs.
Osram Opto Semiconductors has demonstrated a prototype of a new Oslon Black Flat S LED for automotive headlamp applications at the International Symposium on Automotive Lighting (ISAL) 2015 event in Darmstadt, Germany. The five-emitter packaged LED can be the sole component in combined low- and high-beam headlamp systems delivering up to 2000 lm, and can be used to achieve glare-free adaptive headlamp designs with each emitter being independently driven. The LED will be commercially available next year.
Interested in more articles & announcements on LEDs & sources?

The Oslon Black Flat family of LEDs has been evolving over several years toward versions with greater lumen output realized through more integrated emitters. The company announced single-emitter devices in 2011 and commenced commercial shipments in 2012. In 2013 the company added a two-emitter packaged LED. Earlier this year, the company started commercially shipping the original Black Flat S with five emitters.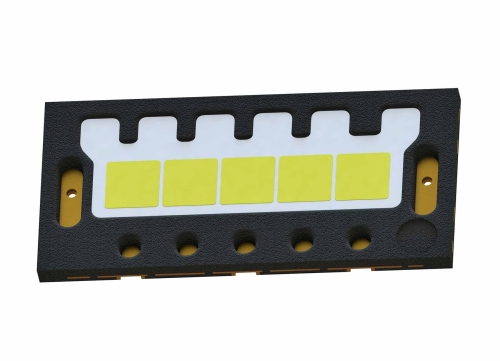 Osram Opto demonstrates five-emitter packaged LED for automotive headlamps
The new prototype LED, however, demonstrates the performance upgrade path of the family and the advancements are coming primarily in the thermal area. At the symposium, Osram revealed a thermal analysis (pictured below) that shows the existing product on the right and the new prototype on the left. The emitters in the current product have junction temperatures as high as 83°C while the new LEDs will max out at around 70°C.
Osram said the new version will use a slightly larger surface-mount device (SMD) package that measures 3.75×7.0 mm. The thermal connection has been enhanced by larger contact pads that will enable passive cooling of the packaged LED. The thermal design will thereby reduce the system cost and make LED-based headlamps more cost competitive with HID options.

The five emitters provide many options for product developers in realizing compelling headlamp designs. In cases such as the US where low and high beams are required, a single packaged LED can implement both. In regions that allow adaptive headlamps and functionality such as the Audi Matrix design, the individual control of the emitters will enable such designs.

"The five chips of the Oslon Black Flat S can also be driven individually," said Stefan Grötsch, senior key expert automotive application engineering at Osram Opto Semiconductors. "The future LED version will therefore be ideal for adaptive front lighting systems."