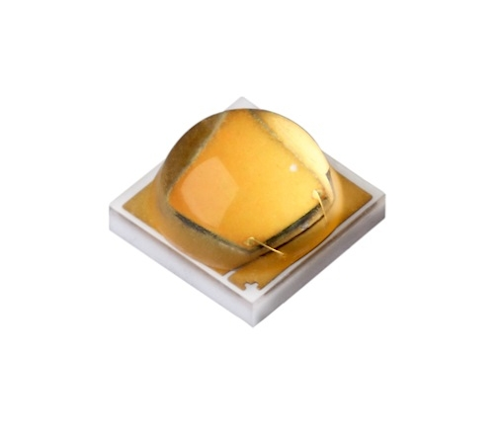 A broad range of color temperatures and CRI up to 80 will places the LG Innotek H35C4 Series in direct competition for opportunities in general lighting applications such as street lights and high-bay luminaires.
LG Innotek has announced the H35C4 LED Series with what the company claims is the highest efficacy on the market. The 3.5×3.5-mm high-power LEDs can be driven at up to 5W and are squarely targeted at high-output general solid-state lighting (SSL) applications such as street lights and high-bay fixtures. LG says that the LEDs will ship in volume production during October.
Interested in more articles & announcements on packaged LEDs?

The new packaged LEDs arrive with a maximum efficacy claim of 180 lm/W when driven at 350 mA and forward voltage rated in the 2.7V to 3V range. The company stated the maximum efficacy is 10% higher than any competitive high-power LED products from other manufacturers and 13% better than its prior offerings in a similar form factor. At 700 mA, the efficacy drops to a still respectable 152 lm/W at a junction temperature of 85°C.
Left to right: LG Innotek's cool and warm H35C4 packaged LEDs.

It's always hard to evaluate manufacturers' claims about superior LED performance because there are so many variables in play; often, stated maximum performance specs may not be at realistic use conditions. Still, we took a look at a recently-announced Cree LED — the XLamp XHP35 — that's in a similar form factor and that is a single-emitter packaged LED. The LG products do offer better efficacy, but the Cree LEDs, while said to be based on a single monolithic die, have a forward voltage over 11V and Cree's focus is on much higher power levels with baseline specs at 4A while the LG specs are based on 2W operation. At that power level, the Cree LEDs deliver almost quadruple the flux output.
Cree's most recent single emitter, 3.45-mm LED with a forward voltage in the 3V range is the XP-L announced more than a year ago. Cree claimed efficacy at 200 lm/W and 350-mA drive current when that product was released. But Cree's baseline specs for the XP-L packaged LEDs are based on 1A drive and 3W of power. Maximum efficacy at the level would appear to be just under 150 lm/W based on Cree's datasheet. It would not appear that the new LG Innotek packaged LEDs quite match Cree XP-L performance, but they are certainly competitive. And LG may consider the Cree XP-G2 LED a more apt comparison since those older products use the traditional hemispherical-dome-shape primary optic like the LG H35C4, whereas the XP-L and XHP35 use a new unique optic that allows Cree to package a larger die into the 3.45-mm footprint.
LG said it achieved the performance of the H35C4 through a vertical LED architecture and an optimized mixing process in the phosphor materials that create the white light. The vertical characterization implies a flip-chip approach in which the emitting surface was originally adjacent to the growth sapphire.
The new LG packaged LEDs also come with LM-80 test data and long rated lifetimes. The company said the test data suggest a life of 150,000 hours and that the phosphor formulation and application technology is also key to the long life.