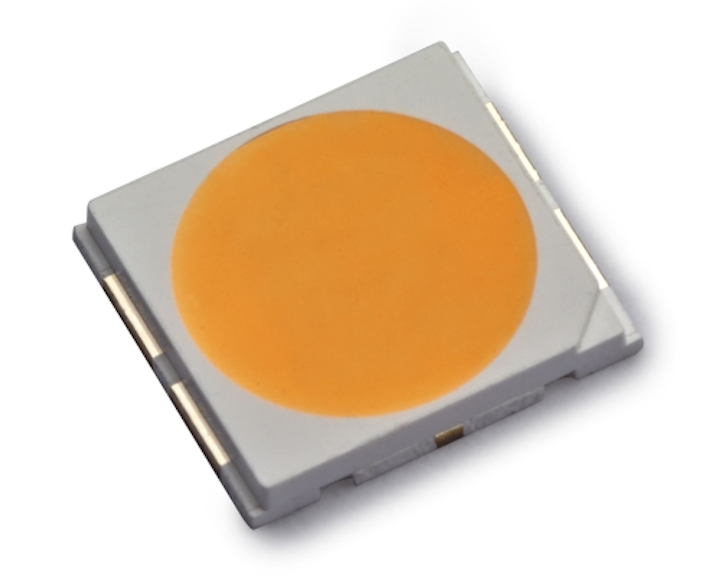 An array of mid-power LEDs integrated under a 5-mm LES delivers high-power-like performance and is designed to be the sole LED in directional retrofit lamps and luminaires.
Philips Lumileds has announced the Luxeon 5258 LED in an industry standard 5.2×5.8-mm package with a 5-mm light emitting surface (LES). The packaged LED is implemented with a large array of mid-power LED die, and is designed specifically to serve as the single light source in directional lighting applications including MR16, GU10, PAR16, and PAR20 retrofit lamps as well as potentially in low-output track heads or downlights.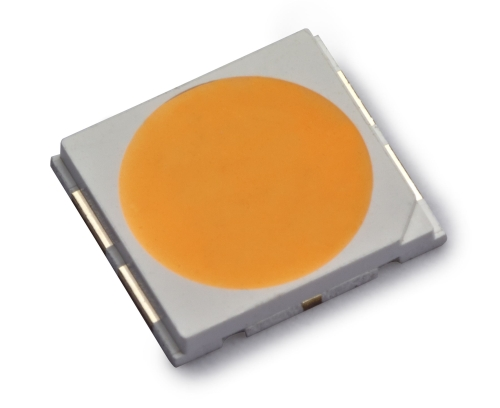 Lumileds produces mid-power packaged LED array for single-LES SSL designs
The new LED is based on a surface-mount package as are most mid-power LEDs in the market. But the value proposition is more akin to a chip-on-board (COB) LED in that the solid-state lighting (SSL) product developer only needs to deal with single thermal, mechanical, electrical, and optical interfaces in a lamp or luminaire design. Of course, the 5258 would be assembled on an automated line while the COB LED would require manual assembly.
"We are providing a high-flux, high-efficacy LED that improves the quality of light and avoids the unfortunate showerhead effect that users experience with distributed, multi-die solutions," said Ahmed Eweida, product manager. "The Luxeon 5258 can achieve lower system costs compared to solutions using multiple LEDs for 35W and 50W MR16 today."
The new packaged LED includes many of the features that have been more associated with high-power LEDs up until the last year. For example, Lumileds will offer the 5258 in two high-voltage versions — a choice of 24V or 96V. Lumileds first added high-voltage options in mid-power LEDs about one year ago. Higher forward voltages can simplify the driver design and boost efficiency by minimizing the drop from line voltage to the LED compliance voltage.
Still, the 5258 is breaking new ground in terms of maximum flux output and the larger LED, and is realistically the first device in a mid-power-like package intended to serve as the only source in a lamp or luminaire. The 24V versions can deliver 425 lm at an efficacy of 110 lm/W and the 96V versions can deliver 400 lm at an efficacy at 105 lm/W.
The real question with the new 5258 family will come with reliability in terms of color and lumen maintenance over time. The Lumileds documentation indicates that the LED is packaged in plastic and not one of the new higher-temperature hybrid compounds. As we have covered previously, plastic-packaged LEDs can degrade especially when operated at higher temperatures. Lumileds has announced some mid-power LEDs that use an epoxy-molded-compound (EMC) package that is more capable of long operation at higher temperatures. But the 5258 apparently doesn't use EMC.
Lumileds states in its datasheets that the 5258 can be driven at currents in excess of the binning current for maximum flux output of 650 lm. All of the specifications are at what the company considers a typical hot operating temperature of 85°C. But product designers regularly operate ceramic-based high-power LEDs at even higher temperatures.
Lumileds did provide a brief comparison of the 5258 packaged LED with a COB product with similar size and flux output characteristics. The company said the 5258 would cost 50% less than the COB. The comparison didn't detail reliability, but did indicate that the COB would be significantly superior.
For now, Lumileds is offering the LEDs in a choice of 2700K and 3000K warm CCTs with a CRI of 80 minimum. The company will supply the LEDs in 3- and 5-step MacAdam ellipse bins, tested at 85°C. The company also said they are building an ecosystem of products around the new packaged LEDs starting with LEDiL, which offers a number of optics that will work with the LEDs for directional lamps.