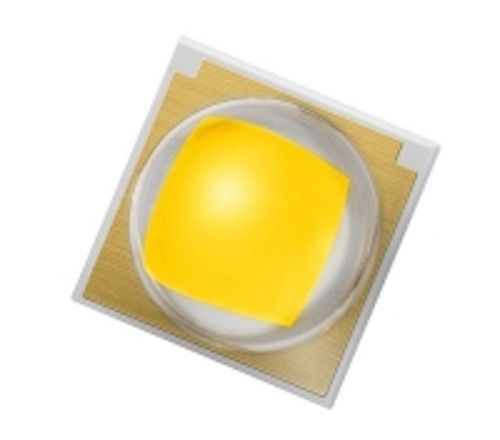 Samsung Electronics has achieved a major upgrade in its industry-leading performance levels for high-power packaged LEDs. The efficacy of Samsung's LH351B package that features 173lm/W (85°C, 350mA) has improved 8% over last year's record performance. This new efficacy level extends Samsung's leadership in high-power packaged LEDs.
The highly reliable LH351B has a high lumen density and has been optimized for outdoor lighting applications such as street lights and security lights, where high-performance lighting is needed over extended periods of time and where efficiency and reliability are crucial. In addition, the compact Samsung light source simplifies the designing of solutions using a second optic lens, making it also suitable for high-density street lighting with complex lighting distribution designs.
With Samsung's proprietary TZ chip structure and exclusive PSS (Patterned Sapphire Substrate) technology, the LH351B delivers exceptionally high brightness, and offers outstanding operating voltage through an electrode structure that provides even distribution of current. Furthermore, Samsung film phosphors in the LH351B help to achieve outstanding color stability.
Samsung's LH351B has an expected lifetime of 280,000 hours at 105°C, 1A.
For more information about LH351B LEDs, please visit http://www.samsung.com/global/business/led/lighting/component/high-power
Certification Support Program
Samsung has provided worldwide certification support to its LED lighting component customers. Establishing cooperative relationships with certification companies for the US, Korean, European and Chinese markets, the partnerships will help to minimize any difficulties that customers could encounter with varying regional certification requirements for lighting quality, safety and power efficiency, as well as simplify complex procedures, reduce time-to-market and ultimately have a positive impact on overall cost.
For more information, please visit http://www.samsung.com/global/business/led/support/certification-support
Contact:
Samsung LED America
+1-678-387-3670
Website:
http://www.samsung.com/global/business/led/lighting/component/high-power/lh351b
Interested in more articles & announcements on packaged LEDs?
Locate more packaged LED vendors in the LEDs Magazine Suppliers Directory

Submit new products, case studies/projects, and other press releases at http://www.ledsmagazine.com/content/leds/en/addcontent.html.

More from Samsung:
Samsung Electronics' flip-chip packaged LED delivers range of operating currents
Samsung outlines approach for smart lighting at LFI 2015