TECH NOTE: Schréder LED fixtures utilize HSMtec printed board technology
LED fixtures from Schréder have been enhanced with HSMtec printed-board technology from Häusermann GmbH.
Jul 12th, 2010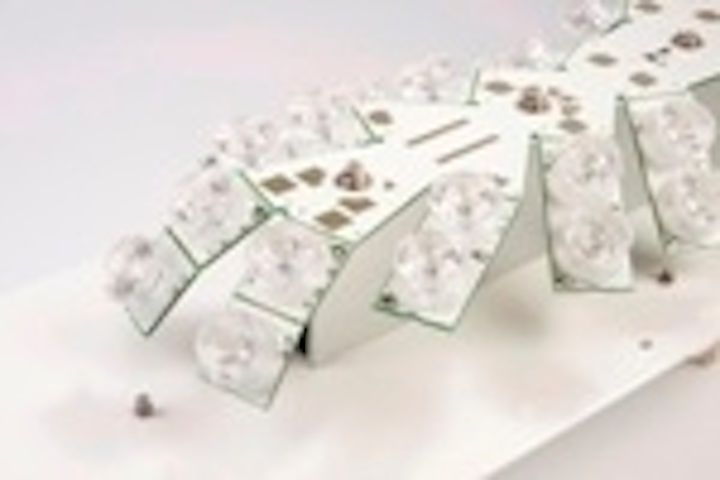 Lighting manufacturer Schréder has incorporated HSMtec printed-board technology from
Häusermann GmbH
in the development of new street-lighting fixtures that reduce energy consumption compared to standard lighting technologies and achieve homogeneous illumination.
HSMtec technology enables self-supporting, multi-dimensional constructions, as well as high-current operation and good heat management, which reduces the LEDs' junction temperature.
A recent Schrèder Group G.I.E. case study on street luminaires shows the advantages offered by printed board technologies. "Our challenge consisted of integrating LEDs into an existing luminaire housing, thus arranging the LED optics so that the light distribution is optimized relative to a luminaire with a fluorescent lamp," said LED project leader Steffen Holtz of R-Tech, Schrèder Group G.I.E.
At the same time, heat from the LEDs had to be optimally dissipated to decrease energy consumption by at least 25% compared with a compact fluorescent lamp. Schrèder evaluated the use of HSMtec, which has the advantage of "sophisticated functionality," said Holtz.
A single HSMtec board fulfills three tasks:
Light dispersion via flexible, yet self-supporting, printed board segments;

Heat dissipation from the LEDs to the heat sinks by means of integrated copper profiles over the bending points to the heat sinks;

Electrical connectivity to the LEDs over the bending points through integrated copper profiles over the bending points.
The flexible segments achieve the same stability as a separate mechanical adapter, so that the LEDs' angle of inclination remains unchanged even during intense vibration of the luminaire in operation.
"For the first time we can dispense with a mechanical mounting for the printed board," said Holtz. "For us, HSMtec is the basis for simplified, and thus more economical, production.
"In comparison to other solutions with rigid-flexible boards, we were not only able to reduce the junction temperature by 5°C, but also to considerably reduce high assembly cost and the associated scrap. So all in all, we have found not just the perfect technical, but also the perfect commercial solution in HSMtec."
HSMtec's high degree of design freedom enables photometric flexibility and the use of innovative optics. Each LED can be arranged individually by arbitrarily setting the inclination angle of the PCB segments. The lighting designer can therefore influence the light characteristics of a luminaire and/or the illumination of objects.
HSMtec's intelligent heat management, made it possible for Schreder's to reduce the LEDs' junction temperature from 85°C to 80°C during operation, thereby increasing the LEDs' lifespan by 10%. A lifespan of approx. 60,000 hours can thus be achieved at 70% of the initial luminous flux.
"Through the early involvement of Häusermann teams in our concept phase, it was possible to mutually coordinate and optimize the entire thermal design—from the printed board to the luminaire housing," explained Steffan Holtz. "Prototypes were rapidly and uncomplicatedly produced in different versions, accompanied by thermal analyses, which enabled us to use HSMtec technology optimally."
HSMtec technology
HSMtec technology, patented by Häusermann and qualified by independent test institutes, relies on standard FR-4 material, and can be obtained from prototypes up to full-production runs. The boards are produced by standard manufacturing processes, and HSMtec is qualified according to DIN EN 60068-2-14 and JEDEC A 101-A.
External copper parts (in the form of wires or profiles) are deposited directly onto the base copper by means of ultrasonic welding technology. This is carried out according to the customer's design specifications on those parts of the printed circuit board (PCB) where heat has to be dissipated, where high currents flow, or where the PCB has to be curved.
Milled kerfs on the nominal bending points ensure that individual segments can be brought into the desired orientation by arbitrarily setting the angle of inclination. In the case of LED lighting, light dispersion or focusing is produced as required via a multiplicity of individual directional segments.
The Schréder Group has more than 2,000 employees worldwide engaged in the development and production of exterior luminaires for lighting cities, streets, tunnels and buildings. R-Tech, the development centre with headquarters in Liège, Belgium, spearheads the introduction of LED technology in all product areas. Steffen Holtz is LED project leader.
Based in Gars am Kamp, Austria, Häusermann GmbH specialises in the production of small and medium-sized batches of printed circuit boards with special reliability requirements.