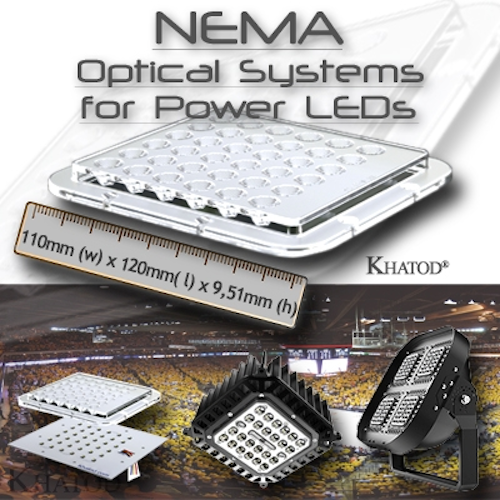 NEMA Optical Systems from Khatod make your arena lighting the brightest experience!

NEMA Optical Systems enable optimization of the high intensity light output of the most current power LEDs.

Deliver great LED optics for the most diverse lighting applications in sporting facilities, arenas and stadiums as well as in industrial and commercial buildings. In high bay and low bay as well as in floodlight applications, indoor and outdoor, the LED optics always offer outstanding light quality.

Khatod's NEMA Optical Systems are available in a wide gamut of models: panels made up of 36 LED optics (6x6) and panels realized as a flat-lens panel.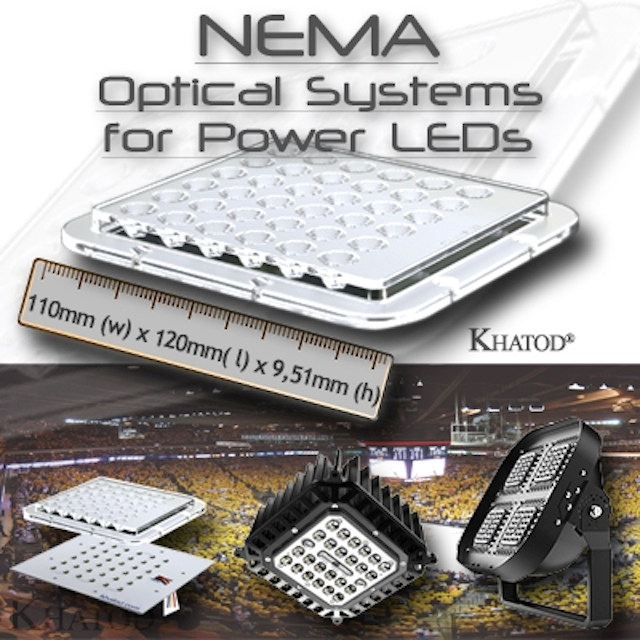 Khatod's LED optics deliver high-intensity illumination for arena lighting

The LED optics allow designers to create various configurations, from as small as a single-module light to as large as a multi-module stadium light made up of 12-16 or more elements. A single NEMA module can achieve a light flux output of around 7000 lumens intensity.

The LED optics deliver a blend of crisp and clear light flux and ensure a total anti-glare effect. In their flat-lens version, NEMA Optical Systems generate uniform and high-efficient beams, enabling a perfect lighting diffusion.

They also produce excellent performance in portable lighting applications, mounted on tripods or portable pedestals.

The robust structure and the IP rating make NEMA Optical Systems ideal to be used in headlamps that need to withstand rough handling, such as in accident scenarios as well as in road and urban works.

Features
• Optic type and beam angles - Designed for power LEDs delivering high intensity:
- 5 models realized in the form of lens arrays made up of 36 LED optics (6x6), available in different beams: Narrow/Medium/Wide/Extra Wide/Elliptical, complying with NEMA Standards 2/3/4/5/7, Beam Angles Class
- 2 models realized in the form of a single flat-lens, available in total clear finish and in opal white finish
- Produce a 120° beam angle while generating a very smooth and homogeneous lighting diffusion
• Material: Optical grade PMMA HT specific for high temperature resistance, up to 125°C
• Dimensions: 110 mm (w) x 120 (l) x 9.51 mm (h)
• Lighting efficiency: Over 85%
• Complies with UL94 Specifications
• UV protected
• Non-yellowing; total anti-glare
• Panels are provided with an area for the housing of connectors
• Interchangeability of different models with the same LED source
• IP65 protected version available, with a silicone gasket placed in the perimeter groove
• Two holes on each side allow the insertion of screws to fasten the module to the LED panel

Applications: Engineered for arena lighting applications, sporting facilities, stadiums and any event area. NEMA is excellent for any application in wide area, high & low bay and general lighting, outdoor and indoor. Offers a great performance also in portable lighting.

About Khatod:
Khatod products leverage three decades of hands-on experience with the toughest challenges in making lenses in a wide range of applications and environments. Our ability in designing and manufacturing customized optics for LED Lighting is historically proven . Khatod is able to meet the expectations of the most demanding individuals looking for the latest in LED Lighting Technology: exclusive products, cutting-edge engineering, research and experimentation. The result is the highest in technology, the easiest usability, the most cost-effective in the business.

Follow us on Twitter @ http://twitter.com/#!/KHATODOPTO and
Facebook @ http://www.facebook.com/pages/Khatod-Optoelectronic-srl/263694230338604
View company video @ http://www.youtube.com/watch?v=G1Opls1D0NU
Contact:

Khatod Optoelectronic S.r.l.
+39-02-660-136-95
E-mail:

Web site:

www.khatod.com

Locate more packaging & optics vendors in the LEDs Magazine Suppliers Directory

Submit new products, case studies/projects, and other press releases at http://www.ledsmagazine.com/content/leds/en/addcontent.html.

More from Khatod Optoelectronic:
Khatod Nactus Smile LED optical system enables various beam angles for area lighting
Khatod designs new Easy Reflector Systems for COB LED-based lighting