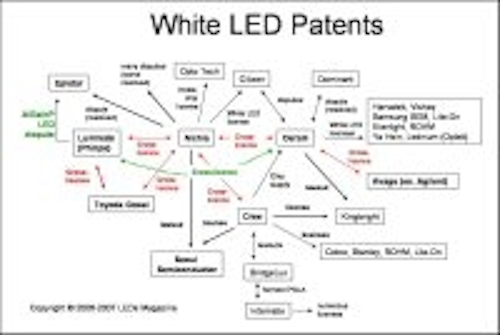 Osram and Philips have signed a patent cross-license agreement that involves the mutual licensing of patents for inorganic and organic LEDs.
In a very short press release, the companies said that the agreement relates to patents held by Philips, including its US-based subsidiary Lumileds, a power LED specialist, and to those held by Osram including its subsidiary Osram Opto Semiconductors.
"We expect this to put us in an even better position to use LED technology to serve the demands of the market," said Ruediger Mueller, president and CEO of Osram Opto Semiconductors.
As expected from the world's two largest lighting manufacturers, Philips and Osram are major players in the LED market, and also deeply involved in research and development efforts in the field of organic LEDs for lighting applications. For more on the OLED lighting market, see the article in the forthcoming Jan/Feb 2007 issue of LEDs Magazine.
The alliance marks the latest IP agreement between major manufacturers in the LED market. Back in 2002, Nichia signed licensing agreements with its major rivals Toyoda Gosei, Osram Opto, Lumileds and Cree.
In February 2006, Osram and Avago signed a cross-licensing agreement, and in April of that year another agreement was signed between Toyoda Gosei and Lumileds.
In addition, the white LED field has seen numerous patent disputes and licensing agreements, some of which are summarized in the diagram.