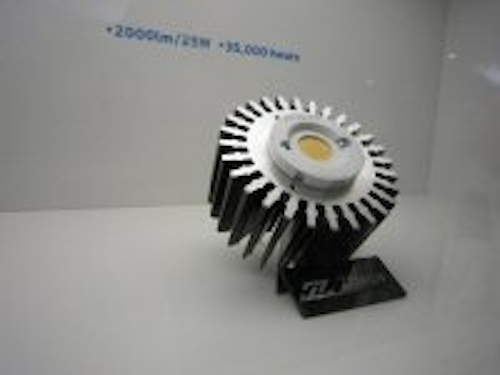 A few years ago, visitors to the Light+Building trade fair had to search quite hard to find high-quality examples of LED lighting fixtures. But this year, LED lighting was everywhere, dominating the 240,000 sq.m (2.5 million sq.ft) event.
Some 196,000 visitors attended Light+Building, which took place on April 15-20 in Frankfurt, Germany. The organizers describe this as the "World's Biggest Trade Fair for Lighting and Building Services Technology," and said that attendance was up 7% over the last event in 2010. The proportion of international visitors (i.e. from outside Germany) was 44%. A total of 2352 manufacturers from 50 countries took part, representing the fields of lighting, electrical engineering, and home and building automation and software for the construction industry.
The exhibit halls containing lighting products were of most interest to LEDs Magazine, and as mentioned above LEDs were everywhere, ranging from packaged LEDs, connectors and chip-on-board arrays all the way through to retrofit lamps and LED floodlights for sports stadia and airports (see photos, below).
Among the noticeable themes was a shift in emphasis from energy efficiency to lighting quality, as lighting companies realize that end users require more than simply saving money through reduced energy consumption and maintenance savings.
One particularly impressive statement was made by UK-based Projection Lighting, who claimed that they would "guarantee the quality and quantity of light." Specifically this guarantee states that luminaires will exhibit "no noticeable color shift and a maximum of 5% lumen loss across the installation after 5 years." Projection is able to achieve this level of control with Xicato remote-phosphor modules, and (in some cases) lightweight passive cooling systems from FrigoDynamics.
As discussed below, other major themes at Light+Building included Zhaga modules and OLED technology. A much more extensive review of this year's event will feature in the June issue of LEDs Magazine.
Zhaga modules
The Zhaga logo was seen widely at Light+Building, with at least 25 companies showing interchangeable LED modules that are compliant with Zhaga's ever-growing series of specifications. Zhaga is a global consortium of over 180 companies, and its specifications for LED-module interfaces are intended to enable easy LED-module integration into luminaire designs and to reduce overall system-design cost.
However, some companies using the Zhaga logo claimed erroneously that their products were "Zhaga-qualified" while in fact the qualification procedures, including the relevant measurement labs, are not yet in place. Even so, Zhaga has already been widely adopted and this will doubtless increase over the next few years.
OLEDs and other technologies
OLEDs were easy to find, and both Osram and Philips used OLED luminaires to provide the centerpiece for their stands. LG Chemical had several rooms lit with OLEDs, and also exhibited the Revel and Kindred luminaires from Acuity's Winona Lighting.
Verbatim showcased its color-tunable OLED technology, while Novaled exhibited a number of high-end OLED luminaires including its Victory desk lamps.
Other lighting technologies were also on show, including high-efficiency plasma from companies such as UK-based Ceravision, which is targeting the very-high-power applications.
But the most surprising inclusion was laser-based white lighting, exhibited by Toshiba alongside many examples of LEDs and OLEDs. Light from a source containing multiple blue laser diodes is emitted into an optical fiber, and phosphor downconversion takes place at the exit end. This approach allows downsizing of luminaires (since the source is remote) and improved design flexibility, says the company.
Next event
The next Light+Building will be held in Frankfurt am Main from 30 March to 4 April, 2014.