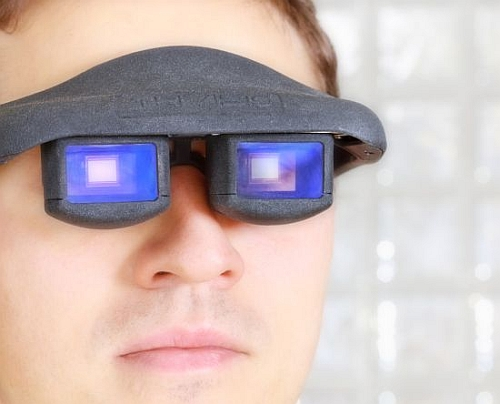 In efforts to move OLED processes toward mass production, the Fraunhofer Center for Organic Materials and Electronic Devices (COMEDD) and Orthogonal Inc. developed a scalable lithographic process for patterning OLED materials on 200-mm CMOS backplanes. This orthogonal photolithography process is aimed at producing high-resolution microdisplays or "data glasses" with a brightness of 5000 cd/m2. The Fraunhofer Center is seeking development partners for these projects.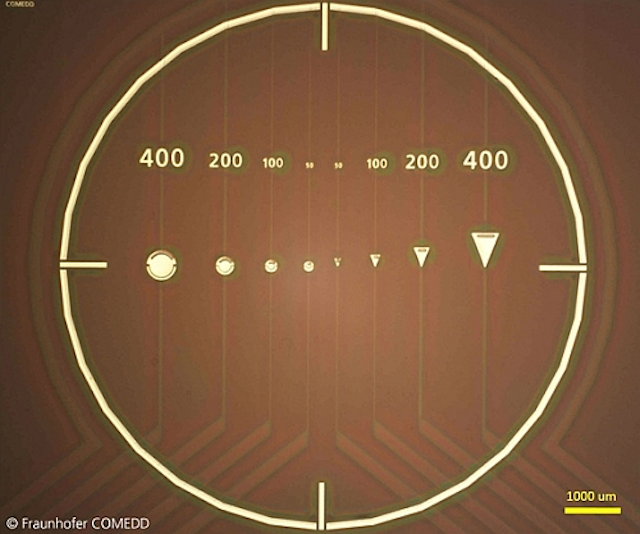 Fraunhofer COMEDD first developed its award-winning data glasses in 2013. Unlike Google Glass, the semiconductor chip in the Fraunhofer design is positioned in the center of the lens. This early version used an infrared light source, allowing virtual viewing of data even in low light. For daylight use, the researchers are now focused on high-brightness microdisplays (5000 cd/m2) -- comparable to the luminance needed for OLED light sources (3000-5000 cd/m2). This high brightness in an OLED material requires a much higher pixel resolution -- on the order of 1 µm -- approximately two orders of magnitude smaller than that required, for instance, in OLED television displays.
Fraunhofer COMEDD is consistently focused on readying technological processes for production. For instance, the organization recently announced a transparent electrode printing process that can be used to manufacture flexible organic devices including OLED lighting films, organic solar cells, or sensors. The process creates films that are more flexible and more cost effective than existing ITO (indium tin oxide) electrodes.
High brightness microdisplays
Fraunhofer COMEDD developed its Orthogonal Photolithography process in collaboration with partner Orthogonal Inc. (Rochester, New York) using fluorinated photoresists. The process takes advantage of the fact that most organic materials are either oleophilic or hydrophilic and are hence orthogonal (insolvable and stable) to highly fluorinated chemicals. Therefore, fluorinated photoresists can be used to pattern organic layers without compromising the structure of the organic device.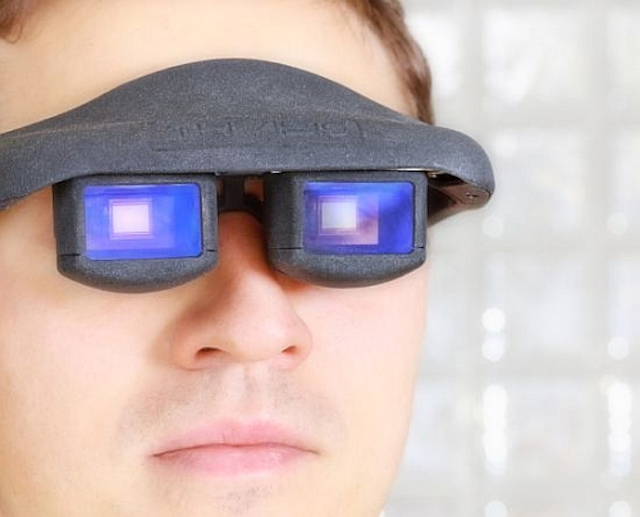 Fraunhofer develops OLED patterning technique for high-brightness 'data glasses'
For data glasses, Orthogonal Photolithography enables the combination of very high resolution and high brightness (5000 cd/m2).

"Orthogonal Photolithography is a patented technology, which allows direct patterning of organic material on CMOS backplanes," explained Dr. Alexander Zakhidov, leader of the development group. "So, high-resolution OLED microdisplays for head-mounted displays and data eyeglasses with brightness of 5000 cd/m2 are now possible." Such high-brightness micro-displays are required for augmented reality applications where the virtual image has to blend in smoothly with the daylight environment. Applications include surgery, other medical and scientific applications, and any profession that requires access to references on a regular basis. Fraunhofer COMEDD established the Orthogonal Photolithography process in its 200-mm cleanroom and microdisplay pilot line in Dresden. The scientists offer this technology for joint development with industrial partners. Capabilities include:
- a 300m2 Class 100 cleanroom
- Resist deposition/processing with uniformity deviation less than 1%
- Resolution and alignment precision of 1 µm
- Wet bench for cleaning/etching
- Dry RIE (reactive ion etching) via Ar ion mill and O2 plasma
- Batch vacuum/N2 oven, hotplates air/N2
- Optical inspection, particle control
Dr. Zakhidov will present the group's findings at SID 2014 (the Society for Information Display meeting) on June 4.