GE demonstrates OLEDs manufactured by roll-to-roll process
A manufacturing process similar to that used for newspaper printing could eventually result in low-cost, commercially viable OLED lighting.
Mar 13th, 2008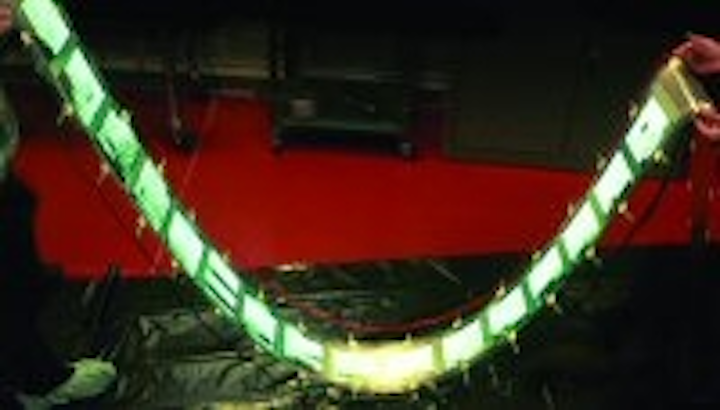 GE Global Research has demonstrated what it claims to be the world's first roll-to-roll manufactured OLED lighting devices.
GE described the demonstration as a key step toward making OLEDs and other high performance organic electronics products at dramatically lower costs than what is possible today. "Researchers have long dreamed of making OLEDs using a newspaper-printing like roll-to-roll process," said Anil Duggal, manager of GE's Advanced Technology Program in Organic Electronics.
"Now we've shown that it is possible. Commercial applications in lighting require low manufacturing costs, and this demonstration is a major milestone on our way to developing low cost OLED lighting devices."
OLEDs are thin, organic materials sandwiched between two electrodes, which illuminate when an electrical charge is applied. They represent the next evolution in lighting products. Their widespread design capabilities will provide an entirely different way for people to light their homes or businesses.
Moreover, OLEDs have the potential to deliver dramatically improved levels of efficiency and environmental performance, while achieving the same quality of illumination found in traditional products in the marketplace today with less electrical power.
Duggal continued, "Beyond OLEDs, this technology also could have broader impact in the manufacturing of other organic electronic devices such as organic photovoltaics for solar energy conversion, sensors and roll-up displays."
"For businesses, architects, lighting designers and anyone interested in pushing the envelope to achieve increasingly energy-efficient lighting — and vastly expanded lighting design capabilities — today marks the day that viable, commercialized OLED lighting solutions are coming into view," said Michael Petras, GE Consumer & Industrial's Vice President of Electrical Distribution and Lighting.
"We have more work to do before we can give customers access to GE-quality OLED solutions, but it's now easier to envision OLEDs becoming another high-efficiency GE offering, like LEDs, fluorescent or halogen."
OLED summer school
In related news, the European OLED research project OLLA is organizing its fourth International Summer School on OLEDs – see http://summerschool.olla-project.org.
During this event to be held on May 27-June 02, 2008 in Krutyn, Poland, an international group of top experts will explain and discuss the latest developments and challenges of OLED lighting technology.