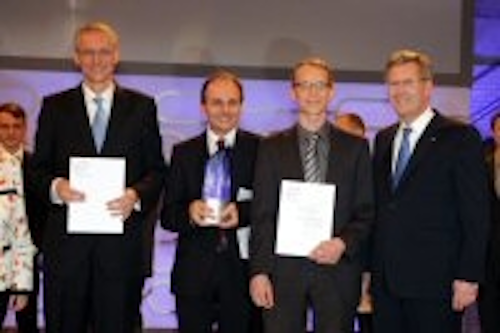 Novaled AG, a manufacturer of OLED products and materials based in Dresden, Germany, has announced that three of its founders, Karl Leo, Jan Blochwitz-Nimoth and Martin Pfeiffer, have been awarded the Deutscher Zukunftspreis for 2011 by the Federal President Christian Wulff. The prize is worth EUR250,000.
The team of Leo, Blochwitz-Nimoth and Pfeiffer received the award in Berlin for their combined achievements in researching, developing and commercializing OLED technologies. The Deutscher Zukunftspries annual award honors creative teams for realizing breakthrough achievements in science and subsequently commercializing the technology. Wulff stated "…the topic of this team is particularly promising because it really can make happen the energy turnaround (towards green energy)."
This is not the first time that developers of SSL-related technology have received the Deutscher Zukunftspreis. In 2007, Klaus Streubel and Stefan Illek from Osram Opto Semiconductors, together with Andreas Bräuer from the Fraunhofer Institute for Optics and Precision Engineering, received the award for their development of thin-film LED chip technologies and the Ostar family of LEDs.
OLED breakthroughs
In receiving the 2011 award, Blochwitz-Nimoth said "We are very happy about this precious award, which is an honor and great recognition of the work of the Novaled team and our partners. At the same time the award is motivating us to make our vision become reality, to significantly improve our life in the 21st century with the help of organic electronics."
The team was recognized for significant developments in the field of OLEDs. At the Technical University of Dresden (TU Dresden), they developed OLED technologies able to radically reduce the energy consumption of an OLED product. Currently, Karl Leo is Professor of Opto-Electronics at the Institute of Applied Photo-Physics at TU Dresden and Director of the Fraunhofer Institute for Photonic Microsystems IPMS; Jan Blochwitz-Nimoth is Chief Scientific Officer of Novaled; and Martin Pfeiffer is Chief Technology Officer of Heliatek, a producer of organic solar cells that was spun-off from the TU Dresden and the University of Ulm in 2006.
In July, Novaled announced the development of an efficient white OLED structure capable of achieving 60 lm/W efficacy at a brightness of 1000 cd and lifetime up to 100,000 hr.