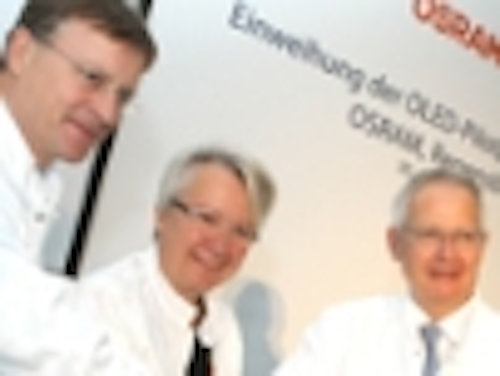 Osram AG (Munich, Germany), the lighting subsidiary of Siemens AG, is celebrating the opening of a pilot-line manufacturing plant for organic light-emitting diodes (OLEDs). The facility in Regensburg West, which currently employs 220 people, required an investment of 20 million Euros ($28.9 million).
"Today Regensburg is sending out an important message for the high-tech location of Germany and the safeguarding of high-quality jobs," said Wolfgang Dehen, chairman of the managing board of Osram AG. Annette Schavan, the German Federal Minister for Education and Research said "The inauguration of this OLED production plant in Regensburg proves Germany's leading position in the introduction of this future technology."
The new pilot-production line enables Osram to manufacture transparent OLED-panels. One goal is to double the brightness of the OLEDs, while improving efficiency and further strengthening panel durability. In the last stage of expansion, Osram expects to reduce OLED manufacturing costs by 90 percent. "Two years ago, we were the first company to offer serial OLED-products on the market. The new production is a major leap on the way to widespread use," said Martin Goetzeler, member of the managing board and COO of Osram AG.
Significant investment
Osram is reportedly the only company with production sites for both (inorganic) LEDs and OLEDs in Europe. Osram currently dedicates two-thirds of its research and development (R&D) expenditures to LEDs and OLEDs. In the past five years, the company has invested approximately 50 million Euros ($72.25 million) in R&D to OLEDs. The company's portfolio includes OLED panels and modules as well as complete luminaires.
Germany's Federal Ministry of Education and Research (BABF) has played a critical role in the country's development of OLED technology through the OLED 2015 initiative. In the second phase of the initiative, four companies, Osram Opto Semiconductors, Philips, Aixtron and BASF, received a commitment for funding from the BABF to be used toward developing innovative material and component architectures as well as new production machines for lighting solutions with highly-efficient OLEDs. In this second-phase TOPAS 2012 program, which stands for Thousand-lumen Organic Phosphorescent devices for Applications in lighting Systems, Osram Opto Semiconductors has been focused on developing transparent OLED solutions with a size of 1 square meter.
While inorganic LEDs use semiconductors to convert electricity into light, OLED panels generate a luminous surface based on a very thin stack of organic semiconductor layers that have been evaporated onto a thin substrate (400 nm total thickness). When switched off, the OLED can either display a mirroring effect, be neutrally white or transparent, depending on the basic material.