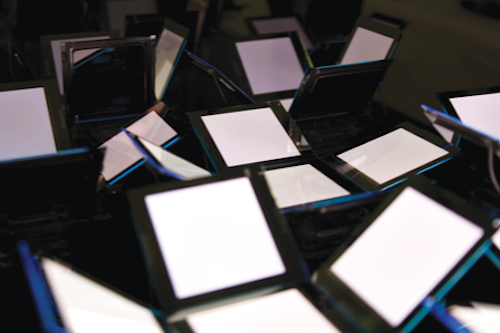 Surface-emissive OLED panels mature slowly, remain spectacular (MAGAZINE)
Over the past year, manufacturers of OLED panels have improved color performance and lifetime, but as MAURY WRIGHT reports, high cost remains an issue that limits the technology to niche applications.
The surface-emission characteristic of OLED (organic LED) technology that produces inherently diffuse and glare-free light continues to entice the lighting industry with spectacular aesthetics. The allure will grow as manufacturers continue to improve the color rendering and longevity of the panels. It appears, however, that cost will remain a barrier to mainstream use so the question will become how much of a premium customers will pay for dramatic OLED lighting. The answer, unknown for now, will determine how deeply OLEDs penetrate the lighting industry. Still, OLEDs are delivering today in niche applications for which neither LEDs nor legacy sources would suffice.
We last covered OLED technology in depth in mid-2012 in an Illumination in Focus article. At that time, much of the discussion centered on how OLED efficacy was trailing the efficacy of inorganic-LED-based solid-state lighting (SSL) and on the high manufacturing cost of OLEDs. OLED panel makers have made progress on both fronts. But the bad news is that the mainstream LED industry is moving even faster. Even if the OLED industry could outperform the US Department of Energy (DOE) roadmap we discussed in the prior article, the gap relative to LED cost and efficacy could broaden by 2020.
Does that mean we should forget OLED technology as a light source? Proponents of the technology certainly don't think so, nor do some lighting designers and specifiers. Acuity Brands is one of the companies that is ardently trying to commercialize OLED technology. Mike Lu, director of Acuity's OLED Design Center, said that the company held a focus group with top lighting designers in New York City early in 2013, and the top desire was better color rendering performance and warmer CCTs. While designers and specifiers would surely like to have better efficacy and lower price, those weren't the main barriers to usage — at least in niche applications.
Improving color
The focus group led Acuity to huddle with its panel manufacturing partner LG Chem. The panels that Acuity had been using in its OLED fixtures featured a CRI in the 80–82 range with a positive but low R9 value for saturated red performance. Those panels were available in 3500K or 4000K CCTs.
LG Chem has since developed a new panel that delivers 3000K light at a CRI of 89, and R9 value of 30. That performance doesn't match the very best LED-based products but would be considered premium-level performance. LG Chem achieved the improvement by adding another layer in the OLED stack so that red, green, and blue pixels are vertically aligned in the stack.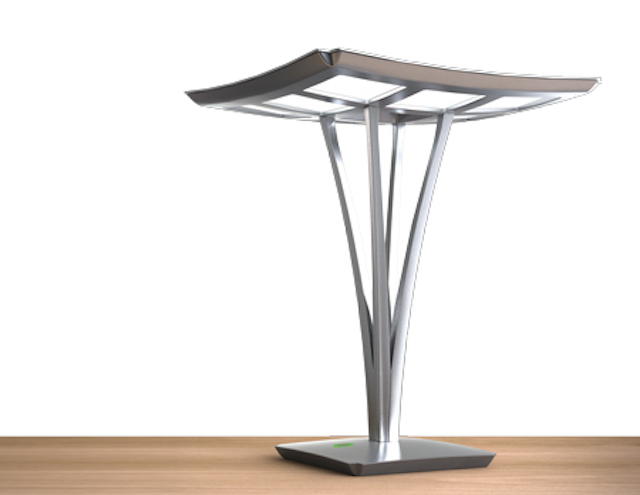 The Blackjack Aradess decorative OLED table lamp uses eight OLED panels to deliver diffuse glare-free light.
When you refocus a comparison of OLED and LED technology on a product implementation with excellent color quality, the technologies aren't so far apart in terms of efficacy. Lu said that Acuity had verified the color performance of the new panels in the lab and measured the efficacy at 56 lm/W. That is about the same efficacy that the prior panels had delivered in mid-2012, although LG Chem had since delivered about a 25% efficacy gain in the 80-CRI products.
Relative efficacy
Lu compared the 89-CRI OLED panels to remote phosphor LED modules from Xicato or SSL products based on Soraa's gallium-nitride-on-gallium-nitride (GaN-on-GaN) LEDs, both of which have a broad spectral power distribution and excellent color performance. Lu said the LED products with top color performance have efficacy specs in the 40–60-lm/W range, pretty much in the same ballpark as what OLEDs deliver. Lu said, "OLEDs have an intrinsically broad power spectrum."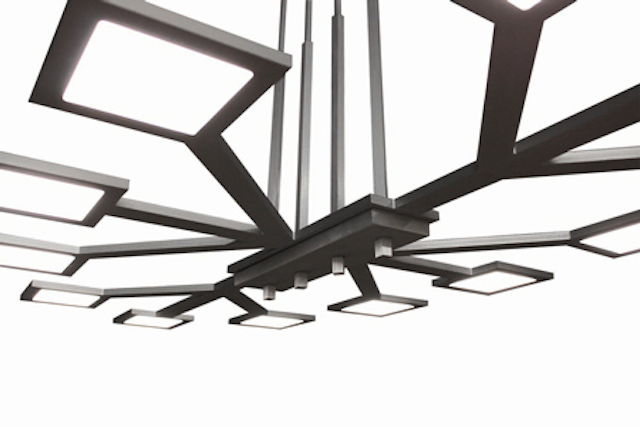 Judges for the Lighting for Tomorrow 2013 competition selected the Modern Forms Vela chandelier from WAC Lighting as a winner in the OLED category.
Lu also said that LG Chem had made incremental improvements in lifetime. The latest panels have an L70 life of 18,000 hours so long as developers keep drive currents relatively low. Indeed, Acuity is keeping currents down and panel output in the 2500–3000-cd/m2 range to both eliminate any glare issue and maximize life, as we discussed in the prior OLED article referenced earlier.
Of course price will remain an issue, and you can easily see the disparity relative to LEDs in some OLED products that are being offered commercially. Back in the spring of 2013 we covered the launch of new manufacturer Blackjack Lighting by well-known lighting designer Stephen Blackman. The company's Aradess table lamp uses Philips Lighting OLED panels and was announced with a price of $5900. But the design is elegant and for the luxury market. And you couldn't easily achieve it with LED sources.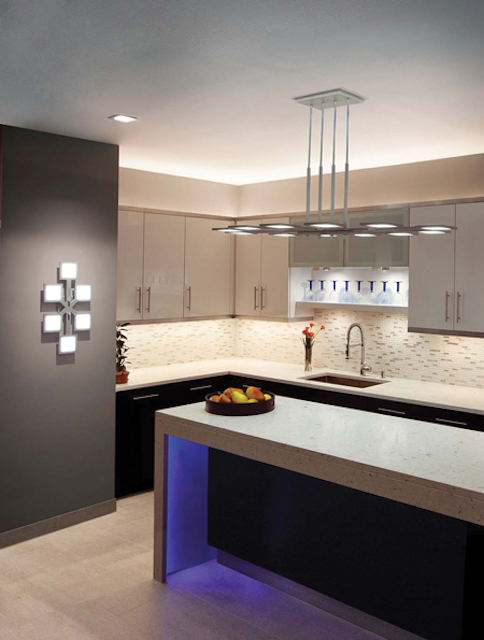 Modern Forms' Vela chandelier from WAC Lighting is a product that could not be easily realized with a light source other than OLEDs.
OLED product acceptance
We are also seeing signs of broader acceptance of OLED technology in the lighting community. For example, the Lighting for Tomorrow competition, which is managed by the American Lighting Association (ALA), the Consortium for Energy Efficiency (CEE), and Underwriters' Laboratories (UL), included an OLED category in 2013. The category drew three entrants and the Vela chandelier from WAC Lighting's Modern Forms brand was selected a winner.
It's worth noting that the judges for Lighting for Tomorrow, a panel that includes prominent lighting designers and experts, are not required to choose a winner in any category. The judges must feel that the product meets a broad set of predefined criteria including application efficiency, color rendering, and appearance. Moreover, the judging criteria include a "value and marketability" category.
The suggested retail price for the Vela chandelier is $9900. Having participated in the judging process in the 2012 awards, we saw an LED-based chandelier priced in the $5000 range receive a Special Recognition award from the judging panel. So a near $10,000 OLED chandelier was certainly considered by the 2013 judges to offer value, at least at the high end of the residential market. Furthermore, Vela is one of those products that could not be easily realized with a light source other than OLEDs.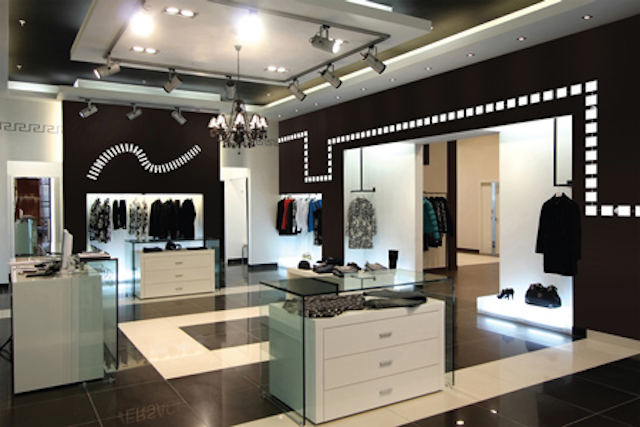 Acuity's Modelo OLED products from the Winona brand enable free-form design with the panels mounted on a track that supplies control and power, and that could also enable a mix of LED products such as pendants installed on the same track.
For a further example of what the market will bear, consider the case study we covered in late 2013. The Providence VIP Club, located in a high-end retail and office complex in Kuala Lumpur, Malaysia, has installed 1680 Philips Lighting OLED panels. Neither Philips nor the local contractor SLT Asia discussed the cost in concrete terms, but club owner Ashwin Prakash saw it as a solid investment, saying, "It is an investment that few would make, but we believe in adopting new technologies in our clubs to enhance the VIP experience. Our guests are enamored by the lights."
Acuity's highest-profile OLED project to date was in the Innovation Center at the US Embassy in Helsinki, Finland that was announced in the spring of 2013. But the DOE was instrumental in guiding the selection of all of the lighting that went into that project including LED-based lighting, and the project was a proof of concept to some extent.
Mainstream acceptance
The question for many in the lighting industry will be at what price level mainstream consumers will adopt OLED lighting. Dietmar Thomas, a communications specialist at Philips, has gone on the record saying that OLEDs would find application in home lighting in 2015.
Acuity's Lu prefers to discuss the price issue in consumer electronics terms, using flat-panel TVs as an analogy. Lu asked, "What kind of premium can OLED luminaires command?" He said that in the TV market, consumer electronics vendors believe that a significant number of buyers will pay 30–50% more for an OLED TV relative to an LED-backlit LCD TV. Of course OLED TVs haven't hit that price level yet, so no one knows for sure.
Still, Lu believes that OLED lighting will command a similar premium. And while OLEDs aren't within that percentage range relative to LEDs at the light-source level, a system-level comparison will be different. In both technologies the light source is increasingly a diminishing component of the system cost. And when you compare like products in terms of color performance as mentioned previously, the gap narrows further.
Acuity, meanwhile, is working to convert its Kindred, Revel, Trilia, and Canvis OLED product lines to support the new LG Chem panels. By the time this article hits the street, you may well have seen an announcement from Acuity highlighting the superior color performance.
Jeannine Fisher, director of OLED business development at Acuity, said that the company is already shipping products based on the new panels to a lead customer. She also said a soon-to-be-revealed project on the East Coast will be the largest and most dramatic yet supported by Acuity. Fisher said that the company is also preparing to commercially roll out the Modelo and other OLED products announced at Lightfair 2013 with the new LG Chem panels.
Fisher also summed up the price question from the company's perspective, saying, "Relative to other OLED products, our products are very competitively priced." The key factor is price relative to competitive technologies. But Fisher said OLEDs are competitive with LEDs today in "products that make a similar design statement."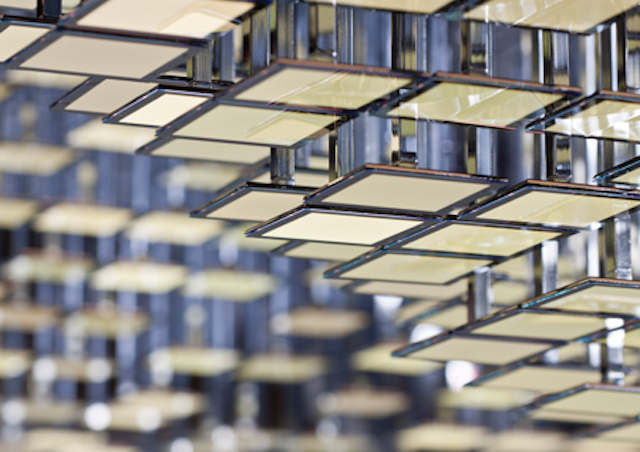 Philips LivingSculpture modular OLED technology allows lighting designers to deliver customized lighting systems with 3D forms using a simple online configuration tool.
Value proposition
From the value proposition perspective, Philips sees things similarly. Kristin Knappstein, Philips global director of OLED business creation, said that products based on the company's Lumiblade panels are delivering aesthetics and unique features that can't be achieved any other way. "We are preferably targeting applications where OLEDs really contribute value and enable new designs or light effects," said Knappstein. "We consider applications such as vertical or integrated lighting as attractive, as they are based on bringing this distributed light more to human scale, bringing it closer to people by integrating it into furniture and surfaces that surround them."
Still, Knappstein believes that panel makers must continue to drive efficacy and brightness. She added, "When it comes to OLED lighting, it is really about the right balance: It needs first a proper lumen output to really call it a light source, and then it is about delivering excellent light quality by means of rich, warm light without glare and which brings out the true colors."
Today, Philips is delivering the GL350 panel in its performance line with a flux output of 200 lm from a 124.5-mm square panel. Knappstein said that the company will have a higher-performance product at the upcoming Light+Building tradeshow; we saw that product in the lab and it is very bright.
Philips has a broad portfolio of products that are the result of its Lumiblade Creative Lab located in Aachen, Germany. Lighting manufacturers and designers can attend OLED lighting workshops at the lab and even use it as a design studio, working collaboratively with Philips' OLED experts.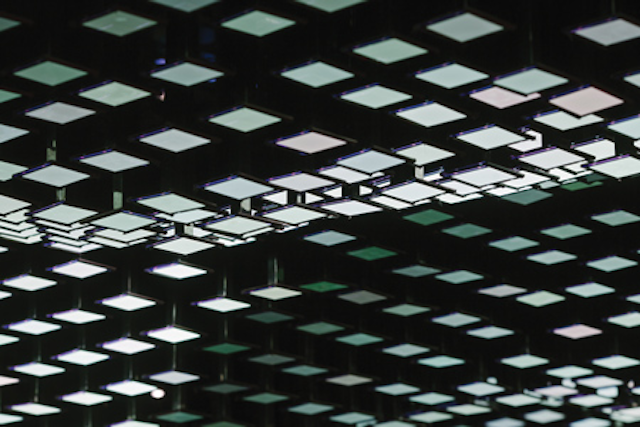 The Providence VIP Club in Kuala Lumpur, Malaysia features a lighting system that consists of 1680 OLED panels manufactured by Philips Lighting that provide a dramatic and dynamic experience to club-goers.
You can view much of the Lumileds work at the interactive Lumiblade Experience website. The work includes products such as Mimosa that consists of five panels and mechanics that can move the four outer flowers, mimicking a flower opening and closing based on the proximity of a hand or other object to the fixture. That product may be extreme in terms of design, but there are more mainstream products such as the Moorea desk lamp with classic bankers' lamp dimensions. Even that product has a unique ability to adjust the height and angle of the OLED panels using the power cord and a spring-loaded tensioner.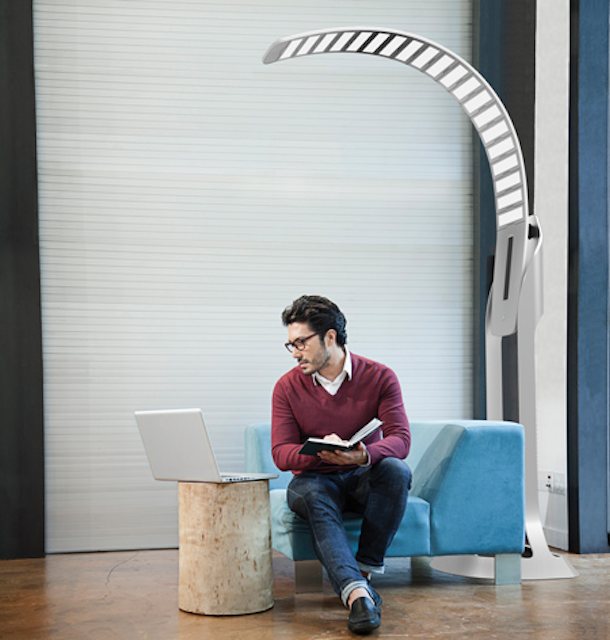 The floor-standing Acuity Lumen Being OLED lamp targets commercial spaces.
Philips also offers the modular LivingSculpture system that was designed initially by Christopher Bauder of WHITEvoid. Lighting designers can use an online configuration tool to develop ceiling- or wall-mounted systems with 3D contours by varying the length of the mounting rods that connect the panels to the modular base within which the driver is mounted.
Getting back to price
Still, broader acceptance of OLED technology will get back to price and therefore advancements in manufacturing technology. Back in 2012, Philips' Thomas had predicted that by now the time required to manufacture a panel would have dropped to two minutes. In 2012, Thomas said it could take as long as 30 minutes to grow what can be as many as 20 to 30 layers that comprise the OLED stack on a glass substrate.
Philips will not quantify exactly where the manufacturing time stands today. The company has commissioned a new production line, although it's off-limits to visiting journalists right now. We toured the older line. It looks something like an elongated racetrack with sequential chambers through which the glass panels pass on carriers, with each chamber designed to grow a specific OLED layer.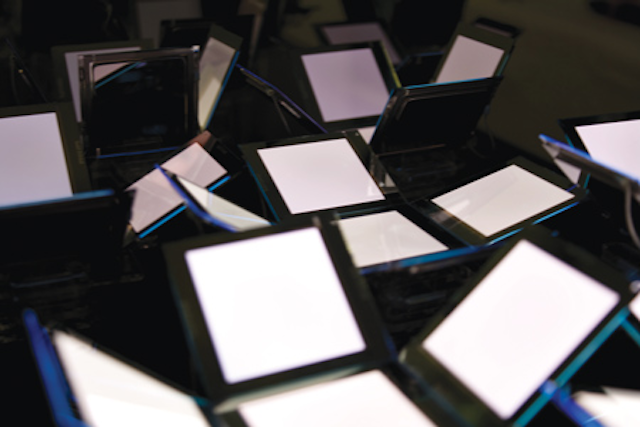 Designed by Jason Bruges Studio, the Mimosa luminaire features moving parts with Philips OLED panels that mimic the opening and closing of flower petals.
One issue, however, is that some panel designs need multiple applications of the same layer at different places in the stack. In the older line, the panel must circuit the production line if the chamber that delivers the next required layer is behind the traffic flow in the sequential line. That means panels pass through chambers many times with no processing taking place.
Thomas said that the new line uses a dual track system to move panels on carriers through the sequence. A panel can move to a sidetrack and travel backwards for repetitive processing steps. That change would presumably make a significant improvement in production time.
Despite all the challenges, what has become apparent in the last 18 months is that OLEDs can be used today to deliver both functional and striking lighting designs. The price remains high, but the premium is not as high as it first appears if you compare the cost of high-CRI LED-based systems or if the comparison is relative to unique form factors. Despite fledgling success in the market, it's clear that OLED proponents believe deeply in the future of the technology.