Vishay's ceramic-based, high-power UV LED delivers long lifetime in 365-nm wavelength range
Jul 6th, 2016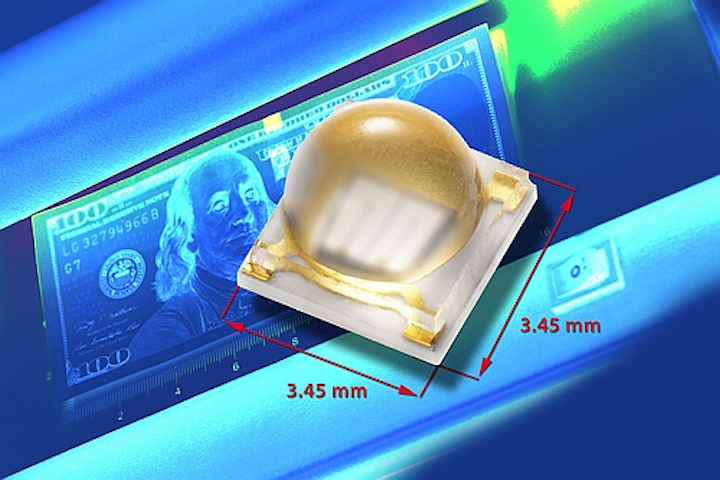 Device Provides Energy-Saving Replacement for Mercury Lamps in Medical, Industrial, and Printing Applications
MALVERN, Pa. — Vishay Intertechnology, Inc. (NYSE: VSH) introduced a new device in its VLMU35xx series of ceramic-based, high-power UV LEDs with silicone lenses that features a wavelength in the 365 nm range. Designed to provide a reliable, energy-saving replacement for mercury lamps, the Vishay Semiconductors VLMU3510-365-130 delivers an exceptionally long lifetime in a compact 3.45 mm by 3.45 mm surface-mount package for medical, industrial, and printing applications.
Interested in more articles & announcements on UV LEDs?

The silicone lens of the VLMU3510-365-130 enables extremely long lifetimes up to 25,000 h, compared to the typical mercury lamp lifetime of 10,000 h. The environmentally friendly UV LED is free of heavy metals and provides increased reliability with its shock resistance and immunity to degradation from frequent on/off switching. While mercury lamps require complex drive circuits and need two to 15 minutes to warm up, the VLMU3510-365-130 allows for the use of simple low-voltage circuitry and requires no warm-up period.
Built on InGaN (indium gallium nitride) technology, the device released today features typical radiant power of 690 mW at 500 mA and 945 mW at 700 mA in a wavelength range between 362.5 nm and 370 nm. The VLMU3510-365-130 offers an emission angle of 130° and radiant intensity of 315 mW/sr at 700 mA.
The LED's specifications make it ideal for UV curing in nail salon, dental, and poster printing applications; blood and counterfeit money detection; and photocatalytic purification. RoHS-compliant, halogen-free, and Vishay Green, the VLMU3510-365-130 is compatible with reflow soldering processes and features a Moisture Sensitivity Level of 3 in accordance with J-STD-020.
Samples and production quantities of the new UV LED are available now, with lead times of six to eight weeks.
Vishay Intertechnology, Inc., a Fortune 1000 Company listed on the NYSE (VSH), is one of the world's largest manufacturers of discrete semiconductors (diodes, MOSFETs, and infrared optoelectronics) and passive electronic components (resistors, inductors, and capacitors). These components are used in virtually all types of electronic devices and equipment, in the industrial, computing, automotive, consumer, telecommunications, military, aerospace, power supplies, and medical markets. Vishay's product innovations, successful acquisition strategy, and "one-stop shop" service have made it a global industry leader.
Contact:
Vishay Intertechnology, Inc.
Web site:
Locate more UV LED vendors in the LEDs Magazine Suppliers Directory
Submit new products, case studies/projects, and other press releases at http://www.ledsmagazine.com/content/leds/en/addcontent.html.

More from Vishay:
Vishay Intertechnology offers super red, red, amber, and yellow ultrabright SMD LEDs with dome lenses