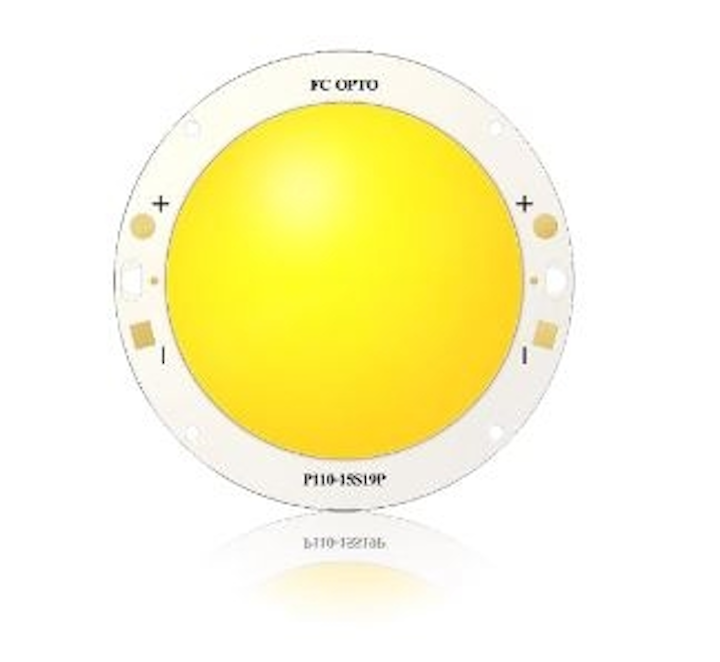 Ultra-Bright COB LED with Extremely Low Thermal Resistance Using Patented 3-Pad LED Flip Chip Technology
Fremont, USA – Flip Chip Opto announces the Apollo 1200 Chip On Board (COB), a high performance LED module. Based on Flip Chip Opto's patented 3-Pad LED Flip Chip and Pillar MCPCB technologies, both junction temperature and thermal decay are minimized due to its extremely low 0.006°C/W thermal resistance, allowing over 120,000 lumens to be emitted from a single LED COB module. The new Apollo 1200 high performance COB modules enable energy-efficient LED technology to replace metal halide lamps in extremely high power lighting applications such as high mast, stadium lighting, airport and shipping terminal lighting, maritime lighting, and more.
Interested in more articles & announcements on packaged LEDs?
Extremely Low Thermal Resistance Thanks to 3-Pad Technology
Flip Chip Opto's patented 3-Pad Flip Chip and Pillar MCPCB technologies enable the Apollo 1200 COB LED to perform high power lighting with extremely low thermal resistance. Unlike conventional LED modules that must dissipate LED heat through MCPCB's thermal-resistant dielectric layer, Flip Chip Opto's 3-Pad technology creates an extra thermal pad beside two electrode pads, and uses it to couple the heat directly from LED into the metal core of the underlying MCPCB. This innovation results in incredibly low thermal resistance that enables the feasibility of brighter output, less thermal decay, longer service life, and the coordination with smaller heatsink.
Suitable for Very High Wattage Applications
The incredible thermal performance allows the Apollo 1200 to achieve the lumen output between 107,080 and 121,680 lumens at 1200 Watt depending on the choice of color temperature (CCT) and color rendering index (CRI). Such unparalleled brightness from a single LED COB enables LED lighting to penetrate into the high power/wattage market including applications such as high mast lighting, stadium lighting, airport and shipping terminal lighting, maritime lighting and more.
More Lumens Per Dollar
Lower thermal resistance presented by the 3-Pad technology not only minimizes the thermal decay but also boosts the brightness by allowing more driving current while still maintaining LED junction temperature (Tj) below its thermal threshold. Compared to conventional wire-bonded COB LED products, Apollo 1200 of 3-Pad technology is able to sustain higher driving current with minimal Tj increase, and therefore produce more light under the same Tj restriction. Meanwhile, lower thermal resistance also exhibits the opportunity to coordinate with a smaller heatsink that represents less cost in material and shipping/handling.
High Quality Illumination with Even Light Distribution
Apollo 1200 is manufactured with a Light Emitting Surface (LES) of 90mm to generate powerful, smooth and evenly distributed lighting from a single LED COB. Standard CCT values include 2700K, 3000K, 4000K, 5000K and 5700K along with CRI value as 70+, 80+, 90+ and 95+. In addition, 95+ of R9 and R12 are also available upon request.
Features
Patented 3-Pad COB Technologies for extremely low thermal resistance
1200W Maximum Power
Extremely High Output to 121,000 Lumens
0.006 C/W Thermal Resistance
CCT between 2500K and 6500K available
80+, 90+ and 95+ CRI available, as well as optional R9=95+ and R12=95+ models
90mm Light Emitting Surface
Robust COB design and circuit connection. Stand up to severe impact and pressure
Patented components and technology
Fully in-house manufacturing and production

Flip Chip Opto is exhibiting in stand B5 at Strategies in Light Europe, 17 November to 19 November, co-located in London with LuxLive.
About Flip Chip Opto
Flip Chip Opto is a US-Engineered LED lighting technology company. With its research and development center located in Silicon Valley, Flip Chip Opto is devoted to its vision of inspiration, advancement, and affordability. "Inspiring the world with better and affordable lights", says Chang Han, CEO of Flip Chip Opto. With a manufacturing facility in Taiwan, Flip Chip Opto leads the industry in research, comprising a broad team of talents with expertise in semiconductors, electro-optics, materials science, bonding engineering, and luminaire systems. Flip Chip Opto dedicated its development into high-power, high-wattage LED modules. With such dedication and innovation, Flip Chip Opto developed the patented the 3-PAD design – exhibiting extremely low thermal resistance – with numerous application patents supporting it. This low thermal resistance permits smaller heatsinks, and ultimately an unparalleled degree of lighting applications. As a member of Cofan Group, Flip Chip Opto is able to leverage corporate resources and a decade's worth of research in mechanical designs, system integration, electrical engineering, MCPCB development, and more.
Contact:
Flip Chip Opto