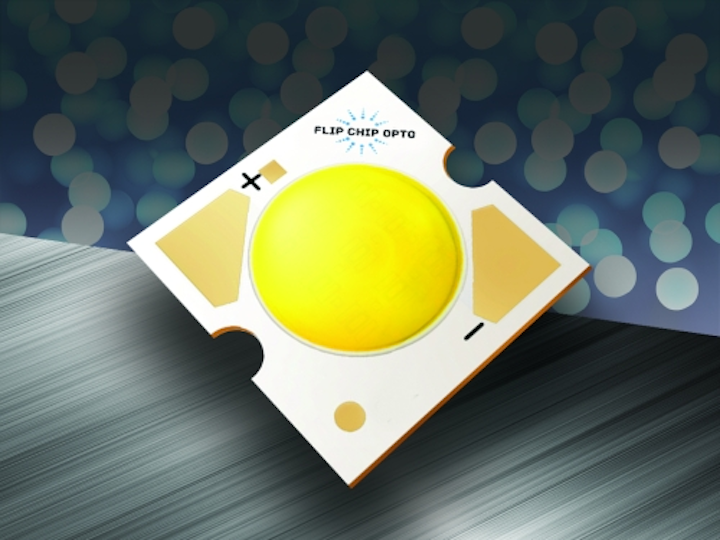 Fremont, CA – Flip Chip Opto, a LED lighting technology company, announced its new P Series of LED Flip Chip Chip-on-Board (COB) products. These high-performance lighting modules are comprised of patented 3-Pad LED flip chips with a Pillar Metal Core Printed Circuit Board (P-MCPCB) to substantially reduce junction temperatures, thermal decay and light emitting surface (LES). Our innovation enables designers to enhance "Lumen-per-Dollar" performance by driving the modules at substantially higher currents reducing LED chip counts, heatsinks and optics.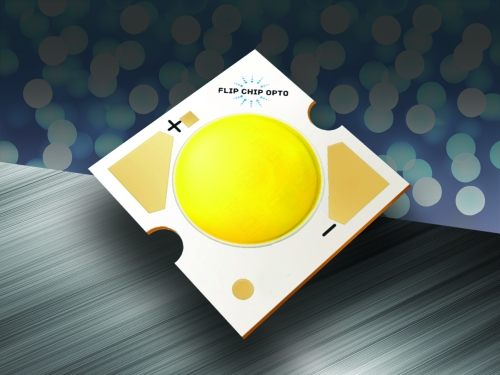 Flip Chip Opto debuts three-pad LED flip chips for high-power lighting applications

The P-Series COBs feature 45x45 mils 3-Pad LED flip chips and high flux density in small LES ranging 9~30mm, supporting 24 to 244 watt power ranges (customized CCT/CRI is available upon request). The high "lumen-per-dollar" and low thermal resistance (0.02°C/W to 0.11°C/W) make these COB solutions ideal for high power luminaires, such as spotlights, down lights, high bay lights, street lights and automotive lighting. The P-Series modules are designed to fit existing and inexpensive mechanical holders, optics, drivers and thermal components for simple and low-cost integration into existing packages.

The P25-12S3P (19mm LES / 122 Watt COB) is available for less than $10.00 (US) in OEM quantities. Evaluation quantities are available for immediate delivery with standard lead times of 4 weeks. For more information about FCO P-Series COBs, please visit Flip Chip Opto at www.fcopto.com.

Flip Chip Opto will demonstrate its products at Strategies in Light 2015 in Las Vegas. Please visit us at booth 629 between February 24th and 26th, 2015.

Flip Chip Opto is a LED lighting technology company, with its Flip Chip Research Center located in Silicon Valley. As an LED lighting pioneer, we are devoted to LED flip chip research and advanced lighting inventions with expertise in epitaxy, electro-optics, material science, bonding processes and packaging. As a member of the Cofan group of companies, Flip Chip Opto benefits from thermal management, MCPCB development and electrical engineering from within the group.

Owning numerous application patents surrounding the concept of 3-Pad LED Flip Chips and Pillar MCPCB, Flip Chip Opto develops standard and custom LED flip chip COBs supporting the industrial and commercial lighting markets with high "lumen-per-dollar" performance, lower LED junction temperature and minimal thermal decay.
Contact:
Pao Chen - Flip Chip Opto, Inc.
+1-510-687-1128
E-mail:

Web site:

www.fcopto.com

Submit new products, case studies/projects, and other press releases at http://www.ledsmagazine.com/content/leds/en/addcontent.html and http://www.ledsmagazine.com/content/leds/en/iif/add.html.