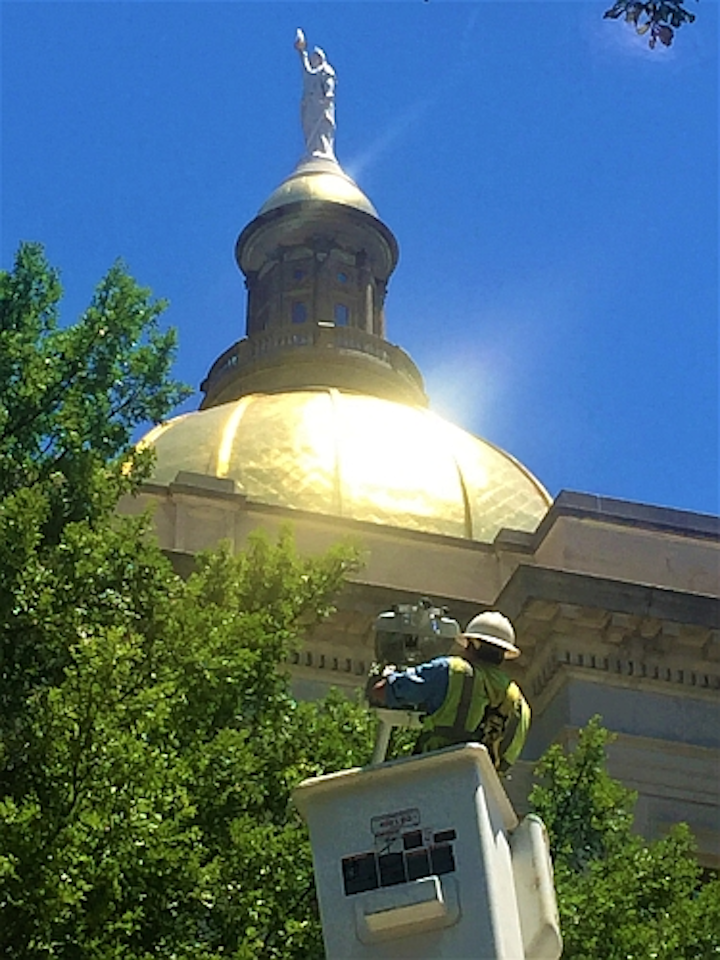 GE's Current is now collecting data from street lights, but the project remains in a pilot stage.
Like the ancient city of Rome, don't expect modern smart lighting-based cities to be built in a day. Take Atlanta, for example.
You might recall that it was piloting about 1000 wirelessly-controlled, sensor-equipped street lights in five pockets of the city. The idea was that the sensors would take note of things like traffic, crowds, crime including gunshots, air quality, and so forth. With the assistance of data analysis, the sensors would thus help the city figure out how to improve the likes of commuting, parking, public safety, and pollution.
That was nearly two years ago, first announced in January of 2017. So have things now moved into full deployment?
Well, no, not yet.
"The pilot project is ongoing and now collecting data," a spokesperson from GE's Current division told LEDs Magazine when we asked for an update recently.
Current, powered by GE is the company that has supplied the new street lights and sensors, which tie the data into its cloud-based Predix analysis software. It works as a subcontractor to AT&T, which provides wireless technology that helps transmit the data from Current's CityIQ sensors to Predix. Electric utility Georgia Power is also an original partner on the project, which now also includes the Georgia Institute of Technology.
Atlanta moves slowly into smart cities with GE's Current smart lighting technology
Atlanta has equipped about 200 lights like this one with sensors in an ongoing pilot. No citywide rollout yet.
"The Atlanta pilot is moving along well," the spokeswoman continued. "Georgia Power and the city are working with various app partners and Georgia Tech to utilize the CityIQ data, and plans for the next phase of the roll-out are in progress."
In an update a year ago, Current said it was adding 200 sensors to the already installed new street lights (it's not clear whether 1000 lights actually went in). At the time, the smart city partnership was also running a public competition aimed at finding creative apps that would make use of the data collected and analyzed by Current.
The project has also included a remote management system that allows the city to centrally dim and brighten the lights and check them for maintenance.
So it seems to be progressing one step at a time, which is about what you might expect given not only technological and data-related challenges but also certain changes that have cropped up along the way. Current itself has gone through its own share of turmoil. GE has put the division up for sale as part of a corporate retrenchment. Current's former chief digital officer John Gordon quietly left the company soon after the project was announced, and the division itself has scaled back some of its original broad, overarching energy mission.
And Atlanta has changed mayors, although both are Democrats, as voters elected Keisha Lance Bottoms last year after Kasim Reed reached his term limit.
While many lighting companies hope to position the outdoor lighting infrastructure as the backbone of smart IoT (Internet of Things) cities, progress will be mixed on a case-by-case basis. Current, for instance, has suffered setbacks such as in Jacksonville, FL, while other locations such as San Diego appear to be picking up the pace. In an effort to win more smart city jobs, the company recently partnered with Nokia in Canada.
LEDs Magazine will periodically revisit the projects that the industry has trumpeted over the last several years in order to provide reality checks on their status.
MARK HALPERis a contributing editor for LEDs Magazine, and an energy, technology, and business journalist (markhalper@aol.com).