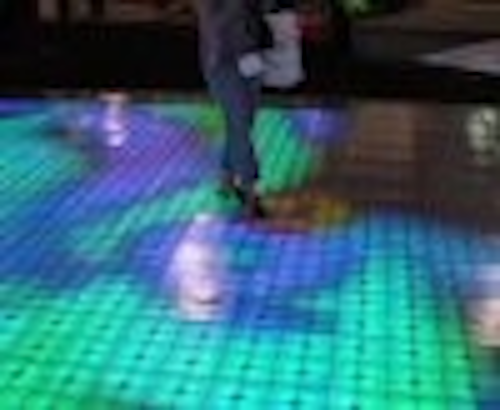 Anyone wanting to see LEDs in Las Vegas only has to wander down the Strip and or visit the color-changing installations that illuminate the outside of the Hard Rock Hotel, for example. In late October, however, LED activity was concentrated at the Entertainment Technology Show-LDI, a venue for many manufacturers to display lighting and display products aimed predominantly at the entertainment industry.
With ETS-LDI following so close after the PLASA show in London, it was inevitable that many companies would show similar product lines, but there were plenty of new innovations on display. The most important topic at the show was the ongoing patent lawsuits between Super Vision and Color Kinetics, which could have serious implications for the rest of the industry.
Unlike last year, when LED products featured heavily in the ETS-LDI Awards, only one LED system was honored. SGM's Palco floodlight won Best Lighting/Architectural Product of the Year. The system, a super-bright color-changing floodlight for outdoor use, uses multiple 3 or 5 W LEDs.
New product releases at ETS-LDI
New product releases at the show included the following:
Osram's compact OSTAR module offers 120 lumen output
Super Vision introduces SaVi intelligent LED lighting system
LiveLED 100 fixture from ALSI provides 1400 lumens
OptiLED unveiled its
HIVE color-changing modular array
, as well its Designer Dimmable series, an LED lamp with intensity control in the standard form factor of an MR16 halogen lamp (see photo). "The lamp can be adapted to suit any environment and create a wide range of effects, atmospheres and nuances, depending on time of day, light levels and mood," said Bruce Pelton, OptiLED's VP of sales.
Beadlight Technologies, a subsidiary of UK company Telectra, unveiled its new ice*lighting™ batten, consisting of 8 hexagonal tiles mounted on a computerized controller. Each tile contains 48 individually addressable LEDs, while the tile surfaces are formed using a patent-pending diffuser system containing over 300,000 micro lenses per batten, which provides unique color blending effects.
LED floors and curtains

Among a number of companies displaying novel uses for LEDs were Main Light Industries, which manufactures Soft-LED curtains containing a grid of LED nodes interlaced with Ethernet cable. Each node contains a red, green and blue LED, and the nodes can be controlled individually. Main Light is a licensee of Color Kinetics' Chromacore technology.
The same technology has been used by Staging Dimensions Inc to embed a grid of LEDs under inch-thick transparent panels to form a modular decking structure (Pixel Panel) that can be used to create a stage with color-change capabilities.
Elsewhere, Lightspace Corporation entertained visitors to its stand with a game of LED dodge ball, in which players were chased by a ball of light around a floor constructed of panels illuminated by LEDs. The unique feature of Lightspace's floor is that the 16 x 16-inch panels also contain pressure sensors, allowing the LED lighting to respond to people walking or dancing on the surface.
White neon
Neon-like bendable strips containing LEDs were a relatively common sight, although iLight Technologies had a different twist - white. The company's Plexineon series includes three color temperatures of white - 3500, 4500, and 6500 K - which are all achieved using blue LED chips. The patent-pending light conversion technology is being kept under wraps but a clue is seen when the tube is viewed with the LEDs off. The tube itself has a yellow tinge, implying that the downconversion process necessary to create white light takes place in the tube itself. (To make the most common form of white LED, the emission from a blue LED chip excites a phosphor material that emits in the yellow region; the combination of blue and yellow emission makes white).
Displays

Several leading LED displays manufacturers including Barco, Daktronics, Lighthouse and Toshiba, had booths at the show. Daktronics' stand featured a 6-mm pitch indoor display with a price tag of a cool $1 million, while Barco demonstrated the capabilities of its MiPix display building blocks, as well as 3-mm pitch display using RGB LEDs from Nichia in black-colored packages. Lighthouse, sharing a stand with OptiLED (both companies have the same parent, Hong Kong-based Cotco), revealed that it had provided display screens for the stage production of "We Will Rock You", featuring music from the rock band Queen and currently playing at the Paris hotel in Las Vegas.
Dynascan showed its 360-degree LED display, built around a central rotating drum that contains a number of LED modules. Media Impact Networks and Optispace showed much smaller cylindrical, spherical and circular displays, with one or two rotating LED modules. Media Impact Networks intends its display to show video and be remotely addressable, providing a low cost, reconfigurable advertising tool.
Next show
The next ETS-LDI show will be held November 11-13, 2005 in Orlando, Florida.