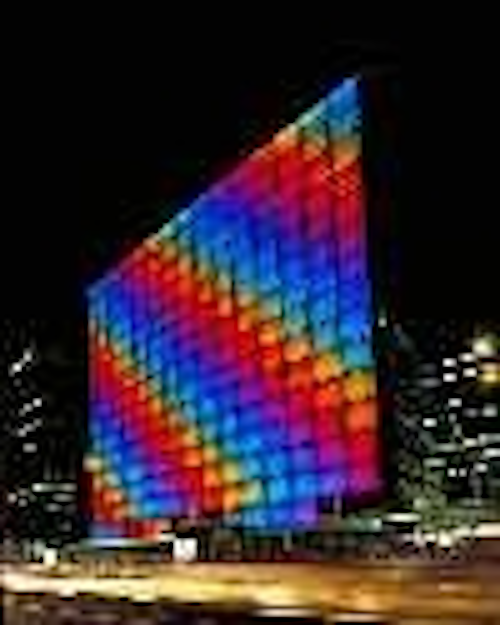 Download a PDF version of this article (1.5 MB)
In mid-September 2004, solid-state lighting specialist TIR Systems announced a development agreement that should help to accelerate the adoption of solid-state lighting into the mainstream lighting market. The company has agreed to jointly develop solid-state lighting (SSL) products with Canlyte, the Canadian division of the Genlyte Group (GG), one of the largest companies exclusively dedicated to lighting in North America.
The companies will jointly develop SSL products that take advantage of TIR's enabling technologies and GG's extensive design, manufacturing and distribution capability. The agreement gives Canlyte access to TIR's leading SSL technology, while allowing TIR to retain all of its intellectual property rights.
The products developed will contain TIR-branded SSL components using LEDs as the light source - a kind of "TIR Inside" scenario - and will be marketed in the North American markets under the Lightolier brand name and other Canlyte/GG brands.
"Among the benefits to TIR of entering this agreement are leveraging the experience we've gained in building specification-grade luminaires, and exploiting distribution channels that we might not otherwise have," says Ed Sadowski, TIR's VP of marketing and product development, in an interview with LEDs Magazine. "We're also keen to gain access to Canlyte's high-volume manufacturing expertise in the highly competitive lighting market."
New products for new markets
New products developed by TIR and Canlyte will be launched in markets where they will not compete with TIR's existing solid-state lighting portfolio. TIR's Destiny product line is primarily focused on the outdoor specification market, and products tend to be over-engineered for most indoor applications (for example, they are usually IP66-rated).
"Right now, TIR and Canlyte are looking at how our Destiny CW, CV and CG products [for wall-washing, surface grazing and cove lighting respectively] can be modified for indoor use," says Sadowski. "These products provide performance that cannot be achieved with conventional lighting, and when properly engineered at the right price points we believe these would be a unique and attractive offering."
The key differentiator is in the effects that can be achieved, such as uniformity of projected colors, sharp cut-offs and gradients. The fact that the effects are achieved using solid-state technology, with added benefits such as longevity, is the "icing on the cake".
Industry development
Sadowski thinks that the agreement could prove to be significant for the solid-state lighting industry as whole. "The specification market is somewhat wary of some of the solid-state lighting products that have been developed to date," he says. "Lots of products do not provide the performance or uniformity that lighting specifiers require."
The situation is similar to that around a decade ago, when fiber-optic technology was being promoted as the ultimate lighting solution for many applications. "However, lots of inferior products were brought to market, and this left a sour taste in the mouths of the specification community," says Sadowski. "There's a danger this might be repeated with LEDs - if there are too many inferior products in the market and some high-profile failures, it will spoil the market for the credible players."
Part of TIR's strategy, as well as promoting itself, is to educate the major players in the lighting industry and improve the credibility of solid-state lighting. Another facet of this strategy is TIR's position as a founding member of the Luxeon Lighting Network, which provides accreditation for users of Luxeon LEDs supplied by Lumileds Lighting. "Membership of the Lighting Network provides an assurance that there is a minimum level of quality, sophistication and support," says Sadowski. "The [solid-state lighting] industry is in such a nascent state that there is a need to assure a minimum level of quality even though we are competing with other companies in the Network."
TIR is not tied to using Lumileds' LEDs, even though it does so for all its high-flux products. Similarly, the agreement between Canlyte and TIR does not exclude either company from working with others in the industry to promote the adoption of solid-state lighting.
From the ground up
According to Sadowski, one of the reasons Canlyte was attracted to TIR was the latter's "holistic approach" to building luminaires. "We've had success because we've designed and built our products from the ground up," says Sadowski. "We look at what the luminaire needs to do, and how that should be accomplished, then we select the appropriate components and if they're not available we design them." In fact, TIR has an R&D team of over 30 scientists and engineers with expertise in mechanical design, optics, thermal management, electronics, software design and control, and systems integration.
"Canlyte recognizes the importance of this approach as far as making products that are acceptable in their marketplace," says Sadowski. "There were very few companies apart from TIR that had the same approach and capabilities, and were also willing to work with another company."