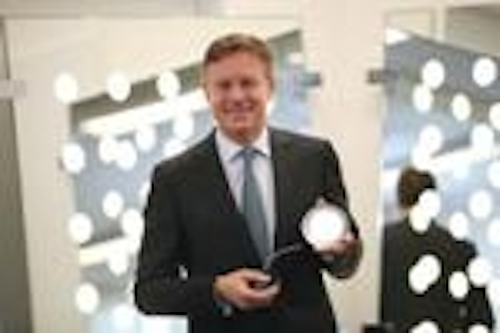 +++ Cover +++
This image courtesy of the Bureau of Street Lighting, City of Los Angeles, shows some of the 140,000 LED outdoor lighting fixtures that will eventually be installed in the city – see page 37.

+++ Features +++
CONFERENCES
Strategies in Light Europe addresses market adoption of LED lighting
Part 1 of our report from the 2010 Strategies in Light Europe conference describes the activities of the European lighting industry, the rise of LED modules, and how LED lighting is shaping the future of light. TIM WHITAKER reports.

LIGHTING: INDUSTRY STANDARDS
LED lighting at the crossroads: country road or expressway?
The LED lighting industry faces five major roadblocks, but if these can be overcome then the market will be able to accelerate rapidly, say FLORIAN WUNDERLICH, DOMINIK WEE and OLIVER VOGLER.
OUTDOOR LIGHTING
LED momentum builds at annual Street and Area Lighting Conference
Presentations at the IES Street and Area Lighting Conference were predominantly centered on LEDs, and there were first-hand opportunities to view SSL installations, reports MAURY WRIGHT..
STANDARDS UPDATE
Non-directional luminaires require new testing procedures for LED light engines
In his latest column on standards, JIANZHONG JIAO explains why changes to the Energy Star program will require new standardized procedures to evaluate the performance of LED light engines.
STANDARDS: PRODUCT SAFETY
LED product safety standard requires ongoing updates
The UL 8750 product-safety standard has established a set of requirements for LED-based lighting products and the components needed to operate them. However, maintaining the standard during this period of rapid technological advancement is a daunting task, says TOM BLEWITT.

NETWORK CONTROLS
Networks layers pave the way to adaptive lighting controls
Adaptive lighting control systems will be key to maximizing the energy efficiency of SSL, and network technology will form the foundation for such intelligent lighting systems, says Maury Wright.

CONTROLS: INTELLIGENT LIGHTING SYSTEMS
Intelligent lighting systems drive radical energy efficiency
LED-based SSL can deliver significant energy savings relative to legacy light sources. And as Brian Chemel describes, the savings are compounded substantially with the addition of controls, resulting in an intelligent lighting system.
TEST & MEASUREMENT
Miniature spectrometers address challenges of LED research and production
Miniature, portable spectrometer systems can provide accurate in-situ measurements and analysis of LED light sources for a variety applications, including horticulture, according to Jason Eichenholz, Marco Snikkers and Dennis Schulmerich.
ACQUISITIONS
Merger of measurement companies brings integrating-sphere expertise under one roof
Labsphere and SphereOptics, two US-based LED metrology companies, merged earlier this year and are now operating as part of Halma, a holding company that is eyeing further acquisitions, as KEVIN CHITTIM and DAVID LEIGHTY explain.
DESIGN FORUM
Thermal protection in LED driver circuit boosts reliability
Despite an efficiency advantage over other light sources, LEDs can still suffer reliability issues if all parts of the lighting system, including the driver, aren't properly protected from over-temperature situations, says STEVE ROBERTS.


LIGHTING: COMPATIBILITY
System compatibility testing improves reliability of LED lighting devices and systems
In the second article in his series on compatibility and reliability, PHILIP KEEBLER explains how the concept of system compatibility was developed and how it applies to today's electronic lighting products.
Compatibility Part 3: Applying compatibility concepts to today's lighting products
LAST WORD
Seven drivers for outdoor LEDs
Seven market forces are setting the stage for accelerated adoption of outdoor LED lighting, says JEFF BOCAN of venture-capital firm Beringea LLC.




+++ Columns/departments +++

COMMENTARY
Outdoor SSL outpaces standards and practices

NEWS + VIEWS

Osram Opto Semiconductors appoints new chief executive
LED market to reach $9.1 billion in 2010, reports SIL Europe
Chili's restaurant chain installs 125,000 LED lamps
Toyoda Gosei and Epistar form joint venture
LED lighting at forefront of Osram Sylvania survey
Best Buy installs LED replacement lamps from CRS
Carmanah acquires LED driver company Lightech
Seoul LEDs light ZEBRAlliance house
Synopsys acquires Optical Research Associates
Cree builds 150-mm LED wafer line
LED lighting features strongly in Philips' strategic vision
San Francisco and London put out RFPs, DOE Consortium expands
Pilot OLED manufacturing lines planned in USA and Germany
Bridgelux introduces five-year warranty on LED arrays and modules
FUNDING + PROGRAMS

AC-DC rocks the boat for LM-79
Global Lighting Forum launches LED Working Group
EPA releases Energy Star Luminaires specification second draft
EU project to accelerate uptake of quality, affordable LED lamps
FTC sues Lights of America over deceptive claims for LED lamps