Vivid Effect provides eye-catching LED frontage for Austrian bank
A digital video sign has been installed on a building exterior, and uses DingDotz LED fixtures and X-Node drivers.
Sep 30th, 2006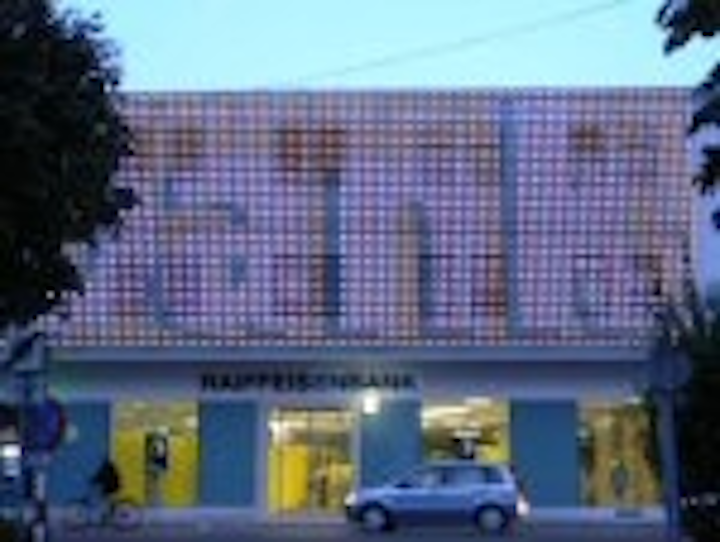 Austria's Raiffeisen Bank wanted an eye-catching corporate branded frontage for its newly refurbished building near Vienna in Austria. Working with a local architect and installer, Vivid Effect designed a 20m x 8m LED screen to be fixed to the first floor exterior of the bank's building.
The LED fixtures used are DingDotz - individually addressable, low profile, self contained, colour changing RGB LEDs that are IP66 waterproof containing super-bright Nichia 3-in-1 sealed LED units.
With a viewing angle of 120 degrees, the 15mm fixtures radiate light with high quality colour rendition of 16.7 million hues, which is perfect for directly-viewed outdoor architectural signage applications.
A light sensor turns the system on and off automatically, according to light levels. The custom nature of the design allows the building's occupants to see out and daylight to enter, and at nighttime the whole first floor becomes a digital LED screen running the bank's branding and promotions, or any other desired effect or animation.
The DingDotz were fitted from behind into a custom horizontal aluminium U-profile section with holes cut out to locate the Dotz. The U-section was then fitted over the main frame and secured with grub screws. Each section of U-profile is 2.5m long and can be removed in minutes for any maintenance requirements. The main supporting frame is made from aluminium and bolted to the exterior of the building.
A standard rackmount Windows PC acts as the master controller, running Vivid Effect's DesignerSuite and FireFly software. The software manages the pixel mapping and contains a media player that plays the videos on the array. X-Node rackmount integrated drivers distribute power and data to the network. Braincell slave controllers run each set of 100 Dotz. The system network architecture allows video and animation to be run at 30 frames per second.
The Stream control protocol uses standard data protocol and standard network hardware and cabling, giving a true cost-effective alternative to DMX. The Stream system is capable of controlling millions of LEDs, running and streaming video at movie frame rates or higher. It is completely scalable which means that it can be used in the smallest to the largest LED installations.