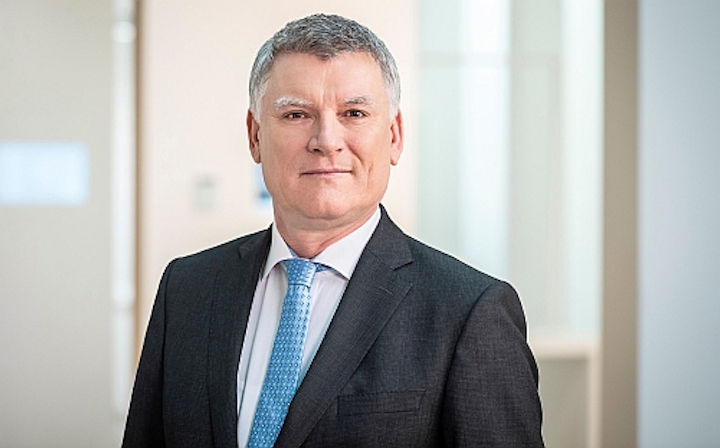 Alfred Felder gives a ringing endorsement for LED lightwaves as Internet transmitters, while the company heads to Mobile World Congress with pioneer pureLiFi.
Li-Fi got another boost from the old guard today, as the CEO of venerable lighting maker Zumtobel endorsed the technology's potential following a trial with pioneer pureLiFi ahead of a joint display by the two companies at the Mobile World Congress, the mobile telecommunication industry's annual giant confab in Barcelona.
The comments by Zumtobel boss Alfred Felder mark the second Li-Fi advance in recent weeks at a major lighting company, following Signify's announcement earlier this month that it now has about 30 Li-Fi trials underway.
Li-Fi turns LED luminaires into Internet transmitters by using LED lightwaves, rather than the radio frequencies of Wi-Fi, to communicate with laptops, tablets, and smartphones. Proponents say it will open up vast swathes of spectrum and thus help offload increasingly saturated Wi-Fi networks. They also claim that it is more secure than Wi-Fi. Some Li-Fi advocates say that it can be faster than Wi-Fi.
It is also potentially an important part of lighting's emerging Internet of Things (IoT) push, in which vendors are looking for altogether new business models and new sources of revenue by tying lights to the Internet and thus using the lighting infrastructure for a myriad of data services.
"Li-Fi enabled by Zumtobel allows [us] to step into the next era of wireless communications," said Felder, sounding as much like an information technology chief as the head of a lighting company — a common chord that many lighting companies are striking these days now that long-lasting LEDs have deprived them of their century-old business model of selling bulbs and their replacements.
"We believe that in an increasingly interconnected digital world Li-Fi will play a decisive role in moving our industry into the era of digital light," Felder noted.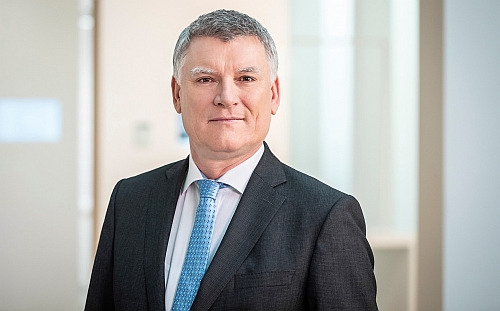 Zumtobel CEO: "Li-Fi will play a decisive role"
"Li-Fi enabled by Zumtobel allows [us] to step into the next era of wireless communications," said CEO Alfred Felder. (Photo credit: Zumtobel.)
Zumtobel partner pureLiFi sounded the same theme. "By offering connectivity alongside their innovative LED lighting technology, Zumtobel has the potential to become a leading supplier of high bandwidth data communication," said Alistair Banham, CEO of the Edinburgh-based company, which provides the components that turn lights into transmitters and gadgets into receivers.
The two companies said they have together piloted Li-Fi but would give LEDs Magazine no details of the installation's location, scope, or duration.
In a press release, they noted that the trial "uses LED lights to send large amounts of data while appearing as normal LED light to the human eye."
The release also stated that "[a]s part of the trial, Zumtobel has installed pureLiFi's system, alongside its LED lights. The system enables a data transmission via an LED luminaire at high speeds through small adjustments in the LED's brightness. The result is a high-speed Internet connection that is more secure, reliable, and able to deliver bandwidth far beyond the capabilities of conventional wireless communications like Wi-Fi."
Dornbirn, Austria-based Zumtobel would not say whether it built bespoke pureLiFi-based luminaires for the trial, or whether it tied external pureLiFi components into standard Zumtobel LED luminaires.
It also stopped short of announcing any commercial Li-Fi products.
As LEDs has noted before, Li-Fi has been enduring a prolonged gestation. One of the obstacles is that gadget makers have yet to embed Li-Fi receiver chips in phones, tablets, and laptops. Standards could help instigate that, but international standards body IEEE is not expected to release one until 2021.
Meanwhile, 7-year-old pureLiFi and €1.2 billion ($1.36B) Zumtobel are heading to Barcelona to jointly show Li-Fi. Mobile World Congress runs from Feb. 25–28.
MARK HALPERis a contributing editor for LEDs Magazine, and an energy, technology, and business journalist (markhalper@aol.com).