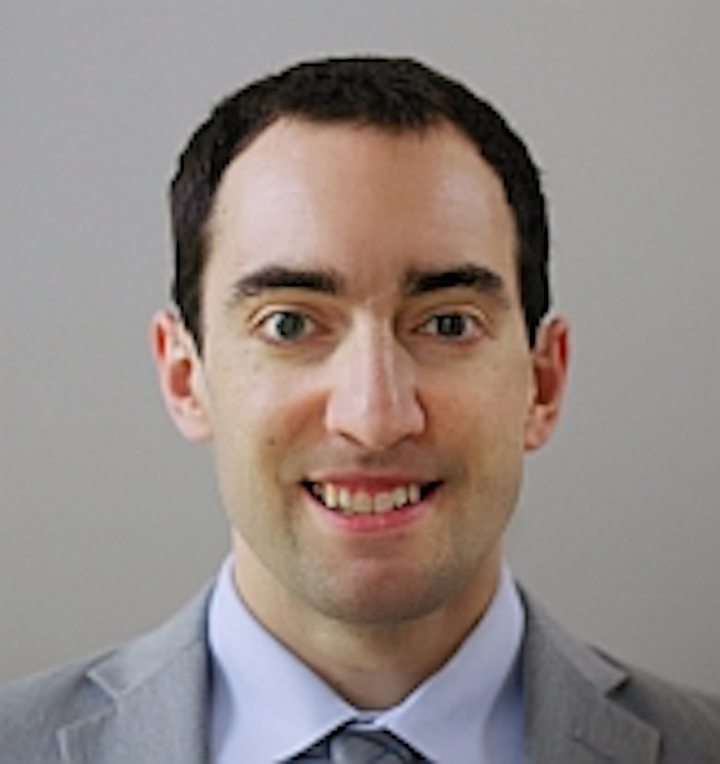 Suppliers and specifiers must understand smart building objectives and outline a project-specific strategy in order to help business owners and property managers maximize their investment, says KENDELL CLARK.
Savvy property owners know that high-performance buildings translate to greater property value and longer-term tenants. When they fully understand the benefits, they will seek out and invest in smart building technology that drives performance in three key areas: creating the right environment for the people in the space; simplifying and streamlining building operations; and reducing energy use without sacrificing comfort or productivity.
The future of smart building technology is moving toward single data and management platforms and multi-building dashboards that can be used throughout buildings, across campuses, and even over wide-spread geographies. Smart building systems are providing better access to data to help reduce the complexities and the cost of property management.
We are just beginning to understand how the built environment affects productivity and wellbeing, the role that lighting plays, and how smart building systems can make the most of these learnings. As a result, owners, architects, and engineers are looking for solutions that can easily adapt, expand, and improve over time.
Because lighting is essential in every space, both interior and exterior smart lighting control — including smart sensors, automated shading solutions, wireless protocols, and intuitive graphical user interfaces — can be the basis for increasingly capable, versatile, intelligent building systems.
To guide the selection of an enterprise solution that simplifies building operations and delivers increased value for owners and occupants alike, consider five aspects of smart system design.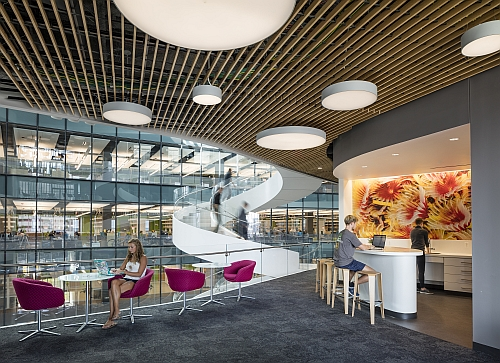 The Interdisciplinary Science and Engineering Complex at Boston's Northeastern University incorporates Lutron Quantum wireless controls in the smart building systems, which includes occupany and photo sensors, as well as switches, tied into the LED lighting. (Photo credit: Warren Jagger Photography.)
Capitalize on available building information
To help deliver a high-performance environment for occupants in the space, the smart-building solution should effectively collect and aggregate system data in three performance categories. The system should provide energy use data by fixture and area to help facilities managers decrease energy consumption without sacrificing control or occupant comfort. It should also be designed to support advanced data analysis regarding space utilization over time and enable digital rezoning or reprogramming without rewiring. Finally, the facility managers and appropriate technicians should be empowered to make simple adjustments to building systems including lighting, HVAC, and automatic shading functions to deliver a consistent, comfortable, and productive work environment.
Simplify future expansion
Identifying the best smart-control solution in an individual building or space can be daunting, and these complexities are magnified with multiple buildings or campuses, let alone multiple geographies. Depending on real estate needs, the system may need the flexibility to accommodate older or historic buildings, new buildings, future buildings, garages, and even exterior spaces under a single software umbrella.
The ideal solution will deliver actionable data with a simple-to-use, intuitive graphic user interface. Again, consider future needs. While they might traditionally access data on a PC or laptop computer, the facilities team might be even more efficient with the freedom to monitor, manage, and adjust system settings from anywhere in the space — or even offsite — from a tablet or other smart device.
Information needs to be easy to view, easy to compare across systems, and simple to share with other building systems to make the most of available data. Communication can make or break data efficiency. Look for systems that are good smart-building citizens; those that have a variety of integration methods to share data and control capabilities with other building systems will be most user-friendly.
Align features with the facilities team and mission
The advantage of smart building systems is the ability to quickly compare and aggregate information to improve energy use, comfort, and productivity. The best solutions will help facilities technicians make informed decisions about existing real estate as well as future real estate acquisitions.
For example, occupancy data can identify where conference rooms are frequently overbooked, where office space is underutilized, and where additional capacity is needed. Once the need is apparent, it should be easy to reassign lighting areas or reconfigure spaces from intuitive software, anywhere in the world.
For the facilities team that trains and updates employees on system operation, accommodates special event staffing, or handles other changes in response to building or campus staff, an intuitive user experience is a game changer. After all, a networked system is only as good as the team's ability to quickly navigate through the software to make appropriate adjustments. As facility teams are responsible for more spaces and greater efficiencies, the right user interface can be the key to satisfied employees and high-value buildings.
Access reports to optimize space utilization
What information will you need to optimize building space? Lighting data can facilitate informed decisions about adding, expanding, or repurposing real estate. It can also help improve staff efficiency by highlighting periods of low occupancy or identifying situations where the occupation pattern has changed — permanently or temporarily.
Make sure information is easily accessible via the building's system software — single-screen access, the ability to quickly see the percentage of occupied versus unoccupied areas, reports on occupancy history presented as charts and bar graphs, and the ability to create historical occupancy reports for selected areas. Information is only as good as the individual's ability to use it to access and adjust system settings across the enterprise, ultimately improving planning and workflow.
Improve the occupant experience
We all relate to the adage that time is money. Proactive system alerts can help identify and address issues before they become costly barriers to productivity and comfort. Software can also offer floorplan-based navigation and intuitive search, enabling quick responses to specific employee or occupant requests, and making it easier to override schedules, or adjust the behavior of automated shades, to accommodate a special event.
Buildings will continue to trend smarter and tenants will look for spaces that improve employee comfort, productivity, and retention. Smart building solutions will continue to be instrumental in a real estate strategy that highlights the user experience, saves time and money, improves efficiency, and creates an enterprise that better meets the needs of discerning clients.
Get to know our expert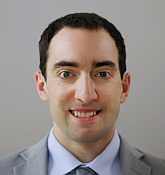 WEB EXCLUSIVE: High-performance properties start with smart building technologiesKENDELL CLARK is a product manager for Quantum at Lutron Electronics, responsible for product strategy, full product lifecycle management, and marketing. Clark began his career with Lutron in 2011 as an electrical design engineer in Lutron's Coopersburg, PA office. He led the development and introduction of Lutron's QS Signature Series keypads, NovaT 0–10V dimmer, and Maestro 0–10V dimmer sensor. Clark also worked on several of the company's LED drivers, wireless sensors, and in-wall sensors for both domestic and international markets. He has also spent time in a system sales role, helping customers design and specify Lutron systems. Passionate about new technologies and delivering new and exciting solutions to customers, Clark enjoys staying up to date on the latest technological trends and opportunities. He earned his BS and MS in electrical engineering from Rochester Institute of Technology.