More than 40% of many municipalities' electricity bill goes toward street lighting. Paradox Engineering SA and Streetlight.Vision hope to provide a networked lighting system that will reduce that energy consumption by improving the efficiency of lighting infrastructures. In a separate effort, Paradox is starting a pilot project in San Francisco, CA that will lead to the implementation of a citywide secure wireless communication network to monitor and control different urban services such as street lighting, electric vehicle charging stations, electricity meters and traffic signals.
By leveraging the Paradox Engineering Advanced Metering Infrastructure (PE.AMI) and Streetlight.Vision Control and Monitoring software, the two companies plan to allow municipalities to remotely monitor every object, from individual lamps, to EV charging stations, and more. These devices will be connected into the Paradox Engineering citywide wireless mesh network, where they will exchange information about their status and operations. This will give customers data involving failures, energy consumption, and enable them to schedule lighting levels at fixed times or in relation to dynamic conditions such as traffic, ambient light, or weather. The solution is expected to allow for up to 60% savings on energy bills and maintenance costs.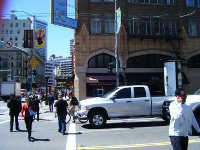 PE.AMI is an architecture for full-mesh wireless sensor networks for smart grid and smart city projects. PE.AMI enables meter reading, energy network controls, parking and transport management, and other functionality. The system collects and integrates information from various nodes before integrating it into a wider system. The system is IPv6 over Low power Wireless Personal Area Networks (6LoWPAN) compliant (for more information on 6LoWPAN and lighting controls, read this story from the print edition of LEDs magazine) and features a modular design. PE.AMI also includes the possibility to improve wireless communications by supporting both narrowband and broadband data traffic within the same gateway. The system is IP67 and ATEX certified and has been implemented in several Smart City projects.
Streetlight.Vision's monitoring and control software for smart outdoor lighting management is based on powerline and wireless radio frequency networks. The system is based on a software as a service (SaaS) architecture that uses a device-centric data model, a web application server, and a web interface to provide the ability to monitor all components and devices of streetlight networks. The software is used in more than 500 cities in 20 countries.
San Francisco pilot
Meanwhile in the pilot project, the San Francisco Public Utility Commission (SFPUC) intends to replace existing HPS street lights with dimmable LED luminaires in the next two years, and to remotely manage them through an integrated wireless control system. In May 2012, Paradox Engineering won the Living Labs Global Award by proposing a solution based on PE.AMI to the SFPUC to support, monitor, and manage public lighting and other urban services.
Paradox Engineering and the SFPUC will discuss the pilot project and its expected outcomes during the conference "Smart Cities: the making of", to be held on November 15th at swissnex San Francisco, 730 Montgomery Street, San Francisco.