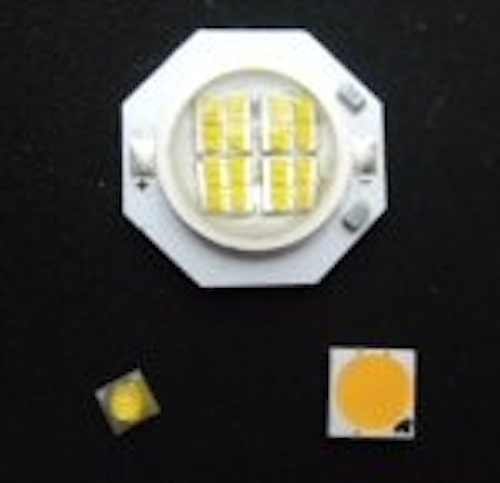 Lynk Labs Inc., the Elgin, IL-based developer of AC-LED technology and products, is expanding the company's Tesla AC-LED package product line, and will be selling the packages as discrete components.
Until now, Lynk Labs' AC-LED packages were only available from Lynk Labs in lamp products and primarily as assemblies manufactured and sold direct to OEMs by Lynk Labs.
Both Lynk Labs' and Seoul Semiconductor's AC-LED technologies have taken time to prove themselves in the market over conventional DC-driven LEDs, says Mike Miskin, Lynk Labs' CEO. "As LED technology continues to penetrate general lighting and the retrofit lamp market, more and more manufacturers are seeing the benefits of AC-LEDs," he said.
"AC-LEDs offer cost and system-size reduction, improved reliability, and added space for thermal management while reducing or eliminating drive components. In most cases, they offer better retrofit product capabilities in the existing AC power lighting infrastructure than DC LEDs," continued Miskin. "Taking our new and growing AC-LED packages to market as discrete components is expected to drive substantial growth for Lynk Labs and our patented AC-LED technology".
The Tesla AC-LED packages will be introduced by Lynk Labs in booth 404 this month at Strategies in Light (SIL) in Santa Clara, California, explained David Yakich, Sales Director at Lynk Labs. "For the past 12 months, we have been contacted by more and more distributors, which helped drive the decision to enter the component sales side of the market. They're all looking for a strong LED product differentiator, and Lynk Labs' patented low-voltage, high-voltage Tesla LEDs provide that," said Yakich.
The LED packages being introduced at SIL include packages for MR16 and MR11 lamps that can be integrated without any driver electronics. "Similarly, we have high VF (forward voltage) packages for A19 and other lamps that will reduce or eliminate the drive electronics in these lamps," said Yakich.
Lynk Labs said that the components will initially be sold through a Global Rep Network and then made available through distribution around Q3. The company will also be expanding its strategic relationships with more packaging partners in an effort to expand the reach and availability of Lynk Labs' AC-LED technology in the rapidly-growing global LED market.