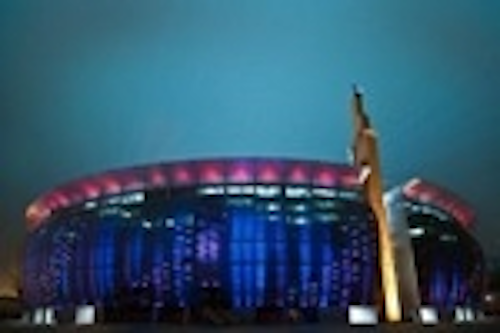 Cinimod Studio, a London, UK-based architecture and lighting design firm, has delivered an interactive lighting-control system for the Peru National Stadium in Lima. The system gathers the crowd's noise levels in real-time and translates the audible signal into a visual map that is depicted on the façade's lighting display.
Cinimod Studio worked as part of an international design and delivery team including lighting designer CAM and software designer ArquiLEDS, both of Lima, Peru; e:cue, a lighting control company based in Paderborn, Germany; and Traxon Technologies, a lighting designer based in Hong Kong.
The façade-lighting system begins with a network of customized microphones deployed along the stadium's roof line. This data is then processed by Cinimod's custom processing hardware and software located in the stadium's main communications room. The audible data is analyzed using mathematic calculations and self-calibrating algorithms. The software then communicates a "mood state" to the e:cue lighting controller, which transmits the relevant DMX control signal to the lighting fixtures on the building's facade.
The external lighting scheme is designed to integrate seamlessly within the architectural framework of the building. The majority of the lights are laid out as fans of flames that wrap upwards around the form of the structure. The façade's patterns vary in color, speed, brightness and scale.
The software runs perpetually, constantly evaluating the mood, which varies between celebration at one end of the spectrum to disappointed at the other.
The main mood states include: 1) Boring, a neutral mood; 2) Excitement, accompanying a surge in crowd noise and pitch; 3) Celebration, typically triggered by a goal and followed by a further rise in noise level; and 4) Disappointed, triggered by an excited state followed by a rapid decline in noise level.
The scale of the stadium façade necessitated a very large array of color- and pixel-addressable fittings. The lighting controller provides 62 universes of DMX lighting control output.