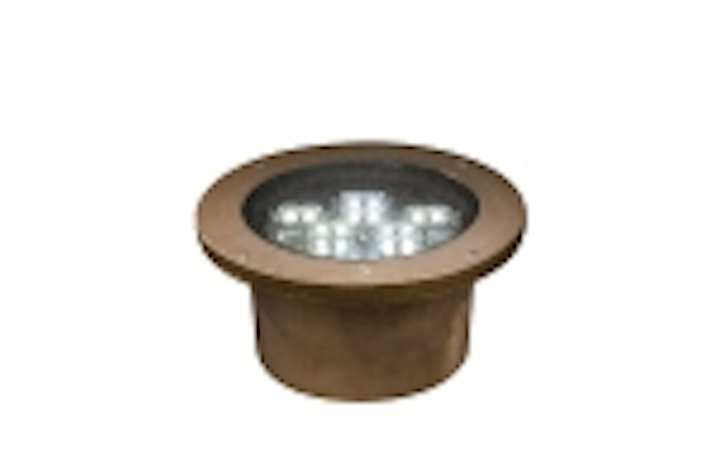 Kim Lighting, a Hubbell Lighting brand, announced the LightVault 8 in-grade outdoor solid-state lighting (SSL) fixture at Lightfair International (LFI) 2013, with an integrated Bluetooth wireless network for commissioning. Kurt Versen's MultiSource downlights won an Innovation award in part due to the family's flexible support of LED and legacy sources. And Hubbell Building Automation won a controls-oriented award for its WASP2 outdoor occupancy sensor.
The Kim Lighting LED-based LightVault 8 products are due to market in May. The company will offer spot, walls-wash, and flood beam distributions delivering as much as 2500 lm. The company will offer versions over a CCT range of 3000-5000K. Housing options will include flat-lens, half-shield, eyeball, rock-guard, and directional, and the company will also offer lens options.
Bluetooth and lighting
Still it's the Bluetooth connectivity that makes the product the most interesting. Hubbell says that the LightVault 8 marks the first time that Bluetooth has been used in a lighting product. Bluetooth is clearly more commonly known as a way to wirelessly link mobile phones and peripherals such as headsets. It has also been used in devices such as printers.
The potential disconnect with the lighting application is the range of Bluetooth technology because it was conceived as a personal-area network, essentially for use within a room, whereas mesh networks such as ZigBee can cover thousands of feet if not a mile.
Apparently Kim will utilize Bluetooth primarily for commissioning, or updating, the operating profile of in-grade luminaires once they are installed. For example, you could set the dim level, and even aim the luminaire via deck tilt using a standard Bluetooth-enabled smartphone. Bluetooth will not likely be used for persistent connections to the lighting.
Hubbell Innovation awards
Meanwhile, Hubbell brands collected two wins at the LFI Innovation awards announced Tuesday morning prior to the exhibits opening, and one of those had a controls angle as well. In the category of controls, building integration, site automation and distribution systems, Hubbell Building Automation's WASP2 Dimming Outdoor Occupancy Sensor was named the category winner over products such as Lutron's EcoSystem technology and Philips Color Kinetics IntelliPower system.
In the recessed downlights category, the Kurt Versen MultiSource fixture won the category. The fixture family offers the flexibility of using different types of lamps ranging from PAR to MR16 with either LED-based lamps or legacy bulbs.
"Hubbell Lighting is known for producing best-in-class downlights and lighting control technologies -- winning this year's LIGHTFAIR International Innovation Awards in these two categories is a true testament of our leadership in these areas," said Scott Muse, President of Hubbell Lighting.