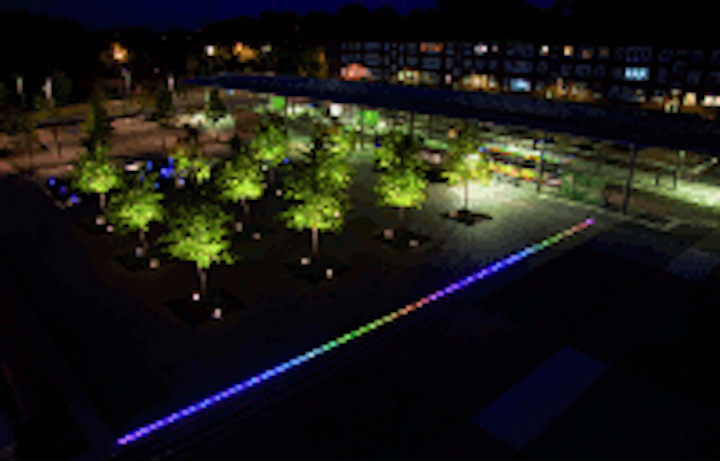 Insta Elektro GmbH has announced that its Instalight 1060 LX solid-state lighting products have been installed in a linear channel adjacent to the town square in the city of Wanne-Eickel, Germany. The Buschmannshof bus station and town square facility was renovated beginning in January 2012 and the LED lighting was put in place and inaugurated at the Wanner Mondnächte city festival this year.
While the central square was in need of a renovation, a public water works project by the Emschergenossenschaft water board resulted in the need for a major remodel to accommodate a new clean-water channel. The city used the opportunity to do a complete redesign to make the area more inviting for both residents and visitors.
Along one side of the square, the project included a drainage channel that presented a unique opportunity for the installation of linear LED fixtures in ground. The Instalight 1060 LX fixtures feature an IP68 rating and are targeted at installation in road and parking surfaces. Moreover, the surface of the fixtures include anti-slip features for pedestrian safety. The products can operate over an ambient temperature range of -20 to +45°C.
The city installed a 36m run of the RGB fixtures. Insta Elektro also supplied the Instalight Control system for the project. The installation uses an Ethernet Internet Protocol (IP)-based network to link a touch-screen control system to the lighting. Insta Elektro offers gateways that can link an IP network to lighting-centric interconnects including DALI (digital addressable lighting interfaces) and DMX, among others, and the company's own LEDTRIX interface used in this project.
The Instalight system allows for individual control of small groups of LEDs in the linear fixtures offered in 5m and 10m runs. Insta Elektro handled programming and commissioning of the system that now provides dynamic lighting in the plaza, and controls the general lighting on the roof of the adjacent bus station.