Cree announces LED controls project, new PAR 30 LED lamps and high-bay luminaires
A SmartCast LED controls project is delivering 70% energy savings in a North Carolina facility, while Cree separately struck a network- and controls-centric partnership with Cisco and has brought new LED-based BR30 and luminaire products to market.
Feb 23rd, 2016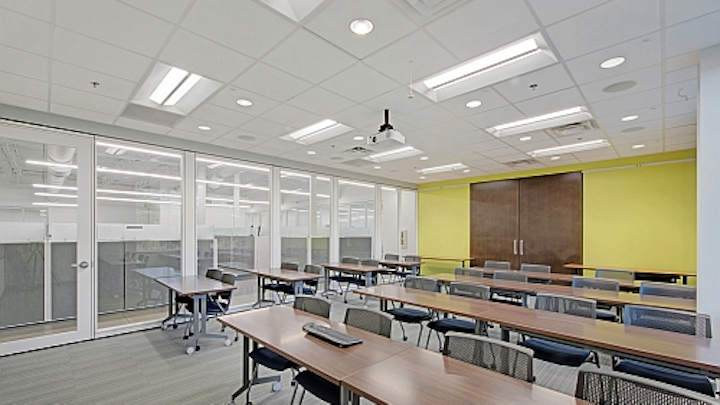 A SmartCast LED controls project is delivering 70% energy savings in a North Carolina facility, while Cree separately struck a network- and controls-centric partnership with Cisco and has brought new LED-based BR30 and luminaire products to market.
Cree has had a busy few days of late having made project, partnership, and solid-state lighting (SSL) product announcements. The LED-centric company has announced a new PAR 30 replacement lamp that uses the TrueWhite technology platform to deliver 90 CRI, and also recently enhanced its high-bay luminaire offering. An LED controls-centric project at technology firm Avid Solutions is delivering both energy savings and better light intended to improve employee productivity. Moreover, Cree has agree to work with IT-networking stalwart Cisco on Power over Ethernet (PoE)-connected lighting.
Interested in more articles on LED controls?
SmartCast project
The connected-SSL project took place at the new Winston-Salem, NC office of Avid Solutions. Cree LED lighting is installed throughout the facility and SmartCast-enabled lighting is used in many areas. Cree said the combination of LED products and controls is delivering 70% in additional energy savings relative to what LED lighting can offer.
SmartCast is Cree's control offering that enables a plug-and-play-like installation and commissioning experience. The system uses a wireless mesh network and automatically forms groups or zones of connected luminaires based on proximity and the use of a simple remote control.
Avid is focused on supplying industrial automation technology and was looking for lighting that delivered operational efficiency, boosted productivity, and aligned with the philosophy and interest of its client base. "Better light is critical to our clients' processes," said P.C. Romano, president of Avid Solutions. "Whether it is a manufacturing operation, where vertical lighting comes into play, or in warehouse operations, our clients are facing the convergence of IT and OT — information and operations technology — and Cree's SmartCastTechnology plays right into that. They're providing high-quality light on the plant and warehouse floor while being able to interface with systems at a much higher level, into the IT space."
The Cree SmartCast LED controls are able to operate autonomously to minimize energy usage. The system has the ability through sensors to dim or extinguish lights based on occupancy/vacancy in an area or to leverage natural light when available. "In the industrial automation industry, we're always looking for a competitive advantage. Reducing our operational costs is increasingly important," said John Travland, department manager at Avid Solutions. "With Cree's intelligent lighting solution, we organized our interior lighting zones and use daylight harvesting and occupancy sensing to ensure we're only lighting the areas that need it."
The office and engineering areas of the facility are primarily lit by CR Series LED troffers and KR Series downlights, both equipped with SmartCast. The warehouse and shipping docks are lit with the CXB High Bay luminaires that we will discuss in more detail further along in this article. The project also utilized the LS Series linear flush-mount fixtures in industrial areas. Moreover, the exterior lighting at the facility uses the Cree OSQ area luminaire.
Cisco partnership
Also in the network and controls area, Cree announced a partnership with Cisco to work on the latter's Digital Ceiling initiative. We covered Cisco's recent unveiling of that technology at the CiscoLive Berlin event in a separate story. Cree is one of several LED-based lighting companies that will offer PoE-based products that work with Cisco network switches.
Cree will apparently meld its SmartCast technology with PoE connections for powering and networking luminaires. "Cree is committed to delivering better light experiences for our customers," said Norbert Hiller, executive vice president of lighting at Cree. "The new connected lighting technologies we're pioneering with Cisco leverage Cree's SmartCast technology and the communications power of the Internet to deliver better light and up to 70% more savings than standard LED lighting. With Cisco, Cree is taking intelligent light far beyond what's possible with traditional lighting solutions."
PAR 30 lamp
Moving to the products space, Cree continues to stand out among LED lamp vendors for a commitment to better-performing lamps prioritized over lower-cost products. The company championed the quality and reliability message in September 2015 when it launched the second-generation of the 4Flow A-lamps. The new TW Series PAR30 lamps just announced are intended to deliver better light for demanding applications such as retail or simply to make a photo or painting shine in a residential application.
"We believe in better light," said Betty Noonan, Cree chief marketing officer and general manager, consumer business. "Better light improves your environment and is essential to human perception, comfort, and security. Why compromise? The TW Series PAR30 Cree LED bulb ensures that the things that matter to you will be showcased the way they are meant to be seen."
The TW prefix is a reference to the aforementioned TrueWhite brand that Cree uses to identify products that deliver 90 CRI or better color rendering. The new $20 lamps are also rated for 25,000 hours of usage, are offered in a 3000K CCT, and are available in a choice of 25° spot or 40° flood beam patterns.
CXB High Bay
In the high-bay area, meanwhile, Cree has announced an upgraded version of the CXB High Bay that was first announced in January 2014. The newest products deliver efficacy of 113 lm/W whereas the prior products topped out at 100 lm/W. Cree said the improved efficacy would further reduce operational costs for customers and make payback periods for projects that use the new fixtures drop below three years.