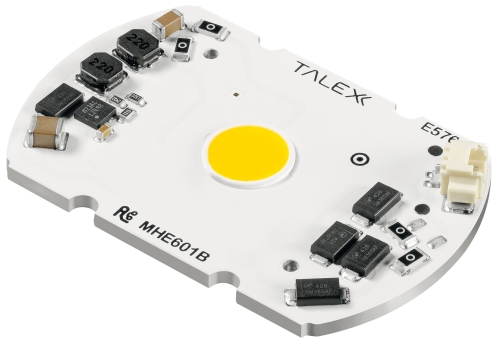 DALI-based network connectivity and management and a DC-based power distribution scheme, with integrated connectivity, come to market in Tridonic drivers, light engines, and gateways.
Tridonic, a subsidiary of the Zumtobel Group, has announced a range of new products and technologies focused in the area of networked solid-state lighting (SSL) and distributed power to LED-based light engines and luminaires. The technologies, which Tridonic has tied to the ongoing International Year of Light, include the brand-new TALEXXengine DC String concept that includes both DC-power-distribution and network connectivity features.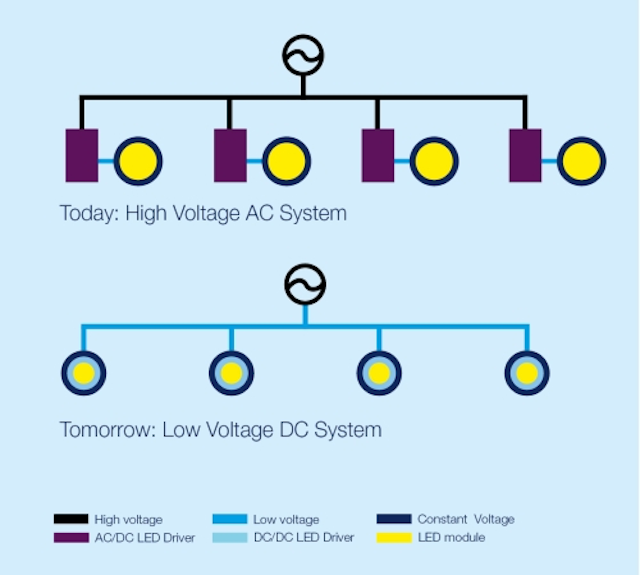 The idea of DC power distribution is not a new one and in fact is being pushed by the EMerge Alliance industry group. But Tridonic has taken an approach that includes network connectivity over the DC connection and that allows a very simple DC/DC converter to be integrated into LED light engines.
Separating the AC/DC conversion from the LED-based luminaire offers an inherent efficiency advantage because a single power supply can drive a number of luminaires with DC power, and the AC/DC conversion is the source of the greatest efficiency loss. Moreover, the distributed DC/DC converters can be realized in a compact space.
Tridonic says that the DC String approach will allow one central AC/DC power supply to output a total of 150W DC, and that power level would enable connection of many lower-power luminaires downstream. Remember that LED directional lighting might consume under 5W per head and that linear ceiling fixtures or troffers might consume 10–20W.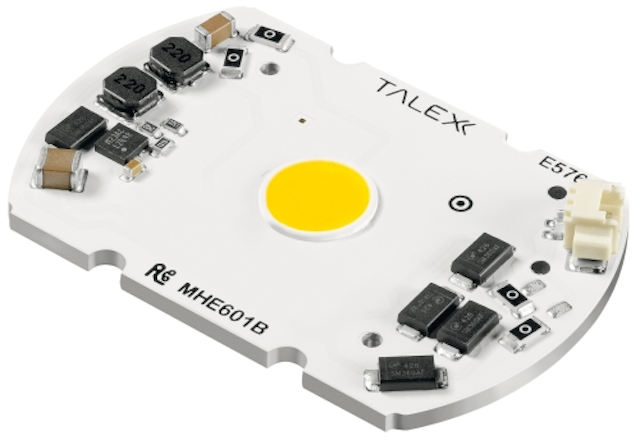 Tridonic announces LED-centric network connectivity and power-distribution technologies
Meanwhile, Tridonic will pass DALI (digital addressable lighting interface) data streams over the DC connection, enabling every luminaire connected downstream to be individually controlled. Tridonic has not announced specific products with DC Stream support at this time, but has indicated that products such as the pictured modular TALEXX light engine could integrate the DC/DC converter and DALI-compatible controller. Such a product would leave little work for the luminaire product development team in the area of LED driver or network control. Tridonic said that the Supersystem from parent-company Zumtobel offers an indication of the range of possibilities at the system level for DC String.
ConnecDim and TALEXXdriver Premium

Meanwhile, Tridonic has also refreshed some news released in the past few months in the network connectivity area. Back in January, the company introduced the DALI-based connecDIM family that includes both hardware DALI gateways and a cloud-based lighting-management platform.

Tridonic has cited research with a very similar message to the news that Philips Lighting made recently in terms of the importance of allowing users to control their own lighting environment. Tridonic cited a joint research project with Fraunhofer IAO that yielded results similar to what Philips presented.
Tridonic says connecDIM will enable lighting systems that will allow users the ability to set the light level, or even white color temperature depending on fixture capabilities, in their localized work area. ConnecDIM could also work in conjunction with the DC String technology.
Finally, Tridonic launched a new connected TALEXXdriver Premium series of AC/DC LED drivers last month. Those products can accept a network connection over the AC power line. Applications range from setting the precise driver output on a production line, to adjusting light levels in a project, to real-time control of lighting.